Rex Ellingwood Beach
Born: September 1, 1877
Place: Atwood, Michigan
Died: December 7, 1949
Place: Sebring, Florida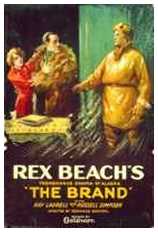 Rex Beach was well on his way to becoming a lawyer. He was born in Atwood, Michigan in 1877, went to school, studied, and set his sights on the field of law. He attended Rollins College, Chicago College of Law, and Kent College of Law. Not a bad path for a lawyer-to-be.

But then... something happened that changed the course of his life forever. Gold was discovered in the Klondike, and Beach was clobbered with Gold Rush Fever. He left school to become part of the Gold Rush, and set out for the Klondike to strike it rich. He searched the North Country for five years, but never found the gold he was looking for. Instead, his travels stirred up his imagination, and he began to write.

He quickly became a popular author, writing tales of adventure, set in the wilds of Alaska. He wrote of huge, untamed, wild lands filled with risk and danger. He championed the courage and bravery of those who lived and died on the Alaskan frontier. His sold his stories to magazines and periodicals, and people ate up his tales. His writing spanned 40 years, and in that time he published numerous articles, short stories, and more than 30 novels.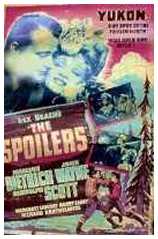 His stories were immensely popular with a public that was fascinated with the rough-and-tough sagas of the Gold Rush, and several of his works became bestsellers in the early 1900's. His novel The Spoilers was quite successful at capturing the excitement of the Gold Rush, complete with claim-jumping, corruption, deception, villains, and heroes. It made the 1906 best sellers list and was made into a movie in 1914 featuring many of the popular actors and actresses of the day. It was remade as a film another five times, the most famous remake in 1942, starring Marlene Dietrich and John Wayne.
His books The Barrier and The Silver Horde made the best seller lists in 1908 and 1909, repspectively. The allure of the Alaskan wilderness as a setting captivated the public that lived the adventures of the frontier through the writings of Rex Beach. Many of his stories and novels were turned into popular box office hits, made and remade, spanning the eras of silent movies and into the days of the "talkies". He not only proved himself as an author, but also as an occasional actor, producer, playright, and adventurer. He never did become a lawyer, though. Rex Beach continued to write up until his death in 1949 in Sebring, Florida.
---