John Muir
Born: April 21, 1838
Place: Dunbar, Scotland
Died: December 24, 1914
Place: Los Angeles, California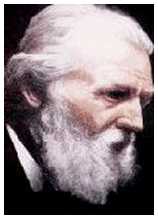 John Muir was born in the small coastal town of Dunbar, Scotland in 1838. He began his education in the local schools, but when he was 11 years old, his family left Scotland and sailed for America. The family settled in Wisconsin, near the town of Portage. The natural beauty of Wisconsin's fields and forests were captivating for young John Muir, and when he could manage to escape his daily routines, he and his younger brother would often spend their free time exploring their surroundings. Even as a youngster, John became more and more interested in the natural world around him. He never lost this interest, and for the rest of his life he would roam the countryside, taking note of all that he saw, all the while developing a deeper and deeper sense of reverence for the world that he inhabited. As he grew up, he did well in school, worked hard on his family's small farm, and eventually entered the University of Wisconsin to continue his studies. When he departed the university, Muir began in earnest his life of boundless exploration and writing.
His early journeys took him through miles and miles of territory in the United States and Canada. He supported himself by picking up various odd jobs here and there, just enough to provide for his wanderings. One of these temporary jobs was the setting for a very unnerving accident. He suffered an injury to his eyesight that left him temporarily blinded while he was working at a carriage parts shop in 1867. When he regained his sight several weeks later, he seemed even more resolved to concentrate on his travels and explorations. Muir hiked thousands of miles, sailed to Cuba, then on to Panama, and then to the west coast of the United States. He became an accomplished botanist, geologist, naturalist, and ardent conservationist. During his exploration of the interior of the western regions, the Yosemite Valley captured his soul and imagination. He used Yosemite as his home base for several years while he explored the near, and not so near, territory. His explorations took him into the High Sierras, and he is credited with discovering 65 residual glaciers there.
The wilderness kept beckoning Muir, and in 1879 he journeyed to Alaska, where he found unmatched wilderness. Here he discovered Glacier Bay, and, not surprisingly, more glaciers, including the one that came to be known as Muir's Glacier. He traveled deep into unexplored reaches along the upper courses of the Yukon and the MacKenzie Rivers. In 1880 he joined an expedition to the Arctic, and then journeyed into Siberia, China, India, Europe, Egypt, Japan, New Zealand, and Australia. All the while he continued to write, submitting articles for newspapers and periodicals, and published well over 300 articles and several books. His works documented the breadth of his travels and the depth of his love for the natural world.
John Muir helped organize the Sierra Club in 1892, and served as its president right up until the end of his life. His legacy lives on to this day as the Sierra Club is known world-wide as one of the foremost environmental organizations. Muir also advocated the creation of a system of federally protected areas of national parks, and was instrumental in the designation of Sequoia and Yosemite as National Parks. Not only did Muir use his pen to extol the beauty of the land he traveled, but he also became a proficient photographer, and shared the grandeur of the natural world through his photographs as well as his writing. Muir is often called the "father of our national park system". His 1901 book Our National Parks attracted the attention of President Theodore Roosevelt, and was the reason that Roosevelt sought out Muir's acquaintance. Roosevelt visited John Muir in Yosemite, where they discussed what would later become Roosevelt's ambitious conservation programs.
John Muir died in 1914 in Los Angeles, California, and is still considered by many to be this country's most influential naturalist and conservationist.
---