John Griffith (Jack) London
Born: January 12, 1876
Place: San Francisco, California
Died: November 22, 1916
Place: near Santa Rosa, California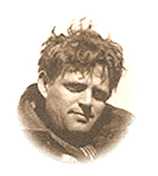 Jack London was born in 1876 in San Francisco, California. He may not have had the easiest childhood, but it was colorful, and most likely contributed to the richness of his later writing. His family struggled financially, and by the time Jack had finished grammar school, he had to work to support himself. He spent much of his younger days along the waterfront district, hopping from job to job. There was certainly plenty of action and local color in the districts that Jack frequented. But he yearned for more. He turned to books to satisfy his curiosity about the world and his quest for adventure. He read whenever he could, and was a regular at his public library. His horizons expanded, and he began to wander further and further.
By the time he was 18, London had been a seal hunter, a fisherman, a seaman on long ocean voyages, and he had drifted throughout a good portion of the United States, Canada, and Alaska. He began to write, and continued to read, but London found his way into trouble too often. He tried to resume his education, but left high school after a year. Then he later studied to pass the University of California entrance exam, and got in, but left after the first semester.
In 1897, he traveled to Alaska's Yukon, and then turned to pursue his writing seriously. His stories gained acceptance, and started to be published, and he began to attract an audience who craved his tales of adventures in the wild. His travels, especially the influence of his Alaskan journeys, provided the substance for his themes of primitive instincts, violence, individualism, and the struggle for survival. He spent years searching for gold in the Klondike, and some of his best works, like The Call of the Wild, and White Fang, reflect the often brutal life or death situations derived from those experiences in the wild.
London was a prolific writer, authoring hundreds of short stories, articles, essays, and novels. Many of his works, including his novels, are now considered to be classics. His novel The Sea Wolf, based on his days at sea, is considered one of his best works. And his Martin Eden contains many autobiographical elements of his youth. Jack London died in 1916, but his writings still pack a wallop, and many of his writings are still assigned reading in American schools today.
---