Alexander Andreevich Baranov
Born: 1747
Place: Kargopol, Russia
Died: April 16, 1819
Place: Batavia, Java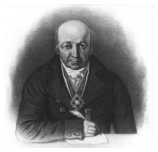 Alexander Baranov was a Russian native, born in 1747. He grew to be a successful merchant in Irkutsk, Siberia, but he was lured to Alaska by the region's rapidly expanding fur trading industry.
Baranov became quite successful in his Alaskan ventures also. He established and managed trading posts throughout the Kodiak Island region. He set up trading posts in Saint Paul's Harbor, Cook Inlet, and Prince William Sound, and was instrumental in establishing colonies throughout the region.
In 1799 he became chief manager for the profitable and influential Russian American Company, and over saw all of Alaska, including the Aleutian and Kurile Islands. Activity in the region flourished as trading in sea otters and seals boomed.
In addition to establishing trading centers and presiding over vast expanses of territory, Baranov is credited with organizing native Alaskan hunters to expand their range to include the coasts of California. Baranov also advocated more educational opportunities for native Alaskans. Under his leadership, schools were created and frontier communities became less isolated.
Toward the end of his life, Baranov said goodbye to the adopted land where he lived for 28 years, and headed back to Russia by heading South and then sailing around the Cape of Good Hope. Unfortunately, Baranov became very ill on the journey, and died in Java, far from both his native and his adopted lands.
---