H A W A I I B O O K S T O R E L O B B Y
Welcome to the Hawaii State Bookstore. We're glad you stopped by and we hope that you find exactly what you're looking for. Shopping categories include books about Hawaii people, books about Hawaii History, Hawaii Cookbooks, Hiking and enjoying the Hawaii outdoors, Hawaii reference books, and calendars, magazines and newspapers, DVD and videos, and posters under MORE. In The Hawaii State Bookstore you will find information about Hawaii for readers of all ages. Age ranges for books for young readers are highlighted in red. Have fun.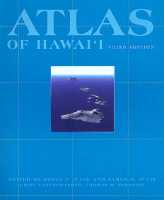 Atlas of Hawaii Edited by Sonia P. Juvik, James O. Juvik
The long awaited third edition of the Atlas of Hawai`i is entirely revised in content and design. It is divided into six sections, five of which are abundantly illustrated. The first contains detailed reference maps with place names for towns, mountains, bays, harbors, and other features; geographical descriptions of the state and the main islands; and an introduction to Hawaiian place names. This is followed by four sections on the physical, biotic, cultural, and social aspects of the Hawai`i environment.

1999 Ka Palapala Po`okela Awards for Excellence in Non-fiction, Hawaiian Culture, Production, and Design.

Geology, climate, the ocean, water, soils, and astronomy are among the topics discussed in "The Physical Environment." Next the special character of terrestrial and marine ecosystems is described in "The Biotic Environment." "The Cultural Environment" considers the people of Hawai`i. The diversity of the state's cultures is treated in chapters on history and languages as well as archaeology, religion, and the arts. "The Social Environment" treats such elements as the economy, government, and tourism. The sixth and final section comprises a statistical supplement, bibliography, and gazetteer for the reference maps. Readers of this new edition will find much new information, including topics (e.g., paleoclimate, threats to native ecosystems, Hawaiian sovereignty) not discussed in previous editions.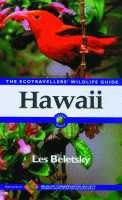 Hawaii: The Ecotravellers' Wildlife Guide by Les D. Beletsky
People travel to Hawaii for sun, sand, and surf but increasingly spend parts of their trips hiking, bird watching, kayaking, whale-watching, or snorkeling in the island's stunning national parks and nature reserves. Ecotravellers to the islands know that Hawaii is a special place biologically, harboring many native animal and plant species that occur nowhere else on Earth. Contained in this book is all the information you need to find, identify, and learn about the island's magnificent animal life. Mr. Beletsky visited parks and preserves, discussed wildlife with local and international experts, and then selected his color illustrations from more than 300 of the islands' most common fish, amphibians, reptiles, mammals, and birds (including essentially every Hawaiian bird). You will want to have this easy-to-carry, entertainingly written, beautifully illustrated book as a constant companion on your trip.
Provides identifying, location, and conservation information on frequently spotted animals.
Gives up-to-date information on the ecology, behavior, and conservation of the families of animals to which the pictured species belong.
Contains information on Hawaiian habitats and on the most common plants you will see, and on the underwater animals most divers and snorklers actually see.
Gives brief descriptions of the state's national parks and nature reserves.