---
Martin Van Buren (1782-1862)
In Article II, Section 1 of the Constitution of the United States of America, the following requirements are stipulated for those wishing to hold the office of the President of the United States.
No person except a natural born Citizen, or a Citizen of the United States, at the time of the Adoption of this Constitution, shall be eligible to the Office of President; neither shall any Person be eligible to that Office who shall not have attained to the Age of thirty-five Years, and been fourteen Years a Resident within the United States.
8th President of the United States (1837-1841)
Only about 5 feet, 6 inches tall, but trim and erect, Martin Van Buren dressed fastidiously. His impeccable appearance belied his amiability--and his humble background. Of Dutch descent, he was born in 1782, the son of a tavernkeeper and farmer, in Kinderhook, New York.
As a young lawyer he became involved in New York politics. As leader of the "Albany Regency," an effective New York political organization, he shrewdly dispensed public offices and bounty in a fashion calculated to bring votes. Yet he faithfully fulfilled official duties, and in 1821 was elected to the United States Senate.
By 1827 he had emerged as the principal northern leader for Andrew Jackson. President Jackson rewarded Van Buren by appointing him Secretary of State. As the Cabinet Members appointed at John C. Calhoun's recommendation began to demonstrate only secondary loyalty to Jackson, Van Buren emerged as the President's most trusted adviser. Jackson referred to him as, "a true man with no guile."
Martin Van Buren:

Source:

University of Virginia, Miller Center of Public Affairs, www.millercenter.virginia.edu, March 11, 2008.
8th President of the United States
Born:
December 5, 1782 in Kinderhook, New York.
Nickname:
"The Little Magician," "The Red Fox of Kinderhook"
Education:
Kinderhook Academy (graduated 1796)
Religion:
Dutch Reformed
Marriage:
February 21, 1807, to Hannah Hoes (1783-1819)
Children:
Abraham (1807-1873), John (1810-1866), Martin (1812-1855), Winfield Scott (1813), Smith Thompson (1817-1876)
Career:
Lawyer
Political Party:
Democrat
President:
1 term (4 years) from 1837-1841.
Age at inauguration:
54
Died:
July 24, 1862 in Kinderhook, New York.
Interred:
Kinderhook Cemetery, Kinderhook, New York.
The rift in the Cabinet became serious because of Jackson's differences with Calhoun, a Presidential aspirant. Van Buren suggested a way out of an eventual impasse: he and Secretary of War Eaton resigned, so that Calhoun men would also resign. Jackson appointed a new Cabinet, and sought again to reward Van Buren by appointing him Minister to Great Britain. Vice President Calhoun, as President of the Senate, cast the deciding vote against the appointment--and made a martyr of Van Buren.
The "Little Magician" was elected Vice President on the Jacksonian ticket in 1832, and won the Presidency in 1836.
Van Buren devoted his Inaugural Address to a discourse upon the American experiment as an example to the rest of the world. The country was prosperous, but less than three months later the panic of 1837 punctured the prosperity.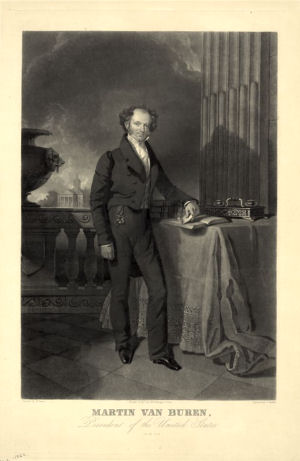 Martin Van Buren, President of the United States
Library of Congress Prints and Photographs Division
Reproduction of 1839 painting by Henry Inman
Digital ID: pga 02634
Basically the trouble was the 19th-century cyclical economy of "boom and bust," which was following its regular pattern, but Jackson's financial measures contributed to the crash. His destruction of the Second Bank of the United States had removed restrictions upon the inflationary practices of some state banks; wild speculation in lands, based on easy bank credit, had swept the West. To end this speculation, Jackson in 1836 had issued a Specie Circular requiring that lands be purchased with hard money--gold or silver.
In 1837 the panic began. Hundreds of banks and businesses failed. Thousands lost their lands. For about five years the United States was wracked by the worst depression thus far in its history.
Programs applied decades later to alleviate economic crisis eluded both Van Buren and his opponents. Van Buren's remedy--continuing Jackson's deflationary policies--only deepened and prolonged the depression.
Declaring that the panic was due to recklessness in business and overexpansion of credit, Van Buren devoted himself to maintaining the solvency of the national Government. He opposed not only the creation of a new Bank of the United States but also the placing of Government funds in state banks. He fought for the establishment of an independent treasury system to handle Government transactions. As for Federal aid to internal improvements, he cut off expenditures so completely that the Government even sold the tools it had used on public works.
Inclined more and more to oppose the expansion of slavery, Van Buren blocked the annexation of Texas because it assuredly would add to slave territory--and it might bring war with Mexico.
Defeated by the Whigs in 1840 for reelection, he was an unsuccessful candidate for President on the Free Soil ticket in 1848. He died in 1862.
Source: The White House: Presidents, Martin Van Buren 27 November 2009 <www.WhiteHouse.gov>.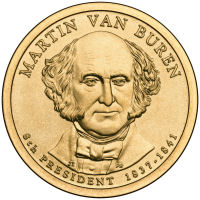 U.S. Mint Image

Presidential Dollars
Collector's Archive
Martin Van Buren, the first president from New York and not of British descent, was also the first president to be born an American citizen. Raised in a Dutch neighborhood in Kinderhook, New York, his interest in politics took root at his father's tavern where prominent politicians, including Alexander Hamilton and Aaron Burr, would stop by on their travels.
He served in the United States Senate and was governor of New York before becoming Andrew Jackson's secretary of state. He served as vice president during Jackson's second term and handily won the 1837 presidential election.
As president, Van Buren initiated an independent federal treasury system to take the place of state banks' handling of federal monies and peacefully settled disputes with Great Britain that were threatening to take the country to war. However, a deep economic depression persisted throughout his term in office and he lost his bid for re-election in 1841.
Coinage Legislation under President Martin Van Buren
No coinage legislation was enacted under President Van Buren.
United States Mint Directors appointed by President Van Buren
President Martin Van Buren did not appoint a Director of the United States Mint.
Source: The United States Mint, Martin Van Buren Presidential $1 Coin. 27 November 2009 <www.USMint.gov>
Presidential state dollars: Information about design of the Presidential $1 Coins.
Presidential $1 Coins: Release information regarding the Official U.S. Mint Presidential $1 Coins.
Additional Information

The Presidents
Collection DVD
United States Presidents: List of all United States Presidents from NETSTATE.COM.
Martin Van Buren America's Story from America's Library, the Library of Congress.
American Presidents: Life Portraits A Site to Complement C-SPAN's 20th Anniversary Television Series, American Presidents: Life Portraits.
Martin Van Buren (1782 - 1862) American President: An Online Reference Resource from the Miller Center of Public Affairs, University of Virginia. In-depth information reviewed by prominent scholars on each President and administration.
Presidential Inaugurations: Martin Van Buren Presidential Inaugurations is presented by the Library of Congress, and other governmental departments, in collaboration with the Avalon Project at the Yale Law School. This presentation includes diaries and letters of presidents and of those who witnessed inaugurations, handwritten drafts of inaugural addresses, broadsides, inaugural tickets and programs, prints, photographs, and sheet music.
Martin Van Buren The Kinderhook Connection: News and information about the historic village of Kinderhook, New York.
Senator Martin Van Buren (1821-1828) Biographical information from the Biographical Directory of the United States Congress.
Martin Van Buren National Historic Site Purchased by Van Buren during his term as President of the United States, this Kinderhook estate (Lindenwald) became his home after during his retirement.

Deluxe Presidential
Dollar Coin
Traveling Archive
Deluxe Presidential Dollar Coin - Traveling Archive , Whitman Publishing (August 7, 2007) Lift off the capsule top, insert the coin, and snap it shut. Now your Presidential dollar is securely stored and attractively displayed - you can even see the coins's edge, which includes the date, mintmark, and inscriptions. Space for both Philadelphia and Denver Mint Coins. Includes Presidential facts printed on the inside flaps. Holds 80 coins - makes a great display and storage unit. (13.375" x 11.5" x 1.0").

Presidential Dollars
Collector's Archive
Presidential Dollars Collector's Archive, Whitman Publishing (August 7, 2007) In December 2005, Congress approved the creation of a new dollar coinage, known as Presidential dollars, and President George W. Bush signed the legislation into law shortly afterward. During each year from 2007 to 2016, four different dollar designs, each bearing the image of a different president, are being released. Living presidents, both current and former, are excluded from the program--thus the roster of presidential honorees currently stands at 37. For these presidents, 38 coins are planned; this is because Grover Cleveland, who to date is the only president to serve multiple nonconsecutive terms, will be represented with two coins. The Presidential dollars are part of the Golden Dollar Program and retain the same golden color as the Sacagawea dollars. The motto IN GOD WE TRUST appears in edge lettering--a first for a U.S. coin, as the motto has never before appeared on the rim. The year of issue is likewise on the rim. Archive Size 11.25" x 10". 40 Openings.

Presidential Folder
Volume I
Presidential Folder 4 Panel - Volume I and Vol II, Whitman Publishing; 1st edition (April 10, 2007) Presidential Folder 4 Panel - Volume I & II Hold P&D Mint Marks. Folder Size 7" x 9,5". Each Volume has 44 Openings - 4 Panels.


Martin Van Buren
Mike Venezia
Martin Van Buren (Getting to Know the US Presidents), by Mike Venezia. 32 pages. Publisher: Children's Press(CT) (September 2005) Reading level: Grades 3-4. Mike Venezia mixes facts with humor to introduce the presidents of the United States to students. This unique introduction highlights the life and times of President Martin Van Buren. Venezia uses funny and serious anecdotes to help students understand and realize that presidents are very real people. On each page is either a painting, an engraving, a map, a portrait, or a comical caricature that enhances the text. Captions are included with each that explains the historical paintings and portraits. For reports or pleasure, students will enjoy.


Martin Van Buren
America's 8th President
Lesli J. Favor
Martin Van Buren: America's 8th President, by Lesli J. Favor, Ph.D. 112 pages. Publisher: Scholastic Library Publishing (September 2003) Reading level: Grades 6-8. Examines the life of the lawyer politician who became the eighth president of the United States and led the country through its first serious depression. A brief "Fast Facts" includes: time line, glossary, historic sites, Web sites, and index. Books for further reading. Tables of all the presidents noting dates of office, birth, and death, and birth-place.


Martin Van Buren
John Niven
Martin Van Buren: The Romantic Age of American Politics, by John Niven. 715 pages. Publisher: American Political Biography Press (June 2000) They called him "the Magician," "the Red Fox", and other names that celebrated his political skill. And, indeed, there is no doubt that Martin Van Buren was the most innovative politician of his age. In the first modern biography of the eighth President, John Niven reveals a man who was preeminently a statesman -- not just a superb practitioner of the art of the possible, as he is commonly depicted.
Charming, witty, enigmatic, Van Buren could hold his own with the other key political figures of his day: Jackson, Henry Clay, Daniel Webster, John C. Calhoun, John Quincy Adams. Correcting many false images of Van Buren (including the view that he was a compromiser on the slavery issue), this authoritative biography unveils a brilliant career in American political life, set against the backdrop of a fascinating era.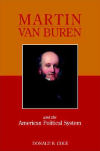 Martin Van Buren
and The American
Political System
Donald B. Cole
Martin Van Buren And The American Political System , by Donald B. Cole. 492 pages. Publisher: Eastern National Park and Monument Association (June 30, 2004) Along with Niven's book above, Martin Van Buren and the American Political System is considered one of the standard biographies of Van Buren.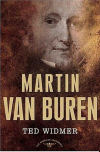 Martin Van Buren
Ted Widmer
Martin Van Buren, by Ted Widmer. 208 pages. Publisher: Times Books; 1st edition (December 9, 2004) The first "professional politician" to become president, the slick and dandyish Martin Van Buren was to all appearances the opposite of his predecessor, the rugged general and Democratic champion Andrew Jackson. Van Buren, a native Dutch speaker, was America's first ethnic president as well as the first New Yorker to hold the office, at a time when Manhattan was bursting with new arrivals. A sharp and adroit political operator, he established himself as a powerhouse in New York, becoming a U.S. senator, secretary of state, and vice president under Jackson, whose election he managed. His ascendancy to the Oval Office was virtually a foregone conclusion. Once he had the reins of power, however, Van Buren found the road quite a bit rougher.