Georgia State Wildflower
| | | |
| --- | --- | --- |
| Azalea | Rhododendron L. | Adopted:1979 |
Georgia State Wildflower: Azalea
Rhododendron austrinum
Adoption of the Georgia State Wildflower
Joint Resolution of the Georgia General Assembly

April 19, 1979

AZALEA DESIGNATED AS "STATE WILD FLOWER".
No. 76 (House Resolution No.207-803).
A RESOLUTION

Designating the azalea as the "State Wild Flower"; and for other purposes.

WHEREAS, although the State of Georgia has designated a "State Flower," she has never had a "State Wild Flower"; and

WHEREAS, those species of azalea which are native to the southeastern United States are considered by many to be the most beautiful of indigenous shrubs; and

WHEREAS, while many species and varieties of the azalea are found across the State of Georgia from the mountains to the sea, several species, including Rhododendron Austrinum, prunifolium, canescens, alabamense, calendulaceum, speciosum, arborescens, serrulatum, and other, are found in every county of the State; and

WHEREAS, the dazzling blossoms of these wild flowers range in color from white to yellow, orange, scarlet, crimson, and intermediate colors, some with conspicuous color blotches; and

WHEREAS, with proper selection of species, the azalea blossom is available from March until July and August; and

WHEREAS, native azaleas are hardier and, once established, require less care than other horticultural varieties; and

WHEREAS, from Bartram's time until the present, azaleas have covered our State with beauty; and

WHEREAS, it is only fit and proper that the azalea be designated the "State Wild Flower."

NOW, THEREFORE, BE IT RESOLVED BY THE GENERAL ASSEMBLY OF GEORGIA that the azalea is hereby designated as Georgia's "State Wild Flower."

Approved April 19, 1979.

Source: Ga. Laws 1979, pp. 1387-1388.
The Azalea was adopted as the official "State Wild Flower" of Georgia on April 19, 1979.
Though no specific variety is named in the statute, several native varieties are named in the nominating joint resolution as appearing in every county of the state. Among them are are Rhododendron Austrinum, prunifolium, canescens, alabamense, calendulaceum, speciosum, arborescens, and serrulatum.
The Georgia Code
The following information is excerpted from the Georgia Code, Title 50, Chapter 3, Section 50-3-54.
Title 50. State Government.
CHAPTER 3.
SECTION 50-3-54.

50-3-54.
The azalea is designated as the Georgia state wild flower.
Additional Information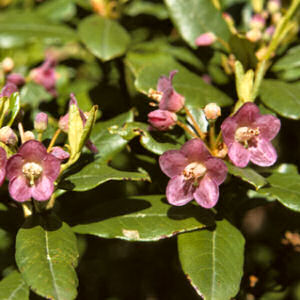 Georgia State Wildflower: Azalea
Rhododendron prunifolium
Photograph by R. A. Howard
Courtesy of Smithsonian Institution
Plant Profile for Rhododendron L. (Azalea): USDA, NRCS. 2004. The PLANTS Database, Version 3.5 (http://plants.usda.gov). National Plant Data Center, Baton Rouge, LA 70874-4490 USA.
Azalea Culture: Frank Henning: Athens-Clarke County Extension Agent for agriculture and natural resources, Georgia Cooperative Extension Service.
Native Azalea Collection: State Botanical Garden of Gorgia.
Azalea Society of America: The programs of the Society are designed to meet the needs of home gardeners, collectors and horticultural students, as well as nurserymen, hybridizers and landscape architects.
American Rhododendron Society: The American Rhododendron Society is a non-profit organization whose purpose is to encourage interest in and to disseminate information about the genus Rhododendron.
Rhododendron Species Foundation and Botanical Garden: The Rhododendron Species Foundation is a non-profit organisation dedicated to the conservation, research, acquisition, evaluation, cultivation, public display, and distribution of Rhododendron species. The Foundation provides education relating to the genus; and serves as a unique resource for scientific, horticultural, and general gardening communities worldwide.
Rhododendron Web Resources: University of Virginia Library: Charles L. Brown Science & Engineering Library.
Georgia Native Plant Society: GNPS activities are designed to promote the conservation of Georgia's native plants and habitats through education, research and the relocation of plants threatened with destruction.
Lady Bird Johnson Wildflower Center: Web site for the Lady Bird Johnson Wildflower Center in Austin, Texas.
State Flower List: List of all of the state flowers.
State Birds & Flowers 1000-pc Puzzle: Created at the request of The National Wildlife Federation this design is a beautiful and informative puzzle featuring every state bird perched on the appropriate state flower.
State Birds and Flowers Coloring Book
by Annika Bernhard - 51 accurately detailed, copyright-free renderings include national bird (eagle) and flower (rose) plus 50 state birds and flowers.
U. S. State Flowers in Cross Stitch
by Gerda Bengtsson - Botanically correct cross stitch designs of state flowers of the 50 States.
Quilting Flowers of the States
by Sue Harvey - A lovely 12-inch flower block for each of the 50 states. Techniques used are piecing, appliqué, paper-piecing and three-dimensional techniques.
Plants, Seeds & Flowers
: Bulbs, seeds, plants, fertilizer, plant containers and more.
Gardening Tools
: Pruners, rakes, shovels, hoes, trowels, cultivators and tillers, greenhouses, yard carts and more.
State Names, Seals, Flags, and Symbols: A Historical Guide, Third Edition - Benjamin F. Shearer and Barbara S. Shearer, Greenwood Press, 2002
State Names, Flags, Seals, Songs, Birds, Flowers and Other Symbols: A Study based on historical documents giving the origin and significance of the state names, nicknames, mottoes, seals, flowers, birds, songs, and descriptive comments on the capitol buildings and on some of the leading state histories, Revised Edition - George Earlie Shankle, Ph.D., The H.W. Wilson Company, 1938 (Reprint Services Corp. 1971)
---
Source: The Georgia Code, (http://www.legis.state.ga.us/cgi-bin/gl_codes_detail.pl), September 27, 2005
Source: Carl Vinson Institute of Government, University of Georgia: (http://www.cviog.uga.edu/), September 27 , 2005
Source: State Names, Seals, Flags, and Symbols: A Historical Guide, Third Edition - Benjamin F. Shearer and Barbara S. Shearer, Greenwood Press, 2002
Source: State Names, Flags, Seals, Songs, Birds, Flowers and Other Symbols: Revised Edition (Reprint)- George Earlie Shankle, Ph.D., The H.W. Wilson Company, 1938