Mississippi State Waterfowl
| | | |
| --- | --- | --- |
| Wood Duck | Aix sponsa | Adopted:1974 |
Mississippi State Waterfowl: Wood Duck (Aix sponsa)
Courtesy of BirdCinema.com
Adoption of the Mississippi State Waterfowl
The Wood Duck (Aix sponsa) was designated the State Waterfowl of Mississippi, Chapter 551, General Laws of Mississippi of 1974.
The Mississippi Statutes
The following information is excerpted from the Mississippi Statutes, Title 3, Chapter 3, Section 3-3-25.
TITLE 3. STATE SOVEREIGNTY, JURISDICTION AND HOLIDAYS.
CHAPTER 3. STATE BOUNDARIES, HOLIDAYS, AND STATE EMBLEMS.
SECTION 3-3-25.

§ 3-3-25. State waterfowl.
The wood duck (Aix sponsa) is hereby designated the state waterfowl of Mississippi.
Sources: Laws, 1974, ch. 551, § 5, eff from and after passage (approved April 12, 1974).
Additional Information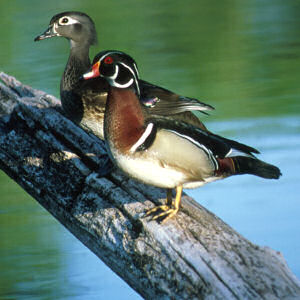 Mississippi State Waterfowl: Wood Duck hen and drake
Aix sponsa (Wood Duck): University of Michigan Museum of Zoology: Animal Diversity Web.
Wood Ducks in Mississippi: Mississippi State University Extension Service.
State Bird List: List of all of the state birds.
State Birds & Flowers 1000-pc Puzzle: Created at the request of The National Wildlife Federation this design is a beautiful and informative puzzle featuring every state bird perched on the appropriate state flower.
Bird Feeders and Accessories: Backyard Birding > Bird Feeders & Accessories from Amazon.com.
State Names, Seals, Flags, and Symbols: A Historical Guide, Third Edition - Benjamin F. Shearer and Barbara S. Shearer, Greenwood Press, 2002
---
Source: The Mississippi Code, (http://www.sos.state.ms.us/pubs/mscode/), May 20, 2005
Source: State Names, Seals, Flags, and Symbols: A Historical Guide, Third Edition - Benjamin F. Shearer and Barbara S. Shearer, Greenwood Press, 2002