Laural Wreath

Assemblywoman Fran Pavley introduced the Bill that established the position of California Poet Laureate that was signed by Governor Gray Davis on September 1, 2001. This bill established an official two-year position for a California Poet Laureate and specified the methods of appointment and the responsibilities of the California Arts Council and the appointed designee. The California Poet Laureate is appointed by the Governor and confirmed by the Senate from a list of three nominees provided by the Arts Council.

Though the title of Poet Laureate seems to have originated in England during the middle ages, the idea that laurel (Laureate) signified something special goes back much further to ancient Greece. The laurel was sacred to Apollo and was used, by Greeks, to form a crown, or wreath to place on the head of persons of eminence whether they were an outstanding poet or a military hero.

When the Middle Ages arrived, the significance of the laurel wreath was well known and the title, Poet Laureate, was established when Charles I, of England, brought poet Ben Johnson into his household as an official poet in 1617. From that time, English sovereigns selected poets to become members of their royal household to compose poetry for court and national occasions. Poets Laureate, very gifted poets, joined the royal family for life. Today, this title is offered by organizations to honor the eminent and representative poets who bring so much to our culture. Several states have appointed Poets Laureate as official or unofficial acts. This prestigious position was, and still is, highly valued by many poets.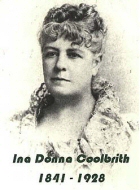 Courtesy, University of
California, Berkeley

California was the first state to appoint a Poet Laureate when Ina Donna Coolbrith was chosen by Governor Hiram Warren Johnson and appointed on June 30, 1915. She was confirmed as Poet Laureate by the California Senate with Resolution 24, on April 26, 1919. Referred to by the Legislature as "The Loved Laurel Crowned Poet of California," this special honor was conferred for the life of the poet and Ina Donna Coolbrith held the position until her death in 1928.

The 1929 Legislature conferred the title of "Laurel Crowned Poet of California" on Dr. Henry Meade Bland. He held the position for only two years until his death in 1931. In 1933, the Legislature designated John Steven McGroarty as "Poet Laureate of California," a title that he held until his death in 1944. Next, Gordon W. Norris was appointed by the Legislature in 1953. He served until his death on December 18, 1961. He was followed by Charles Garrigus, appointed in 1966, who served until the year 2000.

All of these appointments were made and ratified under specific legislative resolutions. As already mentioned, on September 1, 2001, Governor Gray Davis signed a law making the position of "California Poet Laureate" a permanent part of the California Government Code. Under this new law, a Poet Laureate would no longer hold the title for life, but would serve a two-year term and would not be allowed to serve more than two terms.

Under this new law, Governor Gray Davis appointed Quincy T. Troupe as California's first official Poet Laureate on June 11, 2002. The Senate would have to confirm the appointment.

During a background check, however, the new Poet Laureate's position began to unravel. It was found that he had never earned a Bachelor of Arts degree from Grambling College as he had claimed for 26 years. On October 18, 2002, Governor Gray Davis accepted the resignation of Quincy T. Troupe as California Poet Laureate.

By the way, you may refer to many poets that hold the title of Poet Laureate as either Poets Laureate or Poet Laureates.

For the record:

CALIFORNIA GOVERNMENT CODE
GENERAL PROVISIONS
TITLE 2. GOVERNMENT OF THE STATE OF CALIFORNIA
DIVISION 1. GENERAL
CHAPTER 9.5 CALIFORNIA POET LAUREATE
SECTION 8760-8765

8760. (a) The position of California Poet Laureate is hereby established. (b) The California Poet Laureate shall be appointed by the Governor and confirmed by the Senate from a list of three nominees provided by the Arts Council garnered through the following process:

(1) The council shall establish a panel of three literary experts, which may include any of the following:

(A) Literature professors and teachers, including professional poets teaching in such programs as California Poets in the Schools and other arts in schools programs.
(B) Public and private arts organizations that have a significant literary component.
(C) Professional poets.
(D) Boards and directors of literary organizations.
(E) Literary critics.
(F) Others deemed by the director to have expertise in contemporary American poetry.

(2)

(A) The panel shall solicit nominations from a broad array of literary sources and individuals, including, but not limited to, all of the following:

(i) University and college literature departments.
(ii) Literary organizations, societies, and centers.
(iii) Poetry book publishers and poetry editors.
(iv) Directors of poetry reading series.
(v) Independent book sellers specializing in poetry.

(B) The panel shall make every effort to ensure that information regarding the solicitation of nominations is broadly distributed.

(3) The council may establish other rules and regulations regarding the nomination process and expend funds for those purposes.

(c) Each nominee for California Poet Laureate submitted by the Arts Council to the Governor shall have resided in California for at least 10 years, have a significant body of published work, and be widely considered to be a poet of stature.

(d) A poet laureate appointed pursuant to this section shall serve for a term of two years, and may not serve more than two terms.

8761. The Arts Council may establish an appropriate stipend for the California Poet Laureate and shall provide for the payment of the poet laureate's expenses incurred in fulfilling his or her responsibilities as set forth in this chapter and as established by the council. Additionally, the council may make available other funds for activities that the council and the California Poet Laureate mutually agree to undertake, including, but not limited to, the lease of facilities for readings and the acquiring of insurance therefor, and other similar activities.

8762. The California Poet Laureate shall, as a condition of the appointment, assume the following minimum responsibilities: (a) Provide a minimum of six public readings during his or her two-year term endeavoring to ensure that people in all geographic regions of the state have reasonable access to at least one reading during the course of the term. (b) Undertake a specific project that shall last through the term, agreed to by the California Poet Laureate and the council, but whose goal will be to bring the poetic arts to Californians and to California students who might otherwise have little opportunity to be exposed to poetry. The California Poet Laureate may, and is encouraged to, coordinate his or her project with any similar project being undertaken by the current United States' Poet Laureate. (c) Any other reasonable activities as agreed to mutually by the California Poet Laureate and the council.

8763. The Arts Council shall, commencing in 2010 and every 10 years thereafter, and with the agreement of the past California Poets Laureate and their representatives, publish or cause to be published an anthology featuring examples of the work of the poets laureate of the past decade.

8765. The council may solicit and receive gifts, donations, bequests, grants of funds, or any other revenues, from public or private sources, and expend those moneys to increase the stipend of the California Poet Laureate and for any other purpose it deems necessary to implement this chapter.

Additional links:

Wikipedia, The Free Encyclopedia: Origin of the term, Poet Laureate, history, and listings of Poets Laureate.

Library of Congress Poet Laureate: About the New Poet Laureate, Louise Glück, appointed August 28, 2003 and former Poets Laureate.

California Arts Council: Conversation with new Poet Laureate, Quincy T. Troupe.

Kansas City Star: The Truth and Quincy Troupe: Fictional resume cost poet dearly, but it didn't taint his voice - February 2, 2003.

The Chronicle of Higher Education: The Faculty - Fall From Grace, April 4, 2003.

Office of Governor of California: Press Release: Governor Gray Davis of State Poet Laureate Nominee - 10/18/02.

The Academy of American Poets: "The Day Duke Raised: May 24th, 1974," a poem for Duke Ellington.

Ploughshares: Literary Journal at Emerson College: "for Quincy Trouppe, Sr.," a poem for my father.

Source: Governor of California, (http://www.governor.ca.gov/state/govsite/gov_homepage.jsp), April 1,2004
Source: Official California Legislative Information, (http://www.leginfo.ca.gov/index.html), April 1, 2004
Source: Merriam-Webster, (http://www.m-w.com), April 1, 2004