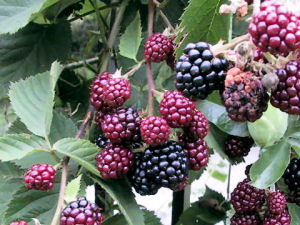 Kentucky State Fruit: Blackberry
Credit: United States Department of Agriculture (USDA)
Kentucky Law
The following information was excerpted from the Kentucky Revised Statutes, Title 1, Chapter 2, Section 2.089.
TITLE I - SOVEREIGNTY AND JURISDICTION OF THE COMMONWEALTH
CHAPTER 2 CITIZENSHIP, EMBLEMS, HOLIDAYS, AND TIME
Section 2.089
2.089 State fruit.
The blackberry is named and designated as the official fruit of Kentucky.
Effective: July 13, 2004
History: Created 2004 Ky. Acts ch. 114, sec. 1, effective July 13, 2004.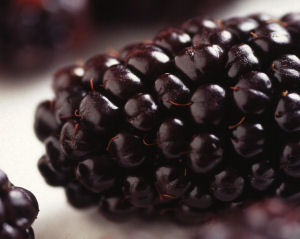 Kentucky State Fruit: Blackberry
Photograph: USDA Photo by (Scott Bauer)
Additional Information
Blackberries: University of Kentucky - Cheryl Kaiser and Matt Ernst.
Rubus occidentalis L. (Black raspberry): USDA, NRCS. 2004. The PLANTS Database, Version 3.5 (http://plants.usda.gov). National Plant Data Center, Baton Rouge, LA 70874-4490 USA.
Rubus occidentalis L. (Black raspberry): Virginia Tech, Department of Forestry: College of Natural Resources Fact Sheet.
Rubus occidentalis L. (Black raspberry): Bioimages from the Department of Biological Sciences of Vanderbilt University.
State Fruit: Complete list of official state fruit.
More symbols & emblems: Complete list of official Kentucky state symbols.

Fruits and Berries for the Home Garden
by Lewis Hill
Fruits and Berries for the Home Garden, by Lewis Hill. 280 pages. Storey Publishing, LLC; Revised edition (January 4, 1992) With over 45 years of growing fruits, nuts, and berries, Lewis Hill is an authority. Basic enough for novices and comprehensive enough for more experienced growers, the book features recommendations about new, improved fruit cultivars, effective and environmentally sound advice on how to fertilize plantings and control pests and diseases, complete information about what fruit to grow and where, and recommendations on improving the soil, planting, pruning, thinning, and other year-round maintenance suggestions for harvesting, preserving, and storage.
The Backyard Berry Book: A Hands-On Guide to Growing Berries, Brambles, and Vine Fruit in the Home Garden, by Stella Otto. 288 pages. Ottographics (April 1, 1995) Hands-on advice from a professional horticulturist and experienced fruit grower to help gardeners create an edible landscape. The Backyard Berry Book provides all the information that backyard gardeners need to grow strawberries, rhubarb, raspberries, blackberries, blueberries, lingonberries, currants, gooseberries, grapes, and kiwi fruit. Includes details on soil nutrition and testing; disease, pest, weed, and bird control; and trellis design.
The Organic Gardener's Handbook of Natural Insect and Disease Control: A Complete Problem-Solving Guide to Keeping Your Garden and Yard Healthy Without Chemicals, edited by Barbara W. Ellis and Fern Marshall Bradley. 544 pages. Rodale Books; Revised edition (May 15, 1996) An excellent handbook with entries for common fruits, flowering plants, vegetables, and trees. Each listing has information on disease and pest problems and tips on how to solve them without chemicals. Especially useful sections feature photos of garden insects and diseases.
The Omnivore's Dilemma: A Natural History of Four Meals, by Michael Pollan. 464 pages. Penguin Press HC, The (April 11, 2006) The bestselling author of The Botany of Desire explores the ecology of eating to unveil why we consume what we consume in the twenty-first century
In Defense of Food: An Eater's Manifesto, by Michael Pollan. 256 pages. Penguin Press HC, The (2008) In looking toward traditional diets the world over, as well as the foods our families-and regions-historically enjoyed, we can recover a more balanced, reasonable, and pleasurable approach to food. Michael Pollan's bracing and eloquent manifesto shows us how we might start making thoughtful food choices that will enrich our lives and enlarge our sense of what it means to be healthy.
Garden tools from Amazon.com!
Custom Search