HOME
INTRO
SYMBOLS
ALMANAC
ECONOMY
GEOGRAPHY
STATE MAPS
PEOPLE
FORUM
NEWS
COOL SCHOOLS
STATE QUIZ
STATE LINKS
BOOK STORE
MARKETPLACE
NETSTATE.STORE
NETSTATE.MALL
GUESTBOOK
CONTACT US


---
Double click any word in document for definition.
North Dakota State Flag
North Dakota State Flag
Adopted:
March 3, 1911
Print Flag Image
Left-click on the image below to print the flag image. A window will be displayed that will allow you to print the image or cancel the print operation. JavaScript must be enabled within your browser.
To learn about how the North Dakota state flag came to be adopted, click here.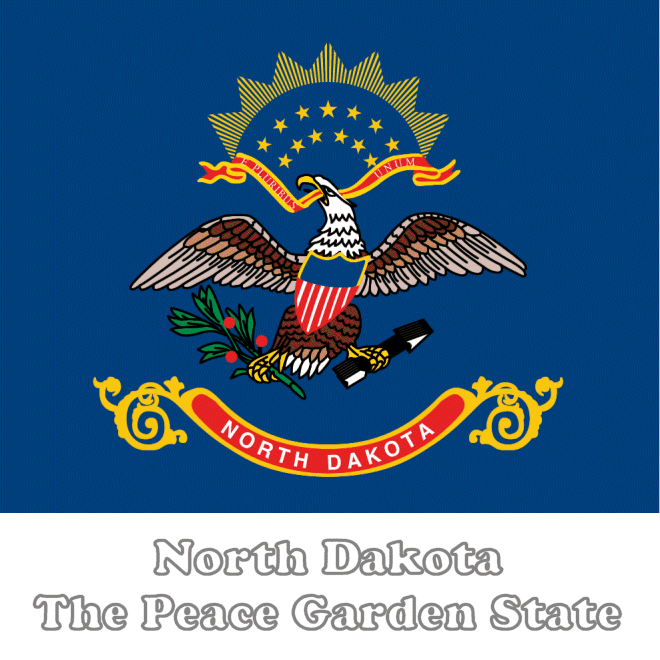 North Dakota Law
The following information was excerpted from the 2007 North Dakota Century Code, Title 54, Chapter 54-02.
Title 54 State Government
CHAPTER 54-02 STATE EMBLEMS, SYMBOLS AND AWARDS
SECTION 54-02-02 STATE FLAG
54-02-02. State flag.
The flag of North Dakota must consist of a field of blue silk or material which will withstand the elements four feet four inches [132.08 centimeters] on the pike and five feet six inches [167.64 centimeters] on the fly, with a border of knotted yellow fringe two and one-half inches [6.35 centimeters] wide. On each side of said flag in the center thereof, must be embroidered or stamped an eagle with outspread wings and with opened beak. The eagle must be three feet four inches [101.6 centimeters] from tip to tip of wing, and one foot ten inches [55.88 centimeters] from top of head to bottom of olive branch hereinafter described. The left foot of the eagle shall grasp a sheaf of arrows, the right foot shall grasp an olive branch showing three red berries. On the breast of the eagle must be displayed a shield, the lower part showing seven red and six white stripes placed alternately. Through the open beak of the eagle must pass a scroll bearing the words "E Pluribus Unum". Beneath the eagle there must be a scroll on which must be borne the words "North Dakota". Over the scroll carried through the eagle's beak must be shown thirteen five-pointed stars, the whole device being surmounted by a sunburst. The flag must conform in all respects as to color, form, size, and device with the regimental flag carried by the First North Dakota Infantry in the Spanish American War and Philippine Insurrection, except in the words shown on the scroll below the eagle.