---
Double click any word in document for definition.
Delaware State Flag
Delaware State Flag
Adopted:
July 24, 1913
Print Flag Image
Left-click on the image below to print the flag image. A window will be displayed that will allow you to print the image or cancel the print operation. JavaScript must be enabled within your browser.
To learn about how the Delaware state flag came to be adopted, click here.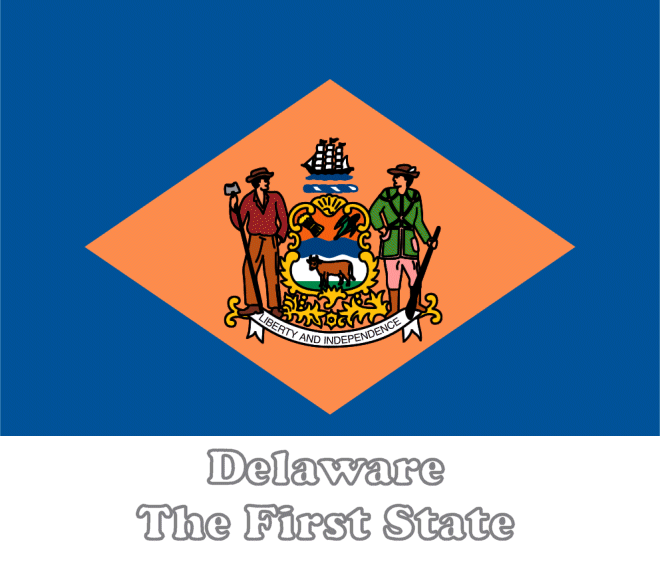 Delaware Law
The following information was excerpted from the The Delaware Code, Title 29, Chapter 3.
Title 29. State Government, General Provisions.
CHAPTER 3. STATE SEAL, SONG AND SYMBOLS.
SECTION 306.
§ 306. State flag.
The design of the official state flag shall be as follows: A background of colonial blue surrounding a diamond of buff in which diamond is placed the correct coat of arms of the State in the colors prescribed by law and in accordance with § 301 of this title, with the words, "December 7, 1787," to be inscribed underneath the diamond.
The official state colors, colonial blue and buff, are designated by the Textile Color Card Association of the United States, Inc., New York, as "arno blue" Cable No. 10663, and "golden beige" Cable No. 10781 respectively; the color shades having been determined by Colorimetric Specifications of the National Bureau of Standards, United States Department of Commerce, in Test No. 2, 1/140565, dated November 18, 1954, which is on file with the Delaware Public Archives, Dover, Delaware. The colors of the coat of arms and other elements of the state flag shall be the following: Husbandman, trousers of gray brown, shirt of red, hat and hilling hoe of brown; rifleman, suit of green, binding, bag and leggings of buff, hat of brown, powder flask and feather of gray; shield, frame of shaded yellow, top panel of orange, center panel of blue, lower panel of white, ox of red brown, grass and corn of green, wheat and branches underfoot of yellow, heraldric wreath to be blue and silver (twisted); ship under full sail to have a dark hull and white sails; date, December 7, 1787, to be white; cord and tassels to be blue and gold. (29 Del. C. 1953, § 506; 50 Del. Laws, c. 288, § 1; 70 Del. Laws, c. 186, § 1; 72 Del. Laws, c. 91, § 10.)