---
Double click any word in document for definition.
Arkansas State Flag
State Flag
Adopted:
April 24, 1924
Print Flag Image
Left-click on the image below to print the flag image. A window will be displayed that will allow you to print the image or cancel the print operation. JavaScript must be enabled within your browser.
To learn about how the Arkansas state flag came to be adopted, click here.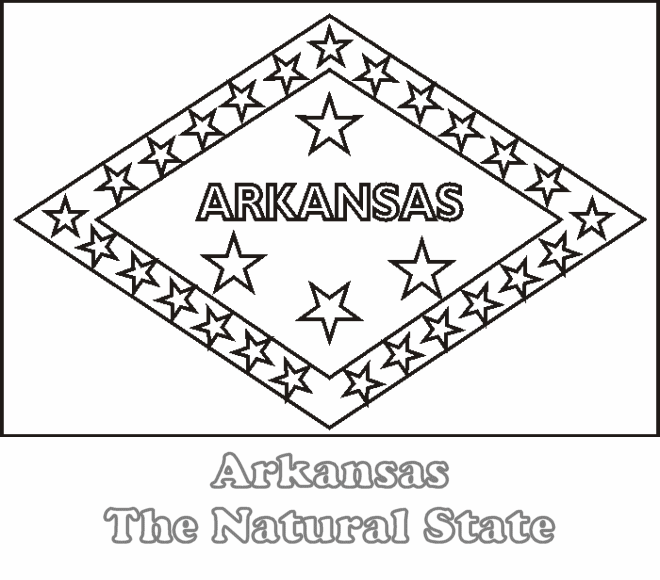 Additional Information
Adoption of Arkansas's State Flag from NETSTATE.
Protocol For The Arkansas State Flag: This booklet outlines procedures for the care and use of the Arkansas State Flag. The book was compiled by a committee formed by the Secretary of State. Representatives of the Governor's Office, the Department of Education, the Girl Scouts of the U.S.A., the State History Commission, the Secretary of State's Office and the Daughters of the American Revolution made up the committee.
Arkansas (U.S.): FOTW "Flags of the World" Web Site.
State Flags: Complete list of state flags with links to large pictures and images suitable for coloring.
Flag Terminology: The parts of a flag and terms associated with its design.
Visit Our Flag Shop: Purchase all kinds of flags and banners, lapel pins, 50 state flag sets, decals, patches, college banners at the Flag Shop.
Flags of the Fifty States and their Incredible Histories: A complete guide to America's most powerful symbols by Randy Howe.
How Proudly They Wave: Flags of the Fifty States: This book, by Rita D. Haban, is geared toward younger readers.