Additional Information
Kentucky (Spotted) Bass: Picture and brief description (Howard Whiteman Lab, Murray State University).
Micropterus punctulatus - (Rafinesque, 1819): NatureServe Explorer: An Online Encyclopedia of Life.
Micropterus punctulatus (Rafinesque, 1819): Integrated Taxonomic Information System (ITIS) Here you will find authoritative taxonomic information on plants, animals, fungi, and microbes of North America and the world.
Fishing and Boating: Kentucky Department fo Fish and Wildlife Resources.
Kentucky Fish: Kentucky Department of Fish and Wildlife Resources.
State Fish: Complete list of official state Fish.
More symbols & emblems: Complete list of official Kentucky state symbols.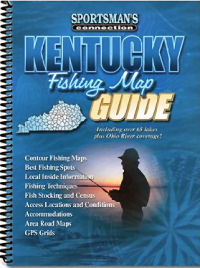 Kentucky Fishing Maps Guide
by Sportsman's Collection
A Fishing Guide to Kentucky's Major Lakes, by Arthur B. Lander. 304 pages. University Press of Kentucky; 2 Sub edition (April 3, 1998) A Fishing Guide to Kentucky's Major Lakes is The source for information on the twenty-two most important Kentucky reservoirs and the top fifteen sport fish species found therein. Kentucky boasts some of America's finest fishing lakes. From deep, cold lakes teeming with walleye, muskie, and smallmouth bass, to mud-bottomed shallows famous for catfish, bluegill, and largemouth bass, this mix is guaranteed to test the skill of any angler. Well-known Kentucky outdoors writer Art Lander reveals what type of fishing is best at each lake, where fish can be found during the various seasons, and what tackle and techniques have proven best for each species.
Kentucky Fishing Map Guide, 8.5" x 11" 224 pages. We cover 69 of Kentucky's best fisheries - from the giants like Kentucky, Barkley, Cumberland and Dale Hollow all the way down to the peaceful 3-acre Kingdom Come. Purchasing maps of just the 15 biggest lakes separately could cost you up to $200, and you'd be hard pressed to find a map of any other lake. We offer the same detail of the other guys' maps complete with marked fishing spots, GPS grids, tips from local experts and stocking and survey data.
Kevin Vandam's Bass Strategies: A Handbook for All Anglers, by Kevin VanDam, Louie Stout. 210 pages. Kvd Publications (January 1996) The nation's most revered bass angler reveals everything you need to know to catch more bass from reservoirs, natural lakes, and rivers. In addition to dozens of tips for finding and catching bass, VanDam analyzes the dilemmas anglers face and how to overcome them.
Roland Martin's 101 Bass-Catching Secrets, by Roland Martin. 448 pages. Skyhorse Publishing; 2nd Ed edition (April 22, 2008) Both practical and discursive, Martin not only discusses why bass strike, how to use live bait, plugs, and spinners, tricks for night fishing, and how to fish logs, weeds, rocks, and trees; he also recounts how he once fished five rods at once during a school feeding frenzy, and how fellow legend Bill Dance charmed him out of a spinnerbait and beat him with it in a tournament. Full of information and great stories, Roland Martin's 101 Bass-Catching Secrets is the best guide available to help fishermen land more bass, and a revealing look at the exciting world of professional fishing.
Complete line of fishing equipment
including rods, reels, rod and reel combinations, fly fishing gear, bait and spin casting rods and reels, ice fishing equipment, lures and flies, and other accessories. All major brands.
Custom Search