Additional Information
State Symbol: Illinois State Fish - Bluegill (Lepomis macrochirus): Description from the Illinois State Museum.

I Fish Illinois: The fishing website for Illinois waters from the Illinois Department of Natural Resources.
Bluegill Lepomis macrochirus: The University of Michigan's Critter Catalog.
Lepomis macrochirus (bluegill): The University of Michigan Museum of Zoology: Animal Diversity Web.
Lepomis macrochirus Rafinesque, 1819: Integrated Taxonomic Information System(ITIS) Here you will find authoritative taxonomic information on plants, animals, fungi, and microbes of North America and the world.
Lepomis macrochirus - Rafinesque, 1819: NatureServe Explorer: An Online Encyclopedia of Life.
Lepomis macrochirus: CalPhoto photographs. The Biodiversity Sciences Technology group (BSCIT), a part of the Berkeley Natural History Museums at the University of California, Berkeley.
State Fish: Complete list of official state Fish.
More symbols & emblems: Complete list of official Illinois state symbols.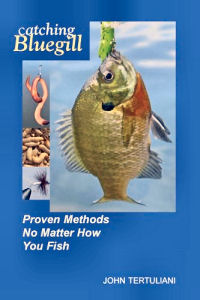 Catching Bluegill
by John Tertuliani
Catching Bluegill, by John Tertuliani. 244 pages. Lotic Books; 1st edition (September 13, 2006) Tertuliani describes in detail what makes ideal habitat and the best ways to find the bluegill in any season. He explains everything from live worms to dry flies. Proven methods no matter how you fish, is the legitimate platform for the book. Tertuliani is an obvious expert on tackle, especially hook design, but he appears to have an even greater understanding of fishing with kids. If you have kids or grandkids, Chapter 7 alone is worth the price of the book.
Bluegill Fly Fishing & Flies, by Roxanne Wilson, Terry Wilson. 151 pages. Frank Amato Publications; 1 edition (April 19, 1999) Large bluegill can be as selective as any trout. Their pugnacity is legendary and their yanking, diving, twisting battles make for a tenacious opponent, especially on ultra-light equipment. The Wilsons share: proper equipment; the best flies, including their recipes and techniques for using them; identifying the most productive bluegill waters; bluegill habits and behaviors; effective presentations; and many more tips learned over their combined 75 years of experience fishing for bluegill.
The Fishes of Illinois, by Philip W. Smith. 352 pages. University of Illinois Press (May 22, 2002) Illinois bodies of water are home to a diverse population of fishes, from the silverjaw minnows that inhabit the shallow, sandy bottoms of eastern Illinois streams to the freckled madtom catfish that are particular to the Kaskaskia River or the banded pygmy sunfish that prefer swampy sloughs in the state's southernmost region. This comprehensive volume, now available for the first time in paperback, is considered the definitive reference work on the state's 199 species of fishes.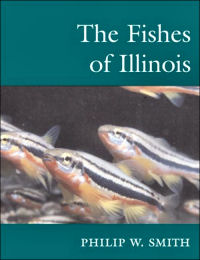 The Fishes of Illinois
by Philip W. Smith
Fishes of the Great Lakes Region, by Carl L. Hubbs, Karl F. Lagler. 332 pages. University of Michigan Press/Regional; Revised edition (December 8, 2004) For everyday anglers, armchair enthusiasts, and serious students of fish alike, Fishes of the Great Lakes Region remains the definitive guide in the identification and study of the fishes of this important freshwater region.
A Field Guide to Freshwater Fishes, by Lawrence M. Page, Brooks M. Burr. 440 pages. Houghton Mifflin Harcourt (January 1, 1991) The first comprehensive field guide to freshwater fishes - covers all 790 species known in the United States and Canada. More than 700 illustrations, most in color, show identifying marks. Also includes 377 distribution maps and additional drawings of key details.
Ken Schultz's Field Guide to Freshwater Fish, by Ken Schultz. 272ges. Wiley; illustrated edition edition (December 29, 2003) From one of the most respected names in the world of sportfishing comes the definitive, full-color guide to 140 of the most common freshwater fish species found in North American rivers, lakes, and streams. Featuring information on identification, habitat, size, and diet, Ken Schultz's Guide to Freshwater Fish is a must for anglers and sportfishing enthusiasts everywhere.
Complete line of fishing equipment
including rods, reels, rod and reel combinations, fly fishing gear, bait and spin casting rods and reels, ice fishing equipment, lures and flies, and other accessories. All major brands.
Custom Search