HOME
INTRO
SYMBOLS
ALMANAC
ECONOMY
GEOGRAPHY
STATE MAPS
PEOPLE
FORUM
NEWS
COOL SCHOOLS
STATE QUIZ
STATE LINKS
BOOK STORE
MARKETPLACE
GUESTBOOK
CONTACT US

---
Double click on word for definition.
Oregon State Animal
Beaver
Castor canadensis
Adopted:
April 4, 1969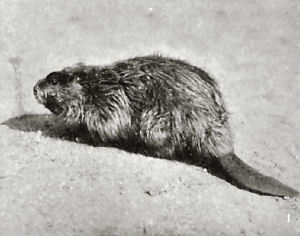 Oregon state animal: Beaver
Courtesy: Oregon State Legislature
Photographs, Posters and Prints
Senate Joint Resolution No. 1 was sponsored by Senator Glen M. Stadler of Eugene. Its backers in the House of Representatives were Robert C. Ingalls, of Corvallis, and Roger E. Martin of Lake Oswego.
Known as the "Beaver State," Oregon's early history is intertwined with this largest North American rodent. In the 1800s, demand for beaver hats and coats led to virtual elimination the animal in many areas of Oregon.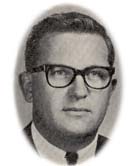 Speaker of the House
Robert F. Smith
The Beaver is featured on one side of the Oregon state flag and numerous sports teams, buildings, roads, and communities are named with reference to the beaver. Athletes are often referred to as beavers.
Perhaps, because of the popularity of beavers in the state, the sponsors did not feel that much explanation for their resolution was required. It provides no background information to justify the beaver as the official state animal. It simply claims to be correcting an old "inadvertent oversight."
The resolution was first read in the Senate on January 15, 1969. It was approved by both houses by March 27. Signed by the President of the Senate, E.D. Potts of Grants Pass, on April 3 and the Speaker of the House, Robert F. Smith of Burns, on April 4, Joint Resolution No. 1 was filed with the Secretary of State on April 4, 1969.
SENATE JOINT RESOLUTION 1

Whereas the great and sovereign State of Oregon officially adopted a state seal at its Constitutional Convention in 1857; a state flag in 1859 upon admission into the Union; a state flower, the Oregon grape, in 1899; a state bird, the Western Meadowlark, by selection of the school children of the state in 1927; a state tree, the Douglas fir in 1939; a state motto, "The Union", in 1957; a "Father of Oregon", Dr. John McLoughlin, in 1957; the state colors, navy blue and gold in 1959; a state fish, the Chinoock salmon, in 1961; and a state rock, the Thunderegg, in 1965; and

Whereas the legislature of the State of Oregon in 1925 enacted a law prescribing a state flag and including in the description thereof the provision that the reverse of the flag should bear the figure of a beaver in gold on a blue field; and

Whereas by inadvertent oversight, neither that body nor any of its predecessors or successors took occasion to enact legislation recognizing the importance of the Beaver to the history and economy of this state in any other way; and

Whereas this Fifty-fifth Legislative Assembly desires to remedy the aforementioned oversight, and to welcome the Beaver to the family of official symbols representative of the State of Oregon; now, therefore,

Be it resolved by the Legislative Assembly of the State of Oregon:

That the Beaver (Castor canadensis) hereby is declared to be the official animal of the State of Oregon.

Filed in the office of Secretary of State April 4, 1969.
The beaver is also the state animal of New York, on the east coast of the conterminous United States.
Oregon Law
The following information was excerpted from the Oregon Revised Statutes - 2009 Edition, Title 19, Chapter 186.
TITLE 19 MISCELLANEOUS MATTERS RELATED TO GOVERNMENT AND PUBLIC AFFAIRS
186. State Emblems; State Boundary
CROSS-REFERENCES.
Beaver declared to be official animal, SJR 1 (1969)
---
Sources...
"Oregon Revised Statutes - 2009." Salem: State of Oregon, 2011. Web. 11 Apr 2011. <http://www.leg.state.or.us/ors/home.htm>
"Oregon State Archives: Oregon Legislators and Staff Guide: State Government Legislators and Staff - 1969 Regular Session." Oregon State Archives. State of Oregon, 13 Apr. 2009. Web. 11 Apr 2011. <http://arcweb.sos.state.or.us/legislative/histleg/statehood/1969reg.htm>
Shearer, Benjamin F. and Barbara S. State Names, Seals, Flags and Symbols: A Historical Guide Third Edition, Revised and Expanded. Westport, Conn: Greenwood Press, 3 Sub edition, 2001.
---
Additional Information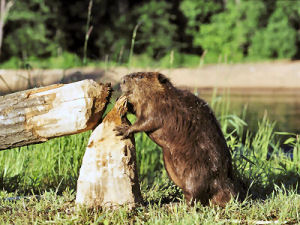 Oregon state animal: Beaver
Photographs, Posters and Prints
State Symbols: Animal to Fish: The Oregon Blue Book is the official state directory and fact book about all levels of government in Oregon.
Oregon's State Fish and Wildlife Species: Oregon Department of Fish and Wildlife.
American Beaver (Castor canadensis): National Wildlife Foundation's eNature.com field guide.
Castor canadensis (American beaver): Smithsonian Museum of Natural History - North American Mammals.
Castor canadensis (American Beaver): The University of Michigan Museum of Zoology: Animal Diversity Web.
Castor canadensis - (Kuhl, 1820), American Beaver: A network connecting science with conservation - NatureServe Explorer: An Online Encyclopedia of Life.
Castor canadensis (Kuhl, 1820): Integrated Taxonomic Information System (ITIS) Here you will find authoritative taxonomic information on plants, animals, fungi, and microbes of North America and the world.
State Animals: Complete list of official state animals from NETSTATE.COM.
More symbols & emblems: Complete list of official Oregon state symbols from NETSTATE.COM.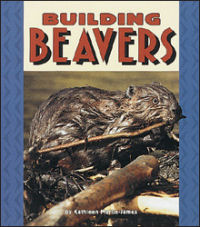 Building Beavers
by Kathleen Martin-James
Building Beavers, by Kathleen Martin-James. 32 pages. Lerner Publications (November 1999) Reading level: Ages 4-8. Introduce children to the physical characteristics, behaviors, and habitats of the American beaver - convey the animals' traits as well as their daily routines. Book includes two to three lines of text per page with a clear, full-color photograph. Italicized words are found in the glossaries. Range maps and labels, full-color illustrations of the American beaver make this book a good introduction for young naturalists and animal lovers.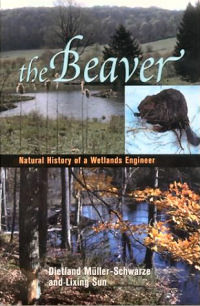 The Beaver
Dietland Müller-Schwarze, Lixing Sun
Beavers, by Leonard Lee Rue III. 72 pages. Voyageur Press (May 17, 2002) Beavers presents an engaging look at the life of beavers around the world in the very readable style for which author Dr. Leonard Lee Rue is well-known. Focusing mainly on the North American beaver, Dr. Rue introduces readers to the beaver's way of life, one season at a time. Coverage includes the beaver's building projects (dams, lodges, burrows, channels, canals, and more), how they give birth and raise their young, and the relationship between beavers and humans.
The Beaver: Natural History of a Wetlands Engineer , by Dietland Müller-Schwarze, Lixing Sun. 190 pages. Cornell University Press (June 2003) In an up-to-date, exhaustively illustrated, and comprehensive book on beaver biology and management, Dietland Mümller-Schwarze and Lixing Sun gather a wealth of scientific knowledge about both the North American and Eurasian beaver species. The Beaver is designed to satisfy the curiosity and answer the questions of anyone with an interest in these animals, from students who enjoy watching beaver ponds at nature centers to homeowners who hope to protect their landscaping. Photographs taken by the authors document every aspect of beaver behavior and biology, the variety of their constructions, and the habitats that depend on their presence.