Kentucky Law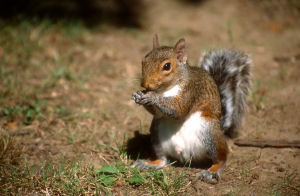 Kentucky State Wild Animal Game Species: Gray Squirrel
Photo credit: John J. Mosesso/NBII.Gov
The following information was excerpted from the Kentucky Revised Statutes, Title 1, Chapter 2, Section 2.085.
TITLE I - SOVEREIGNTY AND JURISDICTION OF THE COMMONWEALTH
ARTICLE
CHAPTER 2 CITIZENSHIP, EMBLEMS, HOksAYS, AND TIME
SECTION 2.085
2.085 State wild animal game species.
The gray squirrel is named and designated as the state wild animal game species.
Effective: June 13, 1968
History:Created 1968 Ky. Acts ch. 219, sec. 1, effective June 13, 1968.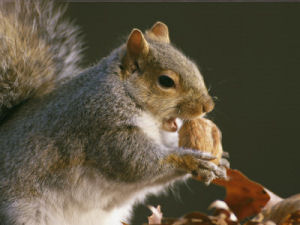 Photographs, prints, and posters
Additional Information
Eastern Gray Squirrel (Sciurus carolinensis): National Wildlife Foundation's eNature.com field guide.
Sciurus carolinensis (Eastern Gray Squirrel): Information about gray squirrels from the Smithsonian National Museum of Natural History.
Sciurus carolinensis (Eastern Gray Squirrel) Information and pictures from the University of Michigan Museum of Zoology's Animal Diversity Web.
Sciurus carolinensis Gmelin, 1788: Integrated Taxonomic Information System (ITIS) Here you will find authoritative taxonomic information on plants, animals, fungi, and microbes of North America and the world.
Sciurus carolinensis (Gray Squirrel): CalPhoto photographs. The Biodiversity Sciences Technology group (BSCIT), a part of the Berkeley Natural History Museums at the University of California, Berkeley.
State Animals: Complete list of official state animalss.
More symbols & emblems: Complete list of official Kentucky state symbols.
They Call Me Mommy: The Tale Of An Eastern Gray Squirrel , by Bonnie Strunk. 76 pages. (November 2, 2005) Reading level: Ages 9-12. When two squirrel-loving children become Mommy's good friends, they get a squirrel's-eye view of the world and a great natural education. They also encounter adventure, as they help Mommy rescue her energetic babies from calamities. Based on actual events, catastrophes and behaviors of squirrels, including Mommy, in the author's backyard and neighborhood.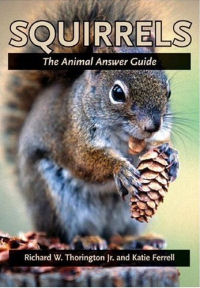 Squirrels: The Animal Answer Guide
Richard W. Thorington Jr., Katie E. Ferrell
Squirrels: The Animal Answer Guide, by Richard W. Thorington Jr., Katie E. Ferrell. 208 pages. The Johns Hopkins University Press; illustrated edition edition (August 2, 2006) The diversity of squirrels is astounding. There are 278 species that inhabit all continents except Antarctica and Australia -- varying in size from the lumbering 18-pound gray marmot to the graceful pygmy flying squirrel that is smaller than most mice. In many parts of the world they readily share human habitats, joining us for lunch in a city park, raiding our bird feeders, and sneaking into college dorm rooms through open windows. Reviled as pests or loved as an endearing amusement, squirrels have played important roles in trade, literature, and mythology.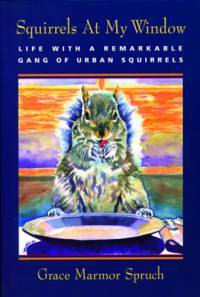 Squirrels at My Window
by Grace Marmor Spruch
Squirrels: A Wildlife Handbook, by Kim Long. 181 pages. Johnson Books; 1st edition (September 1995) A combination of illustrated field guide, fact book, and folklore collection, "Squirrels" is a new kind of wildlife book. This concise, illustrated handbook presents an accurate, informative portrait of squirrels in their natural habitat, along with an examination of their relationship to man.
Squirrels at My Window: Life With a Remarkable Gang of Urban Squirrel, by Grace Marmor Spruch. 189 pages. Johnson Books (February 2000) "[A] thoroughly delightful and engaging book. The author provides an entertaining tale while tricking her readers into a thorough lesson of squirrel anatomy and physiology." -Journal of Wildlife Rehabilitation