The New York State Quarter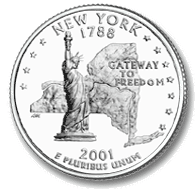 The New York state quarter is the sixth quarter to be released in the new millennium and the first quarter to be released in 2001. It was officially unveiled on January 8, 2001 by New York State Governor George E. Pataki and U.S. Treasurer Mary Ellen Withrow at the New York State Museum in Albany.
Prominently displayed is the 1886 gift from France, the Statue of Liberty, superimposed over an outline of New York state.
For more than 100 years, the Statue of Liberty was the first symbol of freedom viewed by immigrants entering the United States through Ellis Island. "Gateway to Freedom celebrates New York's place in history as the entry point for millions of immigrants coming to America seeking the opportunities that living in a free society provides," said Treasurer Mary Ellen Withrow. "By selecting this design for the New York quarter, Governor Pataki and the citizens of New York are paying homage to the people who came from around the world to make New York a diverse, multi-cultural state."
The date of New York's entry into the union, 1788, is displayed along with eleven stars representing the number of states when New York entered the union. Lines tracing the Hudson River and Erie Canal are also etched into the state's outline. These two important waterways were not included in the original design. They were added at Governor Pataki's request to pay tribute to their importance in the state's development.
The selection of the design for New York's new quarter began when Governor Pataki solicited design ideas from the residents of New York. Hundreds of suggestions came from school children, history buffs, graphic artists and coin collectors across the state. On June 19, 2000, Governor Pataki unveiled five candidate designs. They included Henry Hudson and his ship, the Half Moon; a rendering of the historic painting, "Battle of Saratoga"; the Statue of Liberty; and the New York Federal Building. New Yorkers were encouraged to write or email Pataki's office to vote for their favorite design. Capturing 76% of the vote, the Statue of Liberty design was officially selected by Governor Pataki to adorn the reverse of the New York quarter.
The release of the New York quarter marks the end of the distribution of the Virginia quarter.
Source: United States Mint, http://www.usmint.gov, March 23, 2001.