The Commonwealth of Virginia Quarter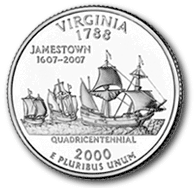 Ten cannon shots were fired at the Jamestown Settlement the morning of October 16, 2000, marking the launch of the Virginia state quarter – the tenth new coin minted under the U.S. Mint's 50 State Quarters Program. The event took place in front of replicas of the three ships portrayed on the new coin -- the Susan Constant, the Godspeed and the Discovery - the sailing vessels that brought the first permanent English settlers to Jamestown, Virginia in 1607.
On April 10, 1606, King James I of England chartered the Virginia Company to encourage colonization in the New World. The first expedition, consisting of the three ships depicted on the quarter, embarked from London on December 20, 1606. On May 12, 1607, they landed on a small island along the James River nearly 60 miles from the mouth of the Chesapeake Bay. It was here the original settlers (104 men and boys) established the first permanent English settlement called Jamestown, in honor of King James I. "The Virginia quarter depicts one of the most significant sites in state and national history," said U.S. Treasurer Mary Ellen Winthrow.
In 2007, Jamestown, the first permanent settlement in the United States, will celebrate its 400th anniversary. To commemorate this event, the new quarter design includes the word, "QUADRICENTENNIAL." "These coins will circulate throughout the nation for years to come and will stand as a symbol to all Americans that the courage and perseverance of our forefathers began here in Jamestown," said Virginia Governor James Gilmore.
The release of the Virginia quarter marks the end of the distribution of the New Hampshire quarter. Each new quarter is minted for approximately ten weeks, after which its is no longer produced. The new quarters are manufactured at both the Philadelphia and Denver Mints, which produce all legal tender U.S. circulating coins, before being shipped to the Federal Reserve for distribution through the banking system. The Federal Reserve orders new quarters to ensure an adequate supply to meet the needs of commerce as commercial banks demand.
The selection of the design for Virginia's new quarter began when Governor James Gilmore III selected State Treasurer Susan F. Dewey to serve as liaison to the U.S. Mint for the 50 State Quarters™ Program. Ideas were solicited from colleges, universities, museums, and state agencies. Public comment was overwhelming, with thousands of responses received. Representatives from the Library of Virginia, the Department of Historic Resources, the Virginia Tourism Corporation and the Department of General Services assisted the State Treasurer in selecting design concepts for the Virginia quarter. The citizens of Virginia were encouraged to provide their comments. Governor Gilmore then forwarded his final design concept recommendation, the Jamestown Quadricentennial, to the Secretary of the Treasury who gave final approval.
Source: United States Mint, http://www.usmint.gov, March 23, 2001.