William Stonehill Saroyan
Born: August 31, 1908
Place: Fresno, California
Died: May 18, 1981
Place: Fresno, California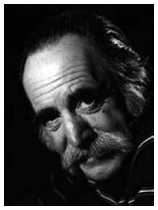 William Saroyan was born in Fresno, California on August 31, 1908. His parents had both emigrated to the United States from Armenia. When Saroyan was three years old, his father died, and his mother was unable to provide for the four Saroyan children. William and his siblings were placed in an orphanage in Oakland, California. Then, after five years of being raised in an orphanage, the Saroyan children were reunited with their mother, and Mrs. Saroyan was able to re-establish the family in Fresno.
William attended school until he was fifteen, when he left high school to try his luck out in the world. He took on odd jobs, and began to write, hoping to get his work published. His work was not an immediate thundering success. Some of his poems and a few short stories did get published, but his genuine breakthrough came when The Daring Young Man on the Flying Trapeze was published in 1934. This is the work that catapulted Saroyan into the spotlight, and really made him an overnight success. From that point on, Saroyan was able to write and be published, and he continued to please his widespread audience. During the course of his life, Saroyan produced more than sixty books. Many of his works were based on autobiographical themes; others explored the world of Armenian immigrants, and the themes of freedom, brotherly love, and hope and poverty during the Great Depression.
In 1939, Saroyan was awarded the Pulitzer Prize for his play The Time of Your Life, but he did not accept the honor. Stepping right into controversy, Saroyan said that accepting the Pulitzer for his work would be inappropriate. He said there was no reason that this particular play should be singled out over any other work. He is best known for My Name is Aram, a collection of short stories, and The Human Comedy, a novel. William Saroyan died on May 18, 1981, about a mile from the Fresno house in which he was born.
For an anthology of Saroyan's short stories, you may wish to look at New Saroyan Reader : A Connoisseur's Anthology of the Writings of William Saroyan .
---