William Randolph Hearst
Born: April 29, 1863
Place: San Francisco, California
Died: August 14, 1951
Place: Beverly Hills, California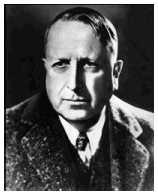 William Randolph Hearst was born in San Francisco, California on April 29, 1863. He was the son of United States Senator George Hearst and Mrs. Phoebe Apperson Hearst. The elder Hearst had become quite successful in the mining business, and William Randolph Hearst was afforded a comfortable upbringing. William pursued his education at Harvard University during the mid 1880's. In 1887, his father allowed him to take over the operations of a small newspaper that he owned, the San Francisco Examiner. William took the Examiner from a money-losing small-time paper and transformed it into thriving, popular moneymaker. The paper did not rely solely on traditional methods for becoming successful, and some of its success was due to its sensationalist tactics, although certainly the paper's success was also a result of Hearst's keen business sense.
Many of Hearst's methods raised eyebrows in the world of journalism. His paper was peppered with headlines that could be brash and often controversial, and he ran stories that invited controversy, and it worked. He was sometimes disparaged by other journalists who disapproved of his methods. What he was able to do, though, was to sell newspapers and advertising, and he did it with a passion. In 1895 Hearst purchased his second newspaper, the New York Morning Journal. Hearst refined the circulation-boosting methods that he used with the Examiner, and the Journal boomed. Hearst's papers did not lose their often sensational tactics, and his use of the papers to advocate war with Spain over Cuba in 1897 led charges of "yellow journalism" to fly.
Hearst continued to buy newspapers across the country, and eventually his publishing empire included dozens of newspapers, magazines, and films. As his empire grew, so obviously did his wealth, and he built a magnificent California estate, San Simeon, which is also referred to as the Hearst Castle. Here he entertained luminaries from all over the world as his wealth and power grew. William Randolph Hearst died in Beverly Hills, California on August 14, 1951 at the age of 88.
For a more detailed look at the fascinating life and career of William Randolph Hearst, we can recommend:
William Randolph Hearst : The Early Years, 1863-1910 by Ben Proctor, and
William Randolph Hearst and the American Century by Nancy Whitelaw.
---