Robert Lee Frost
Born: March 26, 1874
Place: San Francisco, California
Died: January 29, 1963
Place: Boston, Massachusetts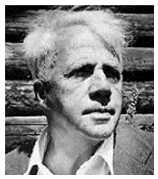 Robert Frost was born in San Francisco, California on March 26, 1874. When his father died in 1885, Frost's mother moved the family east to Lawrence, Massachusetts. Robert was 11 years old at the time. His mother pursued a career as a schoolteacher. Robert continued his education, graduated from high school, and attended Dartmouth College in Hanover, New Hampshire for a short while. He wrote poetry, and supported himself variously as a teacher, a mill worker, a cobbler, and a farmer. Robert Frost married Elinor White in 1895. Together they had six children. The fields and woods of New Hampshire farms surrounded Frost as he composed his poetry. However, Frost had only limited success in getting his works published, and he decided he needed a change of scenery. So in 1912 he packed up and moved to England. Here he succeeded in getting two collections of poetry published over the next two years. By the time he returned to the United States in 1915, Frost was known as a poet on both sides of the Atlantic.
The family returned to New England, and Frost was able to pursue his writing. His love for rural settings kept him on farms in New Hampshire and Vermont, and much of his work reflects these pastoral settings. Robert Frost received four Pulitzer prizes during his lifetime. In 1961, the nation watched the televised inauguration of President John F. Kennedy. On that blustery day in Washington, D.C., Robert Frost achieved an unofficial status as the nation's poet laureate as he honored the new president with readings from his poetry. Frost continued to write poetry throughout all his life. Robert Frost passed away on January 29, 1963.
The following link to Amazon.com is a good collection of Frost's works:
The Poetry of Robert Frost is a comprehensive volume of Frost's published verse, including the contents of all eleven of his individual books of poetry -- from A Boy's Will(1913) to In the Clearing (1962).
---