Joe DiMaggio
Born: November 25, 1914
Place: Martinez, California
Died: March 8, 1999
Place: Hollywood, Florida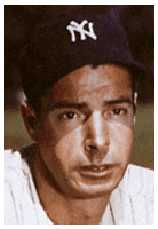 Joe DiMaggio was born on November 25, 1914 on the coast of California in the fishing village of Martinez. The DiMaggio family had emigrated to the United States from Sicily in 1898. The family was large, and Joe grew up as one of eight brothers and sisters. In 1915 the DiMaggio's moved to San Francisco, and all the boys in the family were encouraged by their father to join him in his work as a fisherman. Mr. DiMaggio successfully convinced Joe's two older brothers to join him on the water, but Joe and his brothers Vince and Dominic just couldn't stay away from the sandlots. San Francisco sandlots were the place to play baseball. Mr. DiMaggio was not very thrilled with his sons' attraction to baseball over good honest work. Yet all three of these DiMaggio boys actually went on to play Major League baseball. Vince played professionally for eleven seasons, while his brother Dominic played ten seasons in the Majors.
Joe had the edge when it came to natural talent, however. He was the star of the sandlots, and at 12 years old he was already slugging homeruns out of the park. Joe went to school, played in several informal leagues, and entered high school. School just wasn't where Joe's heart or head was, and he left high school after just one year. The San Francisco Seals, a minor league team, had their eye on Joe and took him on. He quickly showed his stuff, and was a standout player for the Seals. After a couple of seasons, the New York Yankees spotted him, and Joe's career in baseball took off.
DiMaggio had a powerful rookie year with the Yankees. He soon gained national admiration as he helped propel the New York team on to the World Series that fall. In fact, the Yankees for the next three years in a row after that, with Joe continuing to dazzle the crowds with great ball-playing. This all happened in the days when baseball players stayed with the same team for a good stretch, and with DiMaggio aboard, the Yankees made it to the Series for 23 of 29 years.
Joe DiMaggio married the actress Dorothy Arnold in 1939, and their only son, Joseph Jr., was born in 1941. Joe's career in the Majors was interrupted by World War II, and for three years he served in the Army. As soon as the war was over, Joe was back on the field. Joe's marriage to Dorothy Arnold dissolved in 1944. He continued to play for the Yankees, and in his last year of baseball in 1951, the Yankees and Joe DiMaggio once again went to the World Series, and came out on top. DiMaggio retired with a .325 career batting average. He held the distinction of having played on the All-Stars during eleven Major League seasons. He played 13 seasons for the Yankees. Ten times they won American League pennants; nine times they won the World Series title. His lifetime home runs stand at 361. He is also famous for "The Streak", which occurred as he hit safely in 56 consecutive games in 1941. Joe did not just disappear into retirement. He began to date Marilyn Monroe, an arrangement that was kept in the public's view by the national press. Marilyn was a magnet for photographers, of course, and with Joe at her side, the public followed the story intently. Joe and Marilyn married in 1954, but their marriage did not last a year. By most accounts, Joe's devotion to Marilyn lasted for all of Marilyn's life. In 1955, Joe DiMaggio was inducted into the Baseball Hall of Fame.
As Joe entered the later years of his life, he began new careers and used his gentlemanly image to his full advantage. He became a familiar television spokesman, and came to be known by many as "Mr. Coffee", for his role as pitchman for coffee machines. Joe donated much of his time and energy to worthy causes, and he established the Joe DiMaggio Children's Hospital in Hollywood, Florida. The legendary Joe DiMaggio died in Hollywood, Florida at the age of 84.
Several good books are available that highlight Joe Dimaggio's life, his baseball career, and his philosphy. The most recent DiMaggio book, published in October 2000, is Joe DiMaggio: The Hero's Life, by Richard Ben Cramer. Click on the title to purchase this new highly acclaimed biography. Here's what Amazon.com says about this new entry into the Joe DiMaggio section of our bookshelf: "In this groundbreaking biography, Richard Ben Cramer presents a stunning, often shocking portrait of the hero nobody knew. It is a story that sweeps through the twentieth century, bringing to light along the way not just America's national game, but her movie stars, mobsters, pols, writers...the birth (and the price) of modern national celebrity. As World War II loomed, Joltin' Joe became our poster boy for American can-do, with his hitting streak of fifty-six straight -- and the nation was literally singing his name. In postwar ease and plenty, he was our Broadway Joe, the icon of elegance and manly class... until he wooed and won, in Marilyn Monroe, the most beautiful girl that America could dream up." It looks to us like this latest book by Richard Ben Cramer is generating a lot of new interest in the legend of Joe DiMaggio. This one is a must-read.
Two other DiMaggio books that caught our eye:
Joe DiMaggio: The Yankee Clipper is a great collection of essays and photographs that celebrates the man and the mythical stature of DiMaggio.
Joe DiMaggio: The Promise is a view of DiMaggio as seen by a former Yankee batboy, and is written from a teenager's perspective.
---