[ LOBBY | PEOPLE | COOKING | HISTORY | OUTDOORS | REFERENCE | TRAVEL | MORE ]

P E O P L E
Larry Joe Bird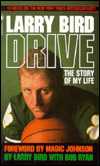 Drive: The Story of My Life by Larry Bird with Bob Ryan (Forward by Magic Johnson)
"Of all the people I play against, the only one I truly fear is Larry Bird."--Magic Johnson, from the Foreword. The heart and soul of a champion: his life, his career, his game. To understand basketball, you have to understand Larry Bird. Arguably the greatest all-around player the game has ever known, he led the Boston Celtics from the basement to three world championships, collecting three NBA Most Valuable Player awards along the way.

Bird Watching: On Playing and Coaching the Game I Love by Larry Bird with Jackie McMullin
"On August 18, 1992, I announced my retirement from the Boston Celtics. It was one of the happiest days of my life." Larry Bird takes us through his unique world. He tells us for the first time what really happened in "Celtics Land" after he retired and why he chose Indiana for his first coaching job. He shares a last look back at the Celtics dynasty, at Robert Parish and Bill Walton, at Kevin McHale and Dennis Johnson. He describes his last duels with Magic Johnson and with Michael Jordan, as well as his experience playing on the great 1992 Olympic team...knowing that it was the last time he would be sharing a court with them.

Larry Bird: An Indiana Legend by Indianapolis News, Lyle J. Mannweiler (Editor), Joseph J. Bannon
Rookie of the Year. World Champion. All-Star. MVP. Coach of the Year. Throughout his basketball career, Larry Bird has gathered countless accolades and awards. From Springs Valley High School to Indiana State University to the Boston Celtics to the Indiana Pacers, one thing has remained the same: Bird's commitment to excellence. Drawn from the archives of the Indianapolis Star/News, Larry Bird: An Indiana Legend traces Bird's basketball journey from his days as a high school standout through his outstanding season as the rookie head coach of the Pacers, including his days at Indiana State and his stellar career with the Celtics.

Larry Legend by Mark Shaw
Larry Legend chronicles the life and times of Larry Bird, championship player to 1998 NBA Coach of the Year. Using the 1998-1998 Indiana Pacers basketball season as a theme, author Mark Shaw portrays Bird from his days as a high school and college phenom through three NBA titles with the Boston Celtics and on to Bird's election to the Basketball Hall of Fame. Here you'll also find anecdotes from such basketball icons as Michael Jordan, Magic Johnson, Red Auerbach, Dennis Rodman, Isiah Thomas, and Pat Riley. Larry Bird is truly an American original.
Cole Porter

The Complete Lyrics of Cole Porter by Colel Porter, Robert Kimball (Editor), John Updike (Forward)
800 of Porter's lyrics, 400 of which have not been published before. Each section begins with a full-page photo of Porter or one of the . . . performers of his work. The shows and films for which he wrote are arranged chronologically, and each lyric comes with publishing information and the name of the performer who introduced the song. From "Begin the Beguine" to "It's Delovely" to "My Heart Belongs to Daddy" and "I Get a Kick Out of You, " here are the complete lyrics to the much-loved songs.

Cole Porter: A Biography by William McBrien
In his life and in his music, Cole Porter was "the top"--the pinnacle of wit, sophistication, and success. His songs--"I Get a Kick Out of You," "Anything Goes," and hundreds more--were instant pop hits, and their musical and emotional depths have made them lasting standards. William McBrien has captured the creator of these songs, whose life was not merely one of wealth and privilege. His last eighteen years were marked by physical agony but also unstinting artistic achievement, including the great Hollywood musicals High Society, Silk Stockings, and Kiss Me Kate.
James Danforth (Dan) Quayle

Worth Fighting For by Dan Quayle
Former Vice President Dan Quayle has written a book that is neither a policy book nor a story of Dan Quayle's life. It is a refreshingly bold, often-times controversial look at issues that affect us as a nation and as individuals, Dan Quayle here, offers common sense solutions for a prosperous, secure and honorable America...an America Worth Fighting For.
Orville and Wilbur Wright

Wilbur and Orville: A Biography of the Wright Brothers by Fred Howard
The first full biography of the Wright Brothers themselves, set against the rich background of the world in which they worked; a world of crackpots, charlatans, and daredevils in the early days of aviation. This is the most satisfying and well-rounded study of the Wrights to appear as yet.

First In Flight: The Wright Brothers in North Carolina by Stephen Kirk


Visions of a Flying Machine: The Wright Brothers and the Process of Invention by Peter L. Jakab
This is a study of the engineering methods used by the Wright brothers. The author discusses "the Wrights' ability to analyze accepted formulae fore wing design, to compare them against simple, but ingenious test equipment, and to derive true values that they incorporated into their designs.
---
[ HOME || INTRO || SYMBOLS || ALMANAC || ECONOMY || GEOGRAPHY || STATE MAPS || PEOPLE ]
[ FORUM || NEWS || COOL SCHOOLS || STATE QUIZ || BOOK STORE || MARKETPLACE || STATE LINKS ]
|| GUESTBOOK || CONTACT US || PRIVACY STATEMENT ]
---
Site designed exclusively for NETSTATE.COM by NSTATE



NETSTATE.COM is a Trademark of NSTATE, LLC.
Copyright © 1998- by NSTATE, LLC. All rights reserved.
No copyright is claimed on non-original or licensed material.
Support NETSTATE