Delaware State Tree
| | | |
| --- | --- | --- |
| American Holly | Ilex opaca | Adopted:1939 |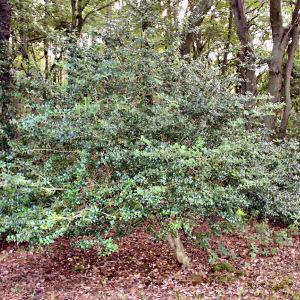 Delaware State Tree: American Holly
Adoption of the Delaware State Tree
A long time ago (2,000 years), Druid priests controlled the ancient territories of Britain and France. Records indicate that the holly tree was regarded as a sacred plant at that time. It was thought to keep evil spirits at bay and was exchanged as tidings of good will.
Christianity gradually replaced the more ancient religions, but the holly maintained its association with goodness and the bright red berries and green holly boughs have now played a part in winter celebrations for centuries.
During the early years of the 20th century, the abundance of American holly in Delaware led to the establishment of a major export industry in the state. By the 1930s, Delaware was the leading producer in the United States.
Charles C. Jones, Sr., a fertilizer salesman from Milton, Delaware, was one of the pioneers of the holly export industry in Delaware. Known as "Jones, the Holly Wreath Man, " Jones became the state's leading exporter, shipping holly products throughout the United States and to many foreign countries. The area surrounding Milton became known as "The Land of Holly" and Milton was referred to as "The Holly Capital of the World".
At one time, Milton, located in Sussex county about eight miles from Delaware Bay, produced more Christmas and holiday holly wreaths and decorations than anywhere else in the world.
Delaware State Forester William S. Tabor graduated from the Pennsylvania State Forest Academy in 1921 and was the author of the state's first big trees list, Delaware Trees and Delaware Trees: A Guide to the Identification of Native Tree Species. The story is told that Taber's secretary Olive Wilkins, citing the tree's beauty, worldwide renown and economic importance to Delaware, suggested to him that the American holly be officially adopted as Delaware's state tree.
By an Act of the General Assembly of Delaware, signed by Governor Richard C. McMullen on May 1, 1939, the American holly (Ilex opaca), often referred to as the Christmas or evergreen holly, was adopted as the official State Tree of Delaware.
The Delaware Code
The following information is excerpted from the Delaware Code, Title 29, Part 1, Chapter 3, Section 305.
TITLE 29. State Government.
PART I. General Provisions.
CHAPTER 3. STATE SEAL, SONG AND SYMBOLS.
SECTION 305.

§ 305. State tree. The American holly ( Ilex opaca, Aiton ) is adopted as the state tree. (42 Del. Laws, c. 86; 29 Del. C. 1953, § 505.)
Additional Information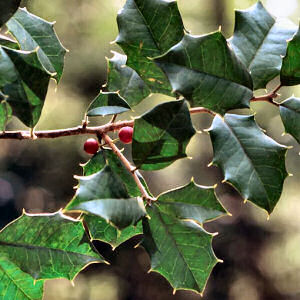 Delaware State Tree: American Holly
© Ted Bodner, Southern Weed Science Society
Ilex opaca: University of Connecticut Plant Database of Trees, Shrubs and Vines.
American Holly (Ilex opaca Ait.): Tree Identification Fact Sheet from the Virginia Tech.
Plant Profile for Ilex opaca Ait. (American Holly): USDA, NRCS. 2004. The PLANTS Database, Version 3.5 (http://plants.usda.gov). National Plant Data Center, Baton Rouge, LA 70874-4490 USA.
Ilex opaca Ait. (American Holly): United States Department of Agriculture: Forest Service: Agriculture Handbook 654: Silvics of North America.
Ilex opaca (American Holly): Plant Encyclopedia from MyGardenGuide.
State Tree List: List of all of the state state trees.
A Field Guide to Eastern Trees (Peterson Field Guides) (Paperback): by George A. Petrides, Janet Wehr (Illustrator), Roger Tory Peterson (Series Editor), Houghton Mifflin; 2 edition (July 15, 1998).
A Field Guide to Trees and Shrubs : Northeastern and north-central United States and southeastern and south-central Canada (Peterson Field Guides(R)): by George A. Petrides (Illustrator), Roger Tory Peterson (Series Editor), Houghton Mifflin; 2 edition (September 6, 1973).
A Field Guide to Eastern Forests : North America (Peterson Field Guides(R)) (Paperback): by John C. Kricher (Photographer), Gordon Morrison (Illustrator), Roger Tory Peterson (Series Editor), Houghton Mifflin (October 15, 1998).
National Audubon Society Field Guide to North American Trees: Eastern Region: by Elbert Luther Little. Knopf; Chanticleer Press ed edition (May 12, 1980).
America's Famous and Historic Trees: From George Washington's Tulip Poplar to Elvis Presley's Pin Oak (Hardcover) by Jeffrey G. Meyer. America's Famous and Historic Trees tells the stories of various trees that Meyer and his cohorts rescued or propagated: oftentimes, when trees were going to be cut down, he and his workers headed off the bulldozers, rescuing the tree with their massive tree hoe. Other trees--like the Indian Marker Pecan in southeast Dallas--were propagated before they died.
Trees : National Champions (Hardcover) by Barbara Bosworth. Bosworth captures the ineffable grace and dignity of trees with clarity and directness: the green ash that shades a midwestern crossroads, the common pear that blooms in a Washington field, and the Florida strangler fig with its mass of entwining aerial roots. Her black and white photographs, panoramic views taken with an 8 x 10 camera, show the immensity of the largest species and the hidden triumphs of the smallest
Plants, Seeds & Flowers: Bulbs, seeds, plants, fertilizer, plant containers and more.
Gardening Tools: Pruners, rakes, shovels, hoes, trowels, cultivators and tillers, greenhouses, yard carts and more.
State Names, Seals, Flags, and Symbols: A Historical Guide, Third Edition - Benjamin F. Shearer and Barbara S. Shearer, Greenwood Press, 2002
State Names, Flags, Seals, Songs, Birds, Flowers and Other Symbols: A Study based on historical documents giving the origin and significance of the state names, nicknames, mottoes, seals, flowers, birds, songs, and descriptive comments on the capitol buildings and on some of the leading state histories, Revised Edition - George Earlie Shankle, Ph.D., The H.W. Wilson Company, 1938 (Reprint Services Corp. 1971)
---
Source: The Delaware Code, October 8, 2005
Source: Delaware Department of State: Delaware Public Archives, October 22, 2005
Source: Historic Milton, October 22, 2005
Source: Delaware Department of Agriculture: Forest Service, October 22, 2005
Source: State Names, Seals, Flags, and Symbols: A Historical Guide, Third Edition - Benjamin F. Shearer and Barbara S. Shearer, Greenwood Press, 2002