Adoption of the State Song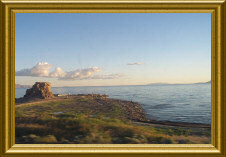 Great Salt Lake
The song, "Utah, This Is the Place", was adopted as the official state song of Utah on March 13, 2003. This song replaced the song that had been in place as Utah's official state song for over 85 years! But the old state song was not forgotten. It was given a place as the official state hymn of Utah.
The story of how "Utah, This Is the Place" became the official state song of Utah, goes back to Utah's centennial celebration in 1996. The song was written for this celebration, by Sam and Gary Francis, and many of the state's school children had become familiar it. It became quite popular in the years following the celebration helped, in part, that Utah 4th graders learned the song as part of their Utah history studies.
The road to officialdom for "Utah, This Is the Place" began at the home of the Cougars, Joseph Cook Elementary School in Syracuse, about 30 miles north of Salt Lake City. Some of the students didn't like the current state song very much and, with some encouragement, they decided to take steps to change it. According to a Salt Lake Tribune report of February 28, 2003, the 4th graders thought "Utah, We Love Thee" was too hard to sing. State Representative Dana Love agreed with them and had, at the end of January 2003, introduced House Bill 223 (HB0223) to the Utah Legislature to remedy the situation.
House Bill 223 called for changing the current state song to "Utah, This Is the Place" and designating the current state song, "Utah, We Love Thee", as the state hymn. On March 13, 2003, a new state song and an official state hymn were approved by the Legislature. Before the State Senate approved the song, however, the Joseph Cook Elementary School 4th graders performed "Utah, We Love Thee" for them. The Governor signed the legislation on March 15, 2003.
Utah Code
The following information is excerpted from the Utah Code, Title 63, Chapter 13, Section 5.5. The words are not included within the statute. All of Utah's state symbols are group-listed in one section of the Utah Code. On December 7, 2004, the online version of the Utah Code, 63-13-5.5, looked like this.
TITLE 63. STATE AFFAIRS IN GENERAL
CHAPTER 63-13. MISCELLANEOUS PROVISIONS
SECTION 63-13-5.5 STATE SYMBOLS

(23) Utah's state song is "Utah This is the Place" by Sam and Gary Francis.
---
Source: Utah State Web Site, (http://www.state.ut.us), December 6, 2004
Source: Utah State Legislature, (http://le.utah.gov/), December 6, 2004