Adoption of State Song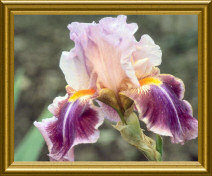 Iris Time in Tennessee
In 1919, long before this song was adopted as an official state song of Tennessee, the children of the state had voted the Passion Flower, or Maypop, into history as Tennessee's official state flower. By the 1930s, however, flower gardening had grown in popularity with with the popularity came a rather showy member of the cultivated set, the Iris. Garden clubs were forming and, in the ealry 1930s, the Nashville Iris Association was formed. On April 22, 1933, a bill was passed declaring the Iris the official state flower of Tennessee. An excerpt from the bill follows.
Whereas, the State of Tennessee has never adopted a State Flower...

Whereas, the Iris is one of the most beautiful and one of the most popular flowers in the State, its profusion and beauty attracting many visitors to the State...

Now, therefore, be it resolved,...that the Iris be adopted as the state Flower of Tennessee.
Oops! Someone forgot that the Passionflower had been adopted as the official state flower 14 years earlier. Take a look at the Tennessee state symbols and you'll be able to figure out how this was all sorted out... but not until 1973!
Well, what's this got to do with a state song? We just want to point out that the Iris had become a very popular flower in the 1930s and this song pays it homage. With the adoption of the Iris as an official state flower in 1933, it seems appropriate that the song, "When It's Iris Time in Tennessee", was adopted as another state song in 1935. According to press reports, the song was used extensively in school pageants during Iris Festival Week.
In 1935, "When It's Iris Time in Tennessee", by Willa Waid Newman became, arguably the state's second official state song. This song was adopted by the 69th General Assembly in Chapter 154 of the Public Acts.
Tennessee Code
The following information is excerpted from the Tennessee General Statutes, Title 4, Chapter 1, Part 3, Section 302. The words are not included within the statute.
TITLE 4. STATE GOVERNMENT
CHAPTER 1. GENERAL PROVISIONS
PART 3. STATE SYMBOLS
SECTION 302.

4-1-302. State songs. The official songs of this state shall be as follows:

(1) "My Homeland, Tennessee" by Nell Grayson Taylor and Roy Lamont Smith, as adopted by House Joint Resolution 36 in 1925;

(2) "When It's Iris Time In Tennessee" by Willa Mae Waid, as adopted by Acts 1935, chapter 154;

(3) "My Tennessee" by Francis Hannah Tranum, as adopted by Senate Joint Resolution 35 in 1955, as the official public school song in Tennessee;

(4) "The Tennessee Waltz" by Redd Stewart and Pee Wee King, as adopted by Senate Joint Resolution 9 in 1965; and

(5) "Rocky Top" by Boudleaux and Felice Bryant, as adopted by Acts 1982, chapter 545.

[Acts 1935, ch. 154, §§ 1, 2; mod. C. Supp. 1950, §§ 107.1, 107.2; T.C.A. (orig. ed.), § 4-107; Acts 1982, ch. 545, § 1.]
---
Source: Tennessee State Web Site, (http://www.state.tn.us), December 5, 2004
Source: Tennessee General Assembly, (http://www.legislature.state.tn.us/), December 5, 2004
Source: Tennesee Blue Book, (http://www.state.tn.us/sos/bluebook/index.htm), December 5, 2004
Source: Tennessee State Symbols, by Rob Simbeck, Copyright 1995
Source: State Names, Seals, Flags, and Symbols by Benjamin F. Shearer and Barbara S. Shearer, Copyright 2002
Source: State Songs America, Edited by M.J. Bristow, Copyright 2000
Source: State Names, Flags, Seals, Songs, Birds, Flowers, and Other Symbols by George Earlie Shankle, Ph.D., Copyright 1938