---
Double click on word for definition.
Delaware State Shell
Shell of the Channeled Whelk
Busycotypus canaliculatus
Adopted:
May 6, 2014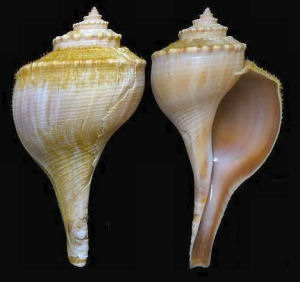 Delaware State Shell: Channeled Whelk
Photograph: Marlo F. Krisberg
I noticed then that Delaware doesn't have a state shell when so many others do, and they don't even have as many beaches as we do.
(Goss "Sea shell overcome")
So said Louis L. Redding Middle School sixth-grader, Allyson Willis, who began her quest in 2013 hoping it would help her earn a bronze award, the highest honor a Girl Scout Junior can achieve.
Willis collected signatures from 20 classmates and a number of girl scouts to back her up. She sent these signatures, along with her idea to Representative John L. Carney, a member of Delaware's United States Congressional Delegation. He responded that the idea seemed like a good one and advised her that she should present it to her state representative for consideration in the Delaware General Assembly.
Taking Congressman Carney's advice, she sent letters and jingle shells to state legislators. Willis was sure that the jingle shell was a perfect candidate for Delaware's official state shell.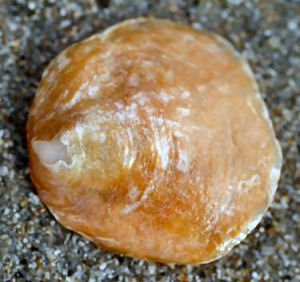 Common Jingle Shell (Anomia simplex)
She was contacted by an aide to State Representative Quinn Johnson. The aide expressed interest in her project, but took exception with her choice of the jingle shell as a representative of Delaware. The Delaware Department of Natural Resources and Environmental Control (DNREC) had suggested to Rep. Johnson that the channeled whelk might be a better choice because of its economic significance to the state. The aide asked Willis if she would be willing to go with the channeled whelk.
I was a little disappointed, but I think getting a state shell is bigger than which shell it actually is, and I think the whelk is interesting because it's so important to Delaware.
(Goss "Sea shell overcome")
Allyson Willis went along with the change from the jingle shell to the channeled whelk and expressed her intentions should the bill become law.
If that happens, I think then I'll write to Vice President Biden and tell him about how a sixth-grader is making a difference in Delaware.
(Goss "Sea shell overcome")
On June 20, 2013, Rep. Johnson introduced House Bill No. 199 in the Delaware General Assembly where it was referred to the House Administration Committee.
In December, 2013, Allyson Willis was honored with her Girl Scout Junior bronze award for her state shell project. She is now a Girl Scout Cadet.
On January 15, 2014, House Bill No. 199 was reported out of committee, with a favorable response, and sent to the full House for consideration.
On January 28, 2014 it was passed unanimously by the Delaware House of Representatives and forwarded to the State Senate for approval.
On March 27, 2014, House Bill No. 199 was passed unanimously by the Delaware Senate.
SPONSOR: Rep. Q. Johnson & Sen. Hall-Long
Reps. Baumbach, Spiegelman, Smyk, Viola, Wilson;
Sens. Ennis, Lopez, Sokola

HOUSE OF REPRESENTATIVES
147th GENERAL ASSEMBLY

HOUSE BILL NO. 199

AN ACT TO AMEND TITLE 29 OF THE DELAWARE CODE RELATING TO STATE SHELL.

WHEREAS, the channeled whelk is a beautiful sea creature integral to the ecology and economy of the State of Delaware; and

WHEREAS, the warm estuarine waters and sandy sediments of Delaware Bay provide excellent habitat for the channeled whelk and our beaches are graced by their unique shells; and

WHEREAS, whelks are harvested every year all along the east coast, including thousands of pounds by Delaware watermen, and whelk is exported every year to other countries;

NOW, THEREFORE

BE IT ENACTED BY THE GENERAL ASSEMBLY OF THE STATE OF DELAWARE:

Section 1. Amend Chapter 3, Title 29 of the Delaware Code by inserting a new section 324 as shown by underlining as follows:

§ 324. State shell.

The shell of the channeled whelk (Busycotypus canaliculatus) shall be the official shell of the State.
On May 6, 2014, Governor Jack Markell signed House Bill No. 199, making the shell of the channeled whelk (Busycotypus canaliculatus) the official state shell of the State of Delaware. He also signed a large shell for Allyson.
Allyson's parents were present at the bill signing as were her grandparents, Jim and Starlene Willis, who flew in from New Mexico.
The story of the adoption of the shell of the channeled whelk as Delaware's official state shell along with a copy of the bill signed by Governor Markell and the signed shell will be included in an exhibit at the Delaware Museum of Natural History along with the museum's whelk collection.
Allison is hooked:
I've already started looking through books to figure out what other official things other states have that Delaware doesn't. I'm hooked.
(Goss "Markell signs bill making channeled whelk official shell of Delaware")
Additional Information
WBOC-TV 16, Delmarvas News Leader, FOX 21 -
The Smithsonian Marine Station (SMS) at Fort Pierce, Florida.
Busycotypus canaliculatus (Pictures): The University of Michigan Museum of Zoology: Animal Diversity Web.
Busycotypus canaliculatus - (Linnaeus, 1758), Channeled Whelk: A network connecting science with conservation - NatureServe Explorer: An Online Encyclopedia of Life.
Busycotypus canaliculatus Channeled Whelk: The Encyclopedia of Life (EOL), a global community of collaborators and contributors serving the general public, enthusiastic amateurs, educators, students and professional scientists from around the world.
Busycotypus canaliculatus (Linnaeus, 1758): Integrated Taxonomic Information System (ITIS) Here you will find authoritative taxonomic information on plants, animals, fungi, and microbes of North America and the world.
State shells: Complete list of official state shells from NETSTATE.COM
More symbols & emblems: Complete list of official Delaware state symbols from NETSTATE.COM.