HOME
INTRO
SYMBOLS
ALMANAC
ECONOMY
GEOGRAPHY
STATE MAPS
PEOPLE
FORUM
NEWS
COOL SCHOOLS
STATE QUIZ
STATE LINKS
BOOK STORE
MARKETPLACE
NETSTATE.STORE
NETSTATE.MALL
GUESTBOOK
CONTACT US


---
Official insect of the Commonwealth of Pennsylvania
Firefly
Photuris pennsylvanica
Adopted:
April 10, 1974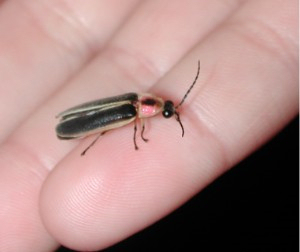 Firefly: Official insect of the Commonwealth of Pennsylvania
This file is licensed under the Wikipedia
Creative Commons Attribution 2.0 Generic license.
Pennsylvania Law
The following information was excerpted from the The Pennsylvania Statutes, Title 71, Chapter 6, Section 1010.
Title 71 P.S. State Government
I. The Administrative Codes and Related Provisions
Chapter 6. Provisions Similar or Closely Related to Provisions of the Administrative Code
Secretary and Department of Internal Affairs
State Emblems
§ 1010. State insect
The firefly (Lampyridae Coleoptera) of the species Photuris pensylvanica De Geer is hereby selected, designated and adopted as the official insect of the Commonwealth of Pennsylvania.
CREDIT(S)
1974, April 10, P.L. 247, No. 59, § 1. As amended 1988, Dec. 5, P.L. 1101, No. 130, § 1, effective in 60 days.
HISTORICAL AND STATUTORY NOTES
1990 Main Volume
The 1988 amendment substituted "(Lampyridae Coleoptera)" of the species Photuris pensylvanica De Geer" for "(Lampyridae)".
Title of Act:
An Act selecting, designating and adopting the firefly as the official insect of the Commonwealth of Pennsylvania. 1974, April 10, P.L. 247, No. 59.
71 P.S. § 1010, PA ST 71 P.S. § 1010
Additional Information
Pennsylvania Firefly: Site designed for use by elementary age students in Northern Virginia to learn more about their local ecology. Island Creek Elementary School, Fairfax County Public Schools.
A Beacon in the Night: Entomology for Kids article by Lana Unger, Extension Entomology Specialist, University of Kentucky Department of Entomology.
Summer Night Lights: by Genny Fannucchi - Environmental Education for Kids, Wisconsin Department of Natural Resources.
Firefly (Lightning Bug) Lampyridae: Brief article and photograph from the National Geographic.
Firefly: Article from Texas A & M University, AgriLife Extension.
Fireflies: Nature's Lanterns: Article by Kerry Garrett in House and Home Online Magazine.
Firefly.org: Firefly.org is a non-profit project created by Ben Pfeiffer of Rank Smart to raise awareness to the decline of firefly populations in Texas, the US and worldwide. This site is intended to help educate those interested in how to bring back fireflies to their area.
Bioluminescent Insect Guide: How to spot the real thing - from FireFly.Org.
Photuris pennsylvanica (De Geer, 1774): Integrated Taxonomic Information System (ITIS) Here you will find authoritative taxonomic information on plants, animals, fungi, and microbes of North America and the world.
State Insects: Complete list of official state insects.
More symbols & emblems: Complete list of official Pennsylvania state symbols.
Custom Search