---
Missouri State Game Bird
Bobwhite quail
Colinus virginianus
Adopted:
July 13, 2007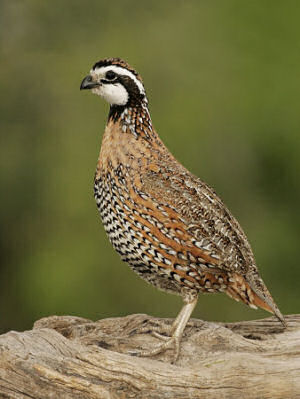 State game bird: Bobwhite quail (Colinus virginianus)
Prints, Photographs
Adoption of the bobwhite quail as Missouri's official game bird was prompted by Quail Unlimited, a national group "founded in 1981 to battle the problem of dwindling quail populations and declining wildlife habitat and is the oldest national, nonprofit conservation organization dedicated to the wise management of America's wild quail."
In 2006, an attempt to make the quail an official symbol of the state was passed in the Missouri House of Representatives, but failed to pass in the Senate.
According to testimony, quail populations in Missouri stood at an estimated 1.7 million at the time House Bill No. 1157 was introduced. It was estimated that, at one time, there may have been as many as 13 million quail in Missouri.
Better luck was with the bird in 2007. House Bill No. 576, introduced by Representatives Cooper (120), Wright, Wilson (119), Schad, Hunter, Sater, Stevenson, Wallace, Weter, Moore, Funderburk and Dougherty, was passed by both houses of the Missouri General Assembly and, on July 13, 2007, it was signed into law by Governor Matt Blunt.
Two other states have named the bobwhite quail their official state game bird:
Additional Information
The State Game Bird: State of Missouri: Office of the Secretary of State.
Northern Bobwhite: "All About Birds," from the Cornell Lab of Ornithology: Cornell University.
Colinus virginianus Northern bobwhite: University of Michigan Museum of Zoology: Animal Diversity Web.
Northern Bobwhite Colinus virginianus: The internet resource for enthusiasts of Galliformes (Game Birds) ∓ Anseriformes (WaterFowl).
Colinus virginianus (Linnaeus, 1758) Northern Bobwhite: NatureServe Explorer.
State game birds: Complete list of official state game birds.
More symbols & emblems: Complete list of official Missouri state symbols.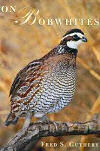 On Bobwhites
Fred S. Guthery
On Bobwhites, by Fred S. Guthery. 224 pages. Publisher: Texas A&M University Press (January 27, 2006) Bobwhite quail are one of America's favorite game birds. Healthy coveys of bobwhites indicate healthy land, and because quail hunting can bring in valuable income, landowners and game managers value these birds and encourage them wherever the habitat is suitable.
Although biologists have studied bobwhites since the 1920s and have amassed an awesome base of information about this species, their knowledge has not been made widely available to landowners, hunters, and other lay readers. The questions that arise during periods of reflection after a hunt or in discussions around a campfire already have answers, but these, too often, are all buried in the scientific literature.
Fred S. Guthery, one of the leading experts on bobwhite quail in the Southwest and southern Midwest, provides a wealth of useful and interesting information in this very readable, well-organized single volume. He offers new experiences and perspectives, based on the latest research, along with a review of his well-known writings and insights from the past fifteen years of observation.
Guthery has concentrated most of his work on the Southwest, but this book provides information about all the areas that bobwhite inhabit and also includes information on the related species, Gambel's quail. Because the biology of quail and the principles of their management are very general, the information presented in this book will have application everywhere bobwhites are known.
Wildlife managers, landowners, hunters, and anyone else interested in ensuring that quail thrive on their property will find this an accessible and valuable contribution by a leader in the field.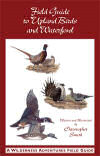 Field Guide to Upland Birds and Waterfowl, by Christopher S. Smith. 170 pages. Publisher: Wilderness Adventures Press (August 1, 2000) This most comprehensive and detailed full-color pocket field guide includes everything needed to correctly identify 73 species of North American waterfowl and game birds. Chris Smith, a widely-known artist, provides excellent full color illustrations that detail every important aspect of each bird, from grouse and quail to puddle ducks and divers. You will find 23 upland game birds and 50 waterfowl and shore birds with detailed full color illustrations, distribution and flyway maps for each species, as well as thorough descriptions covering special features of identification, habitat, breeding habits, vocalizations, and flock information for waterfowl. Special features of identification are also illustrated, including the wings of each waterfowl species and how to identify between the male and female of game birds and waterfowl. This sturdy book is printed on water-resistant paper and will fit in your bird vest or waterfowl parka.


Audubon Society Guide
to Attracting Birds
Stephen W. Kress
The Audubon Society Guide to Attracting Birds: Creating Natural Habitats for Properties Large and Small, by Stephen W. Kress. 480 pages. Publisher: Cornell University Press; 2 edition (March 23, 2006) In a book long awaited by landscapers, birders, gardeners, and naturalists, Stephen W. Kress provides a practical, comprehensive, and thoroughly illustrated guide to attracting birds to any property, be it a small patch of land in the city or a showplace countryside garden, a median strip or an expansive woodlot, a commercial building or a community park. In Kress's view, the best way to attract birds is to enrich habitats by improving vegetation, natural foods, water supplies, and nest sites.


The Backyard
Bird Feeder's Bible
Sally Roth
The Backyard Bird Feeder's Bible: The A-to-Z Guide To Feeders, Seed Mixes, Projects, And Treats, by Sally Roth. 384 pages. Publisher: Rodale Books (May 2, 2003) You'll enjoy this informative, inspirational, and often light-hearted look at the food, feeders, and plants that will guarantee you a yard that's absolutely brimming with birds! From fast foods and freezer treats to innovative ways of serving up leftovers, you'll find plenty of creative ideas for keeping your feeders ready when hungry birds are crowding the perches.
Plus, you'll discover a wealth of tips for turning your landscape into a bird haven that will ring with birdsong all year long. On every page of The Backyard Bird Feeder's Bible, author Sally Roth shows you how to make your bird-feeding efforts more satisfying, more successful, and definitely more fun. Put her knowledge to work in your yard and enjoy the endlessly fascinating beauty of wild birds.
Bird Feeders and Accessories: Backyard Birding > Bird Feeders & Accessories from Amazon.com.