---
Ohio State Fruit
Tomato
Lycopersicon esculentus
Adopted:
January 6, 2009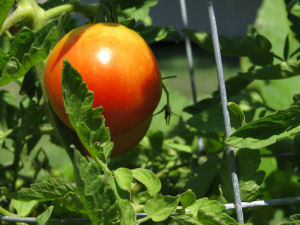 Ohio State Fruit: Tomato
Photograph: Robert Goodwin @ flickr®
Adoption of the Ohio State Fruit
Senate Bill No. 243 (SB243) was introduced in the Ohio State Senate on October 18, 2007 as a proposal to name October 22 as "U.S.S Hocking Day."
The bill designates October 22 as "U.S.S. Hocking Day" in honor of the distinguished career of the U.S.S. Hocking, a World War II attack transport ship, the navy crewmen who served on it, and the marines who were carried into battle on it.
By the time SB243 was signed by Governor Ted Strickland on January 6, 2009, it included legislation for the following:
And yes, October 22 was designated "U.S.S. Hocking Day."
The legislation prescribed in Senate Bill No. 243 is effective April 7, 2009, three months after receipt of the Governor Strickland's signature.
In 1965, Tomato juice was adopted as Ohio's official beverage. Ohio was the second leading producer, behind California, of tomato juice in the country.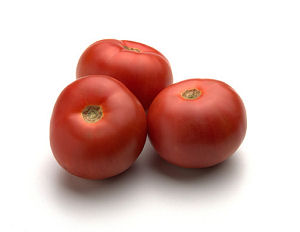 Ohio State Fruit: Tomato
Credit: N.D. Department of Health
Ohio Law
The following information was excerpted from the Ohio Revised Code, General Provisions, Chapter 5, Section 5.081.
GENERAL PROVISIONS
CHAPTER 5: STATE INSIGNIA; SEALS; HOLIDAYS
SECTION 5.081
Sec. 5.081. The fruit, Lycopersicon esculentus, commonly known as the tomato, is hereby adopted as the state fruit.
Additional Information
Growing Tomatoes in the Home Garden: The Ohio State University Extension Fact Sheet.
Paragon Tomato: Ohio Historical Society's Ohio History Central: An Online Encyclopedia of Ohio History.
Website: Reynoldsburg, Ohio Tomato Festival.
Ohio's "Tomato Hall of Fame": By Joe Crea, cleveland.com.
State Fruit: Complete list of official state fruit.
More symbols & emblems: Complete list of official Ohio state symbols.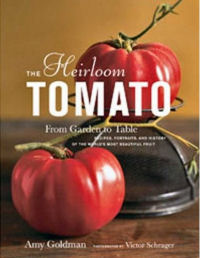 The Heirloom Tomato
by Amy Goldman
The Heirloom Tomato: From Garden to Table, by Amy Goldman. 272 pages. Bloomsbury USA; 1st edition (August 5, 2008) From the world-class garden of acclaimed food writer Amy Goldman, a gorgeously illustrated guide to the world's most beautiful and delicious tomatoes.
Farms And Foods of Ohio: From Garden Gate to Dinner Plate, by Marilou K. Suszko. 240 pages. Hippocrene Books; illustrated edition edition (April 30, 2007) Marilou Suszko takes you on a journey throughout Ohio, where you'll meet unique farming personalities dedicated to growing, raising, and preparing wonderful foods to grace your family's table. Join her in the fields, in the barns, and out in the vineyards through these wonderful stories accompanied by delicious recipes that highlight farm-fresh tastes.
Best of the Best from Ohio Cookbook, by Gwen McKee. 286 pages. Quail Ridge Press (November 8, 2007)The Gateway to the Midwest is also the gateway to good eating! From farmland cooking to Cincinnati Chili, and Berried Treasure Chicken Salad to Buckeyes from Ohio, the recipes are nostalgic and traditional as well as new and innovative.
How to Grow World Record Tomatoes: A Guinness Champion Reveals His All-Organic Secrets, by Charles Wilber. 132 pages. Acres U.S.A.; 1st edition (October 1998) Patrons with a love of tomatoes and a competitive nature may enjoy these organic tips from Wilber, who earned a place in the Guinness Book of World Records by coaxing 1,368 pounds of tomatoes from only four plants. This octogenarian's delivery is folksy and no-nonsense as he relates advice on composting, seed selection, pruning, watering, and other basics of tomato gardening.
Smith & Hawken: 100 Heirloom Tomatoes for the American Garden, by Carolyn J. Male. 246 pages. Workman Publishing Company (July 1, 1999) This thorough how-to and stunningly photographed field guide covers every facet of growing heirlooms, from selecting the right varieties for a particular zone and type of garden to timing and planting seeds. Full-color photos.
The Omnivore's Dilemma: A Natural History of Four Meals, by Michael Pollan. 464 pages. Penguin Press HC, The (April 11, 2006) The bestselling author of The Botany of Desire explores the ecology of eating to unveil why we consume what we consume in the twenty-first century
In Defense of Food: An Eater's Manifesto, by Michael Pollan. 256 pages. Penguin Press HC, The (2008) In looking toward traditional diets the world over, as well as the foods our families-and regions-historically enjoyed, we can recover a more balanced, reasonable, and pleasurable approach to food. Michael Pollan's bracing and eloquent manifesto shows us how we might start making thoughtful food choices that will enrich our lives and enlarge our sense of what it means to be healthy.
Garden tools from Amazon.com!
Custom Search