---
Ohio State Native Fruit
Pawpaw
Asimina triloba
Adopted:
January 6, 2009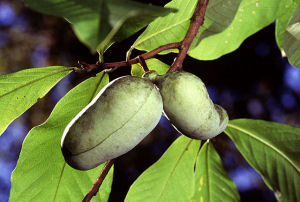 Ohio State Native Fruit: Pawpaw
Photograph: ARS Photo by (Scott Bauer)
Adoption of the Ohio State Native Fruit
Senate Bill No. 243 (SB243) was introduced in the Ohio State Senate on October 18, 2007 as a proposal to name October 22 as "U.S.S Hocking Day."
The bill designates October 22 as "U.S.S. Hocking Day" in honor of the distinguished career of the U.S.S. Hocking, a World War II attack transport ship, the navy crewmen who served on it, and the marines who were carried into battle on it.
By the time SB243 was signed by Governor Ted Strickland on January 6, 2009, it included legislation for the following:
And yes, October 22 was designated "U.S.S. Hocking Day."
The legislation prescribed in Senate Bill No. 243 is effective April 7, 2009, three months after receipt of the Governor Strickland's signature.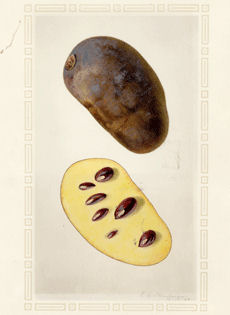 Ohio State Native Fruit: Pawpaw
Watercolor: USDA art by (Steadman)
Ohio Law
The following information was excerpted from the Ohio Revised Code, General Provisions, Chapter 5, Section 5.082.
GENERAL PROVISIONS
CHAPTER 5: STATE INSIGNIA; SEALS; HOLIDAYS
SECTION 5.082.
Sec. 5.082. The fruit, Asimina triloba, commonly known as the pawpaw, is hereby adopted as the state native fruit.
Additional Information
What tree is it? Pawpaw: Ohio Public Library Information Network & The Ohio Historical Society.
Pawpaw: Purdue University Center for New Crops and Plant Products.
Pawpaw: California Rare Fruit Growers, Inc.
The Pawpaw, a Forgotten North American Fruit Tree: By Jose I. Hormaza.
Pawpaw Asimina triloba (L.) Dunal: Virginia Tech, College of Natural Resources: Department of Forestry.
Asimina triloba (L.) Dunal (Pawpaw): USDA, NRCS. 2004. The PLANTS Database, Version 3.5 (http://plants.usda.gov). National Plant Data Center, Baton Rouge, LA 70874-4490 USA.
Asimina triloba (L.) Dunal: Integrated Taxonomic Information System (ITIS) Here you will find authoritative taxonomic information on plants, animals, fungi, and microbes of North America and the world.
Asimina triloba: CalPhoto photographs. The Biodiversity Sciences Technology group (BSCIT), a part of the Berkeley Natural History Museums at the University of California, Berkeley.
State Fruit: Complete list of official state fruit.
More symbols & emblems: Complete list of official Ohio state symbols.
Integration Acres: Integration Acres ships fresh fruit (seasonally) across the United States, boasts an established line of jarred and frozen pawpaw products, and is dedicated to providing delicious, nutritious and out-of-the-ordinary products that come directly from the farms and hills of Southeastern Ohio. Integration Acres will accomodate groups who want to learn more about the farm and its eco-minded business practices. On-site field trips can be arranged, or Chris Chmiel can make presentations to your group or organization. Internships are also available.
Ohio Pawpaw festival: Come to scenic Lake Snowden in Albany, Ohio for the biggest and best pawpaw celebration in the world.
Website: Ohio Pawpaw growers association.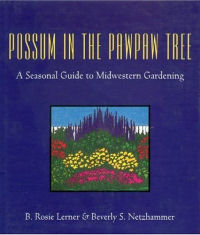 Possum in the Pawpaw Tree
B. Rosie Lerner & Beverly S Netzhammer
Possum in the Pawpaw Tree: A Seasonal Guide to Midwestern Gardening, by B. Rosie Lerner and Beverly S Netzhammer. 308 pages. Purdue University Press (November 1, 1994) One of the latest trends in home horticulture is regional gardening, but most popular garden books and syndicated columns are written by authors on the East or West coasts. Possum in the Pawpaw Tree is aimed at the heartland of the United States, where "normal" weather means bitter winters, torrential spring rains, and summer drought.
The Omnivore's Dilemma: A Natural History of Four Meals, by Michael Pollan. 464 pages. Penguin Press HC, The (April 11, 2006) The bestselling author of The Botany of Desire explores the ecology of eating to unveil why we consume what we consume in the twenty-first century
In Defense of Food: An Eater's Manifesto, by Michael Pollan. 256 pages. Penguin Press HC, The (2008) In looking toward traditional diets the world over, as well as the foods our families-and regions-historically enjoyed, we can recover a more balanced, reasonable, and pleasurable approach to food. Michael Pollan's bracing and eloquent manifesto shows us how we might start making thoughtful food choices that will enrich our lives and enlarge our sense of what it means to be healthy.
Garden tools from Amazon.com!
Custom Search