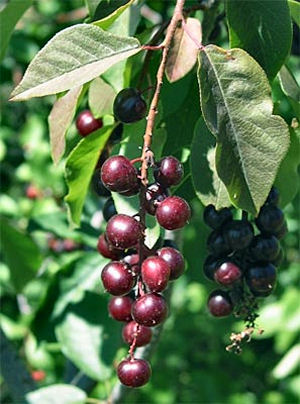 North Dakota State Fruit: Chokecherry
Credit: State of North Dakota
North Dakota Law
The following information was excerpted from the North Dakota Revised Statutes, Title 54, Chapter 54-02, Section 54-02-17..
TITLE 54 STATE GOVERNMENT.
CHAPTER 54-02 STATE EMBLEMS, SYMBOLS, AND AWARDS
SECTION 54-02-17
54-02-17. State fruit. The chokecherry, Prunus virginiana, is the official fruit of the state of North Dakota.
Additional Information
State Fruit: Official portal for North Dakota State Government: State Symbols.
Chokecherry: Foods Indigenous to the Western Hemisphere, American Indian Health and Diet Project.

: North Dakota State University, College of Agriculture, Food Systems, and Natural Resources.
What Tree Is It? Common Chokecherry: Ohio Public Library Information Network & The Ohio Historical Society.
The Chokecherry Tree: By Melissa Ruth Bjerke, North Dakota State University Extension Service.
Chokecherry Prunus virginiana L.: Virginia Tech, College of Natural Resources: Department of Forestry.
Prunus virginiana L. (Chokecherry): USDA, NRCS. 2004. The PLANTS Database, Version 3.5 (http://plants.usda.gov). National Plant Data Center, Baton Rouge, LA 70874-4490 USA.
Prunus virginiana L.: Integrated Taxonomic Information System (ITIS) Here you will find authoritative taxonomic information on plants, animals, fungi, and microbes of North America and the world.
Prunus virginiana L.: CalPhoto photographs. The Biodiversity Sciences Technology group (BSCIT), a part of the Berkeley Natural History Museums at the University of California, Berkeley.
State Fruit: Complete list of official state fruit.
More symbols & emblems: Complete list of official North Dakota state symbols.

Chokecherry jellys, jams and more, As you know by now, chokecherries are small dark red berries, with a pit. They are naturally tart, and so are sweetened to make a tangy flavor sure to be a hit with the gourmet and sweet tooth alike.
The Omnivore's Dilemma: A Natural History of Four Meals, by Michael Pollan. 464 pages. Penguin Press HC, The (April 11, 2006) The bestselling author of The Botany of Desire explores the ecology of eating to unveil why we consume what we consume in the twenty-first century
In Defense of Food: An Eater's Manifesto, by Michael Pollan. 256 pages. Penguin Press HC, The (2008) In looking toward traditional diets the world over, as well as the foods our families-and regions-historically enjoyed, we can recover a more balanced, reasonable, and pleasurable approach to food. Michael Pollan's bracing and eloquent manifesto shows us how we might start making thoughtful food choices that will enrich our lives and enlarge our sense of what it means to be healthy.
Garden tools from Amazon.com!
Custom Search