---
Idaho State Fruit
Huckleberry
Vaccinium sp.
Adopted:
April 13, 2000
House Bill No. 566 (HB566) was introduced in the Idaho House of Representatives on February 14, 2000.
HB566, designating the huckleberry the state fruit of the State of Idaho, did not indicate a particular species, but several are native to the state. The most common, Vaccinium membranaceum, is widely understood to be the species intended as the official fruit of Idaho. It goes by many common names, including thinleaf or thin-leaved huckleberry, black huckleberry, mountain huckleberry, mountain billberry, tall huckleberry, big huckleberry, globe huckleberry, and even Montana huckleberry.
The legislation, approved by the Idaho House of Representatives and the Senate, was signed by Governor Dirk Kempthorne on April 13, 2000. The law went into effect on July 1, 2000.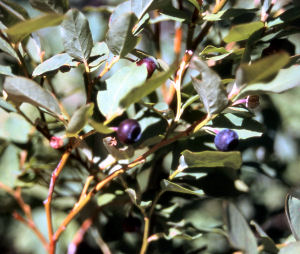 Idaho State Fruit: Huckleberry (Vaccinium sp.)
Photograph: NPS Photo by (Keri Thorp)
Idaho Law
The following information was excerpted from the Idaho Statutes, Title 67, Chapter 45, Section 67-4510.
TITLE 67 STATE GOVERNMENT AND STATE AFFAIRS
CHAPTER 45 STATE SYMBOLS
SECTION 67-4510. State fruit designated.
67-4510.State fruit designated.
The huckleberry is hereby designated and declared to be the state fruit of the state of Idaho.
Additional Information
Huckleberries and Bilberries [PDF]: by Danny L. Barney, Ph.D. Confused about what a huckleberry or bilberry is?
Vaccinium "Huckleberries": Purdue University - Horticulture & Landscape Architecture.
Big huckleberry, Vaccinium membranaceum Douglas ex Torr.: Virginia Tech, College of Natural Resources: Department of Forestry - Fact Sheet.
Vaccinium membranaceum (Thinleaf huckleberry): USDA, NRCS. 2004. The PLANTS Database, Version 3.5 (http://plants.usda.gov). National Plant Data Center, Baton Rouge, LA 70874-4490 USA.
Vaccinium membranaceum Dougl. ex Torr.: Integrated Taxonomic Information System (ITIS) Here you will find authoritative taxonomic information on plants, animals, fungi, and microbes of North America and the world.
Vaccinium membranaceum (Huckleberry): CalPhoto photographs. The Biodiversity Sciences Technology group (BSCIT), a part of the Berkeley Natural History Museums at the University of California, Berkeley.
State Fruit: Complete list of official state fruit.
More symbols & emblems: Complete list of official Idaho state symbols.
Website: Wild Huckleberry Association.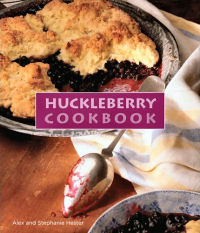 Huckleberry Cookbook
by Stephanie and Alex Hester
Huckleberry Cookbook, by Stephanie and Alex Hester. 128 pages. Three Forks; 1st edition (July 1, 2008) The very word huckleberry connotes wild places and wide open spaces, where prized picking sites are passed down from generation to generation. Bags of berries are a hot commodity at local farmers' markets - to be used fresh or hoarded in the freezer for use in the long winter to come. From Huckleberry Banana Smoothies to Huckleberry Beignets to Coq au Huckleberry Vin, Huckleberry Cookbook offers more than fifty ways to enjoy the sweet, ripe taste of summer for breakfast, lunch, and dinner, all year round.
The Omnivore's Dilemma: A Natural History of Four Meals, by Michael Pollan. 464 pages. Penguin Press HC, The (April 11, 2006) The bestselling author of The Botany of Desire explores the ecology of eating to unveil why we consume what we consume in the twenty-first century
In Defense of Food: An Eater's Manifesto, by Michael Pollan. 256 pages. Penguin Press HC, The (2008) In looking toward traditional diets the world over, as well as the foods our families-and regions-historically enjoyed, we can recover a more balanced, reasonable, and pleasurable approach to food. Michael Pollan's bracing and eloquent manifesto shows us how we might start making thoughtful food choices that will enrich our lives and enlarge our sense of what it means to be healthy.
Garden tools from Amazon.com!
Custom Search