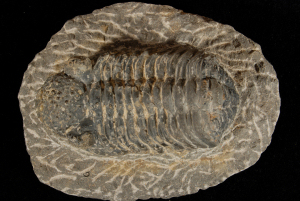 Official State fossil of the Commonwealth of Pennsylvania
Bruce Avera Hunter
National Biological Information Infrastructure life.nbii.gov
Pennsylvania Law
The following information was excerpted from the The Pennsylvania Statutes, Title 71, Chapter 6, Section 1010.3.
Title 71 P.S. State Government
I. The Administrative Codes and Related Provisions
Chapter 6. Provisions Similar or Closely Related to Provisions of the Administrative Code
Secretary and Department of Internal Affairs
State Emblems
§ 1010.3. Official state fossil
Phacops rana is a specific type of trilobite, a small sea creature. Trilobites were rulers of the sea during the Cambrian Period, 515 to 600 million years ago. Trilobites are so named because their bodies are divided lengthwise into three parts or "lobes." Phacops rana means "frog eyes" because of the large holes for eyes on the fossil. Fossils of Phacops rana are found in many parts of Pennsylvania, and, therefore, the Phacops rana is selected, designated and adopted as the official State fossil of the Commonwealth of Pennsylvania.
CREDIT(S)
1988, Dec. 5, P.L. 1113, No. 138, § 1, imd. effective.
HISTORICAL AND STATUTORY NOTES
1990 Main Volume
Title of Act:
An Act designating the Phacops rana, a trilobite, as the official State fossil of the Commonwealth of Pennsylvania. 1988, Dec. 5, P.L. 1113, No. 138, § 1, imd. effective.
71 P.S. § 1010.3, PA ST 71 P.S. § 1010.3
Additional Information
The State Fossil: from the Pennsylvania Department of Conservation and Natural Resources.
Common Fossils of Pennsylvania

: Published by the Department of Conservation and Natural Resources Bureau of Topographic and Geologic Survey.
Pennsylvania Trail of Geology

: Swatara State Park, Lebanon and Schuylkill Counties: Geologic Features and Fossil Sites. Published by the Bureau of Topographic and Geologic Survey.
Fossils in Pennsylvania: Information from the Paleontology Portal.
State Fossils: Complete list of official state fossils.
More symbols & emblems: Complete list of official Pennsylvania state symbols.


Stately Fossils
Stephen Brusatte
Stately Fossils: A Comprehensive Look at the State Fossils and Other Official Fossils, buy Stephen Brusatte. 234 pages. Publisher: Fossil News (September 2002) The only book in print on the subject of state fossils, Stately Fossils offers an in-depth treatment of the natural and cultural history behind the official fossils of every state... and more! The book contains 80 photos and over 300 references to further information.

Fossils Tell
of Long Ago
Fossils Tell of Long Ago, by Aliki. 32 pages. Publisher: Collins (March 21, 1990) Reading level: Grades Kindergarten - Grade 3. Sometimes it's the imprint of an ancient leaf in a rock. Sometimes it's a woolly mammoth, frozen for thousands of years in the icy ground. Sometimes it's the skeleton of a stegosaurus that has turned to stone.
A fossil is anything that has been preserved, one way or another, that tells about life on Earth. But you can make a fossil, too--something to be discovered a million years from now--and this book will tell you how.


Trilobites
Riccardo Levi-Setti
Trilobites, by Riccardo Levi-Setti. 352 pages. Publisher: University Of Chicago Press; 1 edition (November 1, 1995) Long before dinosaurs roamed the earth, there were trilobites-one of the most striking animals to populate prehistoric seas and whose fossils are favorites among collectors today. From the giant trilobites of Newfoundland to fascinating new specimens from Morocco, Levi-Setti's magnificent book brings these "butterflies of the sea" to life for everyone curious about our remote past. This second edition features coverage of a greater variety of trilobites, an improved photographic atlas reorganized to present their evolutionary progression, and over 200 photographs.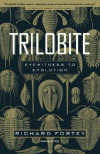 Trilobite
Richard Fortey
Trilobite: Eyewitness to Evolution, by Richard Fortey. 320 pages. Publisher: Vintage (November 13, 2001) With Trilobite, Richard Fortey, paleontologist and author of the acclaimed Life, offers a marvelously written, smart and compelling, accessible and witty scientific narrative of the most ubiquitous of fossil creatures. Trilobites were shelled animals that lived in the oceans over five hundred million years ago. As bewilderingly diverse then as the beetle is today, they survived in the arctic or the tropics, were spiky or smooth, were large as lobsters or small as fleas. And because they flourished for three hundred million years, they can be used to glimpse a less evolved world of ancient continents and vanished oceans. Erudite and entertaining, this book is a uniquely exuberant homage to a fabulously singular species.

Fossil
Paul Taylor
Fossil (DK Eyewitness Books), by Dr. Paul D. Taylor. 72 pages. Publisher: DK Publishing, Inc. (August 2, 2004) Reading level: Grades 4 - 7. Here is an original and exciting new look at fossils - the remains of long-vanished animals and plants. Stunning real-life photographs of the spectacular remains of ancient lives offer a unique "eyewitness" view of what fossils are, how they were formed, and how they lived millions of years ago. See pearls that are 50 million years old, a dinosaur's toe, a troublesome "snake" that was turned to stone, a fossilized human being, and a snail made of precious stones. Learn how fossils are formed, how trilobites have been preserved for 590 million years, where to look for a belemnite, and how fossils helped the pharaohs of ancient Egypt. Discover which are the most precious fossils in the world, where ammonites lived, how big mammoths were, what a devil's toenail looks like, and much, much more.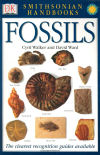 Fossils
Fossils (Smithsonian Handbooks), by Cyril Walker and David Ward. 320 pages. Publisher: DK Publishing, Inc. (May 15, 2002) Authoritative text, crystal-clear photographs, and a systematic approach make DK's Smithsonian Handbook of Fossils the most comprehensive and concise pocket guide to fossils of the world. Packed with more than 1,000 full-color photographs of over 500 fossils, this handbook is designed to cut through the complex process of identification to provide instant species recognitions.

World Encyclopedia of
Fossils & Fossil-Collecting
Steve Parker
World Encyclopedia of Fossils & Fossil-Collecting, by Steve Parker. 256 pages. Publisher: Lorenz Books (December 25, 2007) Fossils can be discovered by anyone, and give us a window onto the amazing history of our planet. Ancient natural forms, from the simplest fungus to giant dinosaurs, can reveal the fascinating development of evolving life.
The main part of the book consists of an extensive directory of fossils, providing a comprehensive visual and factual compendium of more than 375 significant fossil types, ranging from the tiniest algae through mammoths and whales to giant dinosaurs such as Iguanodon - plus the varied types of human. Each and every fossil entry includes a large, full-colour photograph of the fossil itself, accompanied by a detailed factbox and a clear artwork that reconstructs the appearance of the original plant or animal. Additional feature boxes reveal fascinating related stories, such as the fossil discoveries that turned scientific thinking on its head and in-depth studies of specific fossil sites.
Custom Search