Ohio State Flower
| | | |
| --- | --- | --- |
| Scarlet Carnation | Genus Dianthus caryophyllus | Adopted:1904 |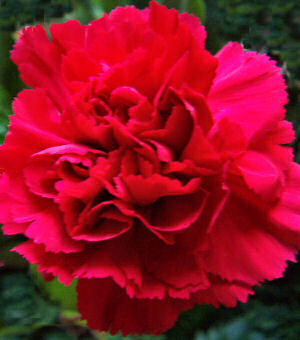 Ohio State Flower: Scarlet Carnation
Adoption of the Ohio State Flower
Ohio's adopted state flower, the scarlet carnation, was approved to memorialize William McKinley. Born in Niles, Ohio in 1843, William McKinley served Ohio in the U.S. House of Representatives for 14 years and went on to become President of the United States.
The story goes that, during an early campaign for a seat in the U.S. House of Representatives, McKinley's opponent gave him a red carnation to wear in his buttonhole. Because he won the election, McKinley considered the red carnation a lucky charm and wore it throughout later campaigns. He was wearing a carnation when he was elected President on November 3, 1896.
The legislature of Ohio, on February 3, 1904, chose the scarlet carnation [genus Dianthus] as the State flower. The law read:
WHEREAS, It is fitting and proper that a state should honor and perpetuate the memory of its illustrious sons, in order that our citizens of the future may emulate their example of patriotic devotion and sacrifice to the welfare of the republic; and

WHEREAS, William McKinley was a beloved and devoted citizen of Ohio, and one of the loftiest characters ever given by any state to the history of the nation and the world; and

WHEREAS, The scarlet carnation, because of his love for it, is closely associated with his memory, and the State of Ohio having no floral emblem; Therefore,

Be it resolved by the General Assembly of the State of Ohio, the Governor approving: That the scarlet carnation be adopted as the state flower of Ohio, as a token of love and reverence for the memory of William McKinley.
The Ohio Revised Code
The following information is excerpted from the Ohio Revised Code, General Provisions, Chapter 5, Section 5.02.
GENERAL PROVISIONS.
CHAPTER 5. STATE INSIGNIA; SEALS; HOLIDAYS.
SECTION 5.02.

§ 5.02. Floral emblem of state.
The scarlet carnation is hereby adopted as the state flower as a token of love and reverence for the memory of William McKinley
HISTORY: GC § 29; 97 v 631; Bureau of Code Revision. Eff 10-1-53.
Additional Information
Dianthus (Pinks and Carnations): Plant Encyclopedia from MyGardenGuide.
Dianthus caryophyllus: Perry's Perennial Pages, Dr. Leonard Perry, University of Vermont.
Plant Profile for Dianthus caryophyllus L. (Carnation): USDA, NRCS. 2004. The PLANTS Database, Version 3.5 (http://plants.usda.gov). National Plant Data Center, Baton Rouge, LA 70874-4490 USA.
State Flower List: List of all of the state flowers.
State Birds & Flowers 1000-pc Puzzle: Created at the request of The National Wildlife Federation this design is a beautiful and informative puzzle featuring every state bird perched on the appropriate state flower.
State Birds and Flowers Coloring Book
by Annika Bernhard - 51 accurately detailed, copyright-free renderings include national bird (eagle) and flower (rose) plus 50 state birds and flowers.
U. S. State Flowers in Cross Stitch
by Gerda Bengtsson - Botanically correct cross stitch designs of state flowers of the 50 States.
Quilting Flowers of the States
by Sue Harvey - A lovely 12-inch flower block for each of the 50 states. Techniques used are piecing, appliqu?, paper-piecing and three-dimensional techniques.
Plants, Seeds & Flowers
: Bulbs, seeds, plants, fertilizer, plant containers and more.
Gardening Tools
: Pruners, rakes, shovels, hoes, trowels, cultivators and tillers, greenhouses, yard carts and more.
State Names, Seals, Flags, and Symbols: A Historical Guide, Third Edition - Benjamin F. Shearer and Barbara S. Shearer, Greenwood Press, 2002
State Names, Flags, Seals, Songs, Birds, Flowers and Other Symbols: A Study based on historical documents giving the origin and significance of the state names, nicknames, mottoes, seals, flowers, birds, songs, and descriptive comments on the capitol buildings and on some of the leading state histories, Revised Edition - George Earlie Shankle, Ph.D., The H.W. Wilson Company, 1938 (Reprint Services Corp. 1971)
---
Source: Ohio Revised Code, (http://onlinedocs.andersonpublishing.com/oh/lpExt.dll?f=templates&fn=main-h.htm&cp=PORC), August 27, 2005
Source: State Names, Seals, Flags, and Symbols: A Historical Guide, Third Edition - Benjamin F. Shearer and Barbara S. Shearer, Greenwood Press, 2002
Source: State Names, Flags, Seals, Songs, Birds, Flowers and Other Symbols: Revised Edition (Reprint)- George Earlie Shankle, Ph.D., The H.W. Wilson Company, 1938