Nebraska State Flower
| | | |
| --- | --- | --- |
| Goldenrod | Solidago serotina | Adopted:1895 |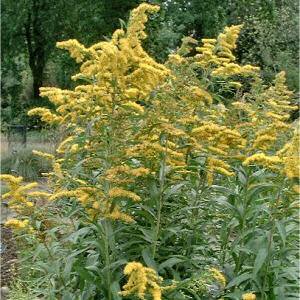 Nebraska Floral Emblem: Giant Goldenrod (Solidago gigantea)
Adoption of the Nebraska Floral Emblem
The goldenrod was proposed as the official floral emblem in a House Concurrent Resolution introduced in 1895 by Nebraska State Representative L. P. Judd of Boone County. With the support of renowned University of Nebraska botanist Dr. Charles Edwin Bessey, the resolution was approved by the Nebraska Legislature and signed by Governor Silas Alexander Holcomb on April 4, 1895. The text of the resolution follows.
Chapter 120
(House Roll No 366.)
A concurrent resolution to designate a floral emblem for the State of Nebraska.

Whereas, the adoption of a state floral emblem by the authority of the legislature would foster a feeling of pride in our state, and stimulate an interest in the history and traditions of the commonwealth, therefore be it

Resolved, that, the Senate concurring, we, the Legislature of Nebraska hereby declare the flower commonly known as the "Golden Rod" (Solidago Serotina) to be the floral emblem of the state.

Approved April 4, A.D. 1895.
About the adoption of the goldenrod, Ida Brockman, daughter of Represenative John M. Brockman of Stella, wrote:
"There is probably not a nook or corner of the state where one or more of the numerous species of goldenrod are not found. It is a native, and only a true native should be our representative. It has a long season, and nothing could better represent the hardy endurance of Nebraska's pioneers."
The flower, spelled "Golden Rod" in the legislation and referred to as "Solidago Serotina" is commonly called giant goldenrod (Solidago gigantea) today.
Note also that the legislation was approved by both houses of the Nebraska Legislature. Nebraska eliminated the bicameral, or two house, legislature and implemented the Nebraska Unicameral Legislature in 1937.
Two other states have adopted goldenrod as state flowers:
The Nebraska Statutes
The goldenrod was adopted by legislative concurrent resolution and is not recorded in the Nebraska Statutes.
Additional Information
Plant Profile for Solidago gigantea (Giant Goldenrod): USDA, NRCS. 2004. The PLANTS Database, Version 3.5 (http://plants.usda.gov). National Plant Data Center, Baton Rouge, LA 70874-4490 USA.
State Flower List: List of all of the state flowers.
State Birds & Flowers 1000-pc Puzzle: Created at the request of The National Wildlife Federation this design is a beautiful and informative puzzle featuring every state bird perched on the appropriate state flower.
State Birds and Flowers Coloring Book
by Annika Bernhard - 51 accurately detailed, copyright-free renderings include national bird (eagle) and flower (rose) plus 50 state birds and flowers.
U. S. State Flowers in Cross Stitch
by Gerda Bengtsson - Botanically correct cross stitch designs of state flowers of the 50 States.
Quilting Flowers of the States
by Sue Harvey - A lovely 12-inch flower block for each of the 50 states. Techniques used are piecing, appliqu?, paper-piecing and three-dimensional techniques.
Plants, Seeds & Flowers
: Bulbs, seeds, plants, fertilizer, plant containers and more.
Gardening Tools
: Pruners, rakes, shovels, hoes, trowels, cultivators and tillers, greenhouses, yard carts and more.
State Names, Seals, Flags, and Symbols: A Historical Guide, Third Edition - Benjamin F. Shearer and Barbara S. Shearer, Greenwood Press, 2002
State Names, Flags, Seals, Songs, Birds, Flowers and Other Symbols: A Study based on historical documents giving the origin and significance of the state names, nicknames, mottoes, seals, flowers, birds, songs, and descriptive comments on the capitol buildings and on some of the leading state histories, Revised Edition - George Earlie Shankle, Ph.D., The H.W. Wilson Company, 1938 (Reprint Services Corp. 1971)
---
Source: Laws of Nebraska, 1895*, (Omaha Printing Company, State Printers, Omaha, Nebraska, 1895), Chapter 120, Page 441.
Source: Nebraska Department of Economic Development, (http://info.neded.org/stathand/parttwo/flower.html), August 18, 2005
Source: State Names, Seals, Flags, and Symbols: A Historical Guide, Third Edition - Benjamin F. Shearer and Barbara S. Shearer, Greenwood Press, 2002
Source: State Names, Flags, Seals, Songs, Birds, Flowers and Other Symbols: Revised Edition (Reprint)- George Earlie Shankle, Ph.D., The H.W. Wilson Company, 1938