North Dakota Floral Emblem
| | | |
| --- | --- | --- |
| Wild Prairie Rose | Rosa blanda or Rosa arkansana | Adopted:1907 |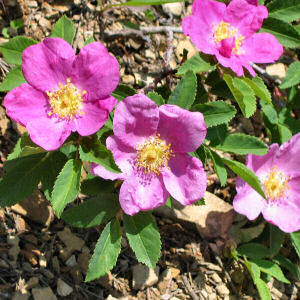 North Dakota Floral Emblem: Wild Prairie Rose
Adoption of the North Dakota State Flower
The first graduating class of the University of North Dakota chose the colors of the wild rose as their school's official colors in 1889 noting that the colors were "suggestive of our green prairies and rosy prospects."
The wild prairie rose received support from the North Dakota Federation of Women's Clubs in 1898 and was preferred by a vote of North Dakota schoolchildren as well. As a result a Senator Louis B. Hanna sponsored a bill to name the wild prairie rose the official floral emblem of the state. Mr. Hanna would move on to become a U.S. Congressman and Governor of the State of North Dakota (1913-1917).
The wild prairie rose was approved by the tenth session of the Legislative Assembly of North Dakota on March 7, 1907. According to Shankle:
North Dakota, by an act of her legislature approved on March 7, 1907, adopted as her State floral emblem, the wild prairie rose [Rosa blanda or Rosa arkansana]. "Contributing something to the choice was the fact that the State University of North Dakota had selected the colors, pink and green, chosen directly from the wild prairie rose growing on the campus."
The North Dakota Century Code
The following information is excerpted from the North Dakota Century Code, Title 54, Chapter 54-02, Section 54-02-03.
Title 54. State Government.
CHAPTER 54-02. STATE EMBLEMS, SYMBOLS, AND AWARDS.
SECTION

54-02-03. State flower. The floral emblem of the state of North Dakota shall be the wild prairie rose, rosa blanda or arkansana.
Additional Information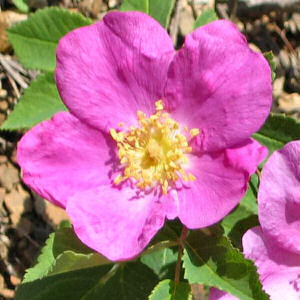 North Dakota Floral Emblem: Wild Prairie Rose
Plant Profile for Rosa pratincola (Wild Prairie Rose): USDA, NRCS. 2004. The PLANTS Database, Version 3.5 (http://plants.usda.gov). National Plant Data Center, Baton Rouge, LA 70874-4490 USA.
State Flower List: List of all of the state flowers.
State Birds & Flowers 1000-pc Puzzle: Created at the request of The National Wildlife Federation this design is a beautiful and informative puzzle featuring every state bird perched on the appropriate state flower.
State Birds and Flowers Coloring Book
by Annika Bernhard - 51 accurately detailed, copyright-free renderings include national bird (eagle) and flower (rose) plus 50 state birds and flowers.
U. S. State Flowers in Cross Stitch
by Gerda Bengtsson - Botanically correct cross stitch designs of state flowers of the 50 States.
Quilting Flowers of the States
by Sue Harvey - A lovely 12-inch flower block for each of the 50 states. Techniques used are piecing, appliqu?, paper-piecing and three-dimensional techniques.
Plants, Seeds & Flowers
: Bulbs, seeds, plants, fertilizer, plant containers and more.
Gardening Tools
: Pruners, rakes, shovels, hoes, trowels, cultivators and tillers, greenhouses, yard carts and more.
State Names, Seals, Flags, and Symbols: A Historical Guide, Third Edition - Benjamin F. Shearer and Barbara S. Shearer, Greenwood Press, 2002
State Names, Flags, Seals, Songs, Birds, Flowers and Other Symbols: A Study based on historical documents giving the origin and significance of the state names, nicknames, mottoes, seals, flowers, birds, songs, and descriptive comments on the capitol buildings and on some of the leading state histories, Revised Edition - George Earlie Shankle, Ph.D., The H.W. Wilson Company, 1938 (Reprint Services Corp. 1971)
---
Source: 2005 North Dakota Century Code, (http://www.state.nd.us/lr/information/statutes/cent-code.html), August 25, 2005
Source: State Names, Seals, Flags, and Symbols: A Historical Guide, Third Edition - Benjamin F. Shearer and Barbara S. Shearer, Greenwood Press, 2002
Source: State Names, Flags, Seals, Songs, Birds, Flowers and Other Symbols: Revised Edition (Reprint)- George Earlie Shankle, Ph.D., The H.W. Wilson Company, 1938