Delaware Official State Flower
| | | |
| --- | --- | --- |
| Peach Blossom | Prunus persica | Adopted:1895 |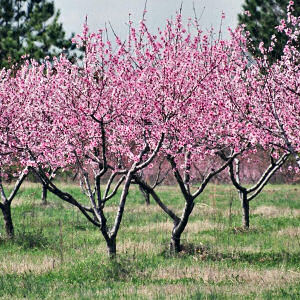 Peach Trees in Bloom
Adoption of the Delaware State Flower
Supported by the Delaware Railroad in the early nineteenth century, Delaware became the leading producer of peaches in the United States. Almost 6,000,000 baskets of peaches were shipped to market in 1875, Delaware's peak production year. Delaware became known as The Peach State.
By common consent, the peach blossom was considered Delaware's state flower. But a movement developed to name the popular goldenrod the official state flower. The goldenrod the state flower of The Peach State? How could that be?
It was not to be. Agriculturists, farmers and school children flooded Delaware legislators with petitions to name the peach blossom the state flower. After all, Delaware was the leading producer of peaches with 800,000 peach trees and had earned the nickname, The Peach State.
As a result of the petition drive, the peach blossom was given due recognition. The peach blossom was adopted as Delaware's floral emblem by an act of the legislature on March 9, 1895. In 1953, it was named as the official state flower.
Unfortunately, many problems beset peach farmers throughout the latter part of the 19th century. The peach blight called the "yellows" forced the collapse of the industry and, in the early 1900s, many peach farmers faced bankruptcy.
The Delaware Code
The following information is excerpted from The Delaware Code, Title 29, Chapter 3, Section 308.
TITLE 29. STATE GOVERNMENT.
PART 1. GENERAL PROVISIONS.
CHAPTER 3. STATE SEAL, SONG AND SYMBOLS.
SECTION 308.

§ 308. State flower.
The peach blossom, as originally adopted as the floral emblem of the State on May 9, 1895, shall be the official state flower. (29 Del. C. 1953, § 508; 50 Del. Laws, c. 289, § 1.)
Additional Information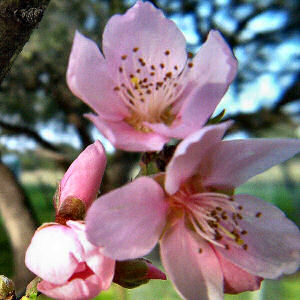 Delaware State Flower: Peach Blossom
Prunus persica (Peach Tree): Plant Encyclopedia from MyGardenGuide.
Peach Tree (Prunus persica): Tree Identification Fact Sheet from the Virginia Tech.
Plant Profile for Prunus persica (Peach Tree): USDA, NRCS. 2004. The PLANTS Database, Version 3.5 (http://plants.usda.gov). National Plant Data Center, Baton Rouge, LA 70874-4490 USA.
State Flower List: List of all of the state flowers.
State Birds & Flowers 1000-pc Puzzle: Created at the request of The National Wildlife Federation this design is a beautiful and informative puzzle featuring every state bird perched on the appropriate state flower.
State Birds and Flowers Coloring Book
by Annika Bernhard - 51 accurately detailed, copyright-free renderings include national bird (eagle) and flower (rose) plus 50 state birds and flowers.
U. S. State Flowers in Cross Stitch
by Gerda Bengtsson - Botanically correct cross stitch designs of state flowers of the 50 States.
Quilting Flowers of the States
by Sue Harvey - A lovely 12-inch flower block for each of the 50 states. Techniques used are piecing, appliqu?, paper-piecing and three-dimensional techniques.
Plants, Seeds & Flowers
: Bulbs, seeds, plants, fertilizer, plant containers and more.
Gardening Tools
: Pruners, rakes, shovels, hoes, trowels, cultivators and tillers, greenhouses, yard carts and more.
State Names, Seals, Flags, and Symbols: A Historical Guide, Third Edition - Benjamin F. Shearer and Barbara S. Shearer, Greenwood Press, 2002
State Names, Flags, Seals, Songs, Birds, Flowers and Other Symbols: A Study based on historical documents giving the origin and significance of the state names, nicknames, mottoes, seals, flowers, birds, songs, and descriptive comments on the capitol buildings and on some of the leading state histories, Revised Edition - George Earlie Shankle, Ph.D., The H.W. Wilson Company, 1938 (Reprint Services Corp. 1971)
---
Source: The Delaware Code, (http://www.delcode.state.de.us/), June 4, 2005
Source: City of Dover, Delaware, (http://www.cityofdover.com), June 4, 2005
Source: State Names, Seals, Flags, and Symbols: A Historical Guide, Third Edition - Benjamin F. Shearer and Barbara S. Shearer, Greenwood Press, 2002
Source: State Names, Flags, Seals, Songs, Birds, Flowers and Other Symbols: Revised Edition (Reprint)- George Earlie Shankle, Ph.D., The H.W. Wilson Company, 1938