Colorado State Flower
| | | |
| --- | --- | --- |
| White and Lavender Columbine | Aquilegia caerulea | Adopted:April 4, 1899 |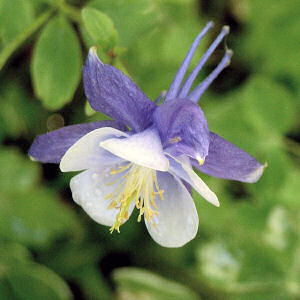 Colorado State Flower: White and Lavender Columbine
Adoption of the Colorado State Flower
Colorado's state flower, the white and lavender columbine (Aquilegia caerulea) is commonly known as the Rocky Mountain columbine. Its journey to become the Colorado state flower began near the end of the 19th century in 1891 when Colorado school children voted the Rocky Mountain columbine their favorite flower, overwhelmingly, over the second-place cactus. Of the 22,316 votes cast, 14,472 went to the Rocky Mountain Columbine.
Nine years later, in 1899, a Colorado women's club, in Cripple Creek, discovered that the Rocky Mountain columbine had never been officially adopted as the state flower. They went right to work.
Senate Bill 261, declaring the white and lavender columbine the state flower, was approved by the Colorado Legislature on April 4, 1899
Don't be confused by names.
The act names the white and lavender columbine as the state flower without reference to a scientific name. In later legislation declaring it the duty of the citizens of the state to protect the state flower, the white and lavender columbine is referred to as Aquilegia caerulea. In fact, Aquilegia caerulea is more commonly called Colorado blue columbine or simply Colorado columbine rather than white and lavender columbine.
Protective of their beautiful Rocky Mountain columbine, in 1925 the Twenty-fifth Session of the Colorado General Assembly approved a bill that made it the responsibility of all Coloradans to protect the state flower, established rules about picking and digging the flower and defined penalties for violations of the law. The law is detailed below.
The following information is excerpted from the Colorado Revised Statutes, Title 1, Part 9, Sections 24-80-905 through 24-80-908.
TITLE 1. GOVERNMENT - STATE: STATE HISTORY, ARCHIVES, AND EMBLEMS.
PART 9. STATE EMBLEMS AND SYMBOLS.

24-80-905. Columbine.
The white and lavender columbine is hereby made and declared to be the state flower of the state of Colorado.
24-80-906. Duty to protect.
It is hereby declared to be the duty of all citizens of this state to protect the white and lavender Columbine Aquilegia, Caerulea, the state flower, from needless destruction or waste.
24-80-907. Limitation on picking state flower.
It is unlawful for any person to tear the state flower up by the roots when grown or growing upon any state, school, or other public lands or in any public highway or other public place or to pick or gather upon any such public lands or in any such public highway or place more than twenty-five stems, buds, or blossoms of such flower in any one day; and it is also unlawful for any person to pick or gather such flower upon private lands without the consent of the owner thereof first had or obtained.
24-80-908. Violation a misdemeanor - penalty.
Any person who violates any provision of section 24-80-907 is guilty of a misdemeanor and, upon conviction thereof, shall be punished by a fine of not less than five nor more than fifty dollars.
Additional Information
Aquilegia caerulea (White and Lavender Columbine): Plant Encyclopedia from MyGardenGuide.
Guide to Growing Columbines in the Garden: from TheGardenHelper.com.
Plant Profile for Aquilegia coerulea (Colorado blue columbine): USDA, NRCS. 2004. The PLANTS Database, Version 3.5 (http://plants.usda.gov). National Plant Data Center, Baton Rouge, LA 70874-4490 USA.
Columbine posters and prints.
: Posters and prints custom framed or unframed.
State Flower List: List of all of the state flowers.
State Birds & Flowers 1000-pc Puzzle: Created at the request of The National Wildlife Federation this design is a beautiful and informative puzzle featuring every state bird perched on the appropriate state flower.
State Birds and Flowers Coloring Book
by Annika Bernhard - 51 accurately detailed, copyright-free renderings include national bird (eagle) and flower (rose) plus 50 state birds and flowers.
U. S. State Flowers in Cross Stitch
by Gerda Bengtsson - Botanically correct cross stitch designs of state flowers of the 50 States.
Quilting Flowers of the States
by Sue Harvey - A lovely 12-inch flower block for each of the 50 states. Techniques used are piecing, appliqu?, paper-piecing and three-dimensional techniques.
Plants, Seeds & Flowers
: Bulbs, seeds, plants, fertilizer, plant containers and more.
Gardening Tools
: Pruners, rakes, shovels, hoes, trowels, cultivators and tillers, greenhouses, yard carts and more.
State Names, Seals, Flags, and Symbols: A Historical Guide, Third Edition - Benjamin F. Shearer and Barbara S. Shearer, Greenwood Press, 2002
State Names, Flags, Seals, Songs, Birds, Flowers and Other Symbols: A Study based on historical documents giving the origin and significance of the state names, nicknames, mottoes, seals, flowers, birds, songs, and descriptive comments on the capitol buildings and on some of the leading state histories, Revised Edition - George Earlie Shankle, Ph.D., The H.W. Wilson Company, 1938 (Reprint Services Corp. 1971)
---
Source: Colorado Revised Statutes, (http://198.187.128.12/colorado/lpext.dll?f=templates&fn=fs-main.htm&2.0), June 4, 2005
Source: Colorado Department of Personnel and Administration, (http://www.colorado.gov/dpa/doit/archives/history/symbemb.htm), June 4, 2005
Source: State Names, Seals, Flags, and Symbols: A Historical Guide, Third Edition - Benjamin F. Shearer and Barbara S. Shearer, Greenwood Press, 2002
Source: State Names, Flags, Seals, Songs, Birds, Flowers and Other Symbols: Revised Edition (Reprint)- George Earlie Shankle, Ph.D., The H.W. Wilson Company, 1938