California State Flower
| | | |
| --- | --- | --- |
| Golden Poppy | Eschscholzia | Adopted:1903 |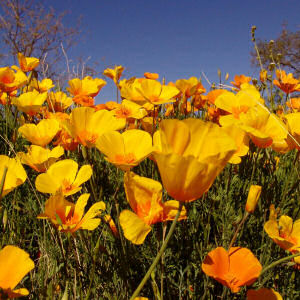 California State Flower: Golden Poppy
Adoption of the California State Flower
Over 100 years ago, on December 12, 1890, the members of the California State Floral Society voted for a flower that they thought would best serve the State of California as an official emblem. There were three contestants; the California poppy (Eschscholzia), the Mariposa lily (Calochortus) and the Matilija poppy (Romneya coulteri).
In her article, California's Esteemed Golden Poppy, Naomi Mathews writes "...the California Poppy won the esteemed title of 'Official California State Flower' by an overwhelming landslide." The showy Matilija poppy (also called the giant poppy) received no votes and the beautiful Mariposa lily received only three votes.
It took almost 13 years for the California Legislature to get around to adopting the winning golden poppy as the California State flower. The golden poppy, Eschscholzia, was selected as the official State flower of California by an act of the Legislature on March 2, 1903. In 1973, the law was amended to designate April 6 of each year as California Poppy Day.
Though the act stopped short of naming a particular species, the California poppy (Eschscholzia californica) is the variety generally thought of as the official State flower.
The California Government Code
The following information is excerpted from the California Government Code, General Provisions, Title 1, Division 2, Section 421.
GENERAL PROVISIONS.
TITLE 1. GENERAL.
DIVISION 2. STATE SEAL, FLAG, AND EMBLEMS.
SECTION 421.

421. The golden poppy (Eschscholzia) is the official State Flower. April 6 of each year is hereby designated California Poppy Day.
Additional Information
California Poppy Fields
Eschscholzia californica: Southern California Wildflowers and Other Plants: Photographs by Michael L. Charters.
About the Golden Poppy: Information about cultivation of the golden poppy from BackYardGardener.com.
State Flower List: List of all of the state flowers.
State Birds & Flowers 1000-pc Puzzle: Created at the request of The National Wildlife Federation this design is a beautiful and informative puzzle featuring every state bird perched on the appropriate state flower.
State Birds and Flowers Coloring Book
by Annika Bernhard - 51 accurately detailed, copyright-free renderings include national bird (eagle) and flower (rose) plus 50 state birds and flowers.
U. S. State Flowers in Cross Stitch
by Gerda Bengtsson - Botanically correct cross stitch designs of state flowers of the 50 States.
Quilting Flowers of the States
by Sue Harvey - A lovely 12-inch flower block for each of the 50 states. Techniques used are piecing, appliqu?, paper-piecing and three-dimensional techniques.
Plants, Seeds & Flowers
: Bulbs, seeds, plants, fertilizer, plant containers and more.
Gardening Tools
: Pruners, rakes, shovels, hoes, trowels, cultivators and tillers, greenhouses, yard carts and more.
State Names, Seals, Flags, and Symbols: A Historical Guide, Third Edition - Benjamin F. Shearer and Barbara S. Shearer, Greenwood Press, 2002
State Names, Flags, Seals, Songs, Birds, Flowers and Other Symbols: A Study based on historical documents giving the origin and significance of the state names, nicknames, mottoes, seals, flowers, birds, songs, and descriptive comments on the capitol buildings and on some of the leading state histories, Revised Edition - George Earlie Shankle, Ph.D., The H.W. Wilson Company, 1938 (Reprint Services Corp. 1971)
---
Source: California Law, (http://leginfo.legislature.ca.gov/), June 2, 2005
Source: California's Esteemed Golden Poppy by Naomi Mathews, (http://www.gardenguides.com/articles/californiapoppy.htm), June 2, 2005
Source: State Names, Seals, Flags, and Symbols: A Historical Guide, Third Edition - Benjamin F. Shearer and Barbara S. Shearer, Greenwood Press, 2002
Source: State Names, Flags, Seals, Songs, Birds, Flowers and Other Symbols: Revised Edition (Reprint)- George Earlie Shankle, Ph.D., The H.W. Wilson Company, 1938