Additional Information
The New Jersey State Fish: State of New Jersey website.
Brook Trout: Trout Unlimited Conserving, protecting and restoring North America's coldwater fisheries and their watersheds.
Salvelinus fontinalis (brook trout): University of Michgan Musuem of Zoology: Animal Diversity Web.
Salvelinus fontinalis: CalPhoto photographs. The Biodiversity Sciences Technology group (BSCIT), a part of the Berkeley Natural History Museums at the University of California, Berkeley.
Salvelinus fontinalis (Mitchill, 1814): Froese, R. and D. Pauly. Editors. 2009.FishBase. World Wide Web electronic publication. www.fishbase.org, version (01/2009).
Salvelinus fontinalis (Mitchill, 1814): Integrated Taxonomic Information System! Here you will find authoritative taxonomic information on plants, animals, fungi, and microbes of North America and the world.
Eastern Brook Trout: Species in Peril: by By Lisa Barno, Chief, Bureau of Freshwater Fisheries and Pat Hamilton, Principal Fisheries Biologist. New Jersey Fish and Wildlife Digest. January 2008.
Trout Fishing in New Jersey: New Jersey Division of Fish & Wildlife.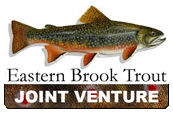 Eastern Brook Trout Joint Venture
Eastern Brook Trout Joint Venture: The nation's first pilot project under the National Fish Habitat Initiative, which directs locally-driven efforts that build private and public partnerships to improve fish habitat. The long-term goals of the EBTJV are to develop a comprehensive restoration and education strategy to improve aquatic habitat, to raise education awareness, and to raise federal, state and local funds for brook trout conservation.
State Fish: Complete list of official state fish.
More symbols & emblems: Complete list of official New Jersey state symbols.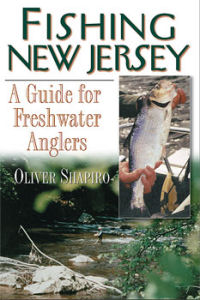 Fishing New Jersey
by Oliver Shapiro
Fishing New Jersey: A Guide for Freshwater Anglers, by Oliver Shapiro. 192 pages. Burford Books (November 25, 2006) A complete, detailed guide to fishing New Jersey's freshwater lakes, rivers, ponds and streams, including not just where to fish and how to get there, but tackle, techniques and strategies that best put fish on the line.
Fly Fishing New Jersey Trout Streams, by Matthew Grobert. 88 pages. Frank Amato Publications, Inc. (January 1, 2008) This book is the culmination of 35 years of experience, information, insights, observations, and the wonders of fly-fishing for trout in the Garden State.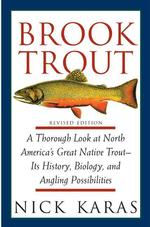 Brook Trout
by Nick Karas
Brook Trout, by Nick Karas. 388 pages. The Lyons Press; 1st edition (November 2002) The much maligned brook trout gets star billing in this encyclopedic, readable study of Salvelinus fontinalis from Newsday outdoor columnist Karas.
The Brook Trout and the Determined Angler, By Charles Barker Bradford. 88 pages. Read Country Books (June 1, 2005) First published in the U.S.A. in 1900. The author was a well known fisherman and a prolific sporting writer who contributed many articles to the American field sports press of that era. This book is a collection of some of the best of these. Illustrated by full page black and white illustrations and photos and a number of small pen and ink sketches.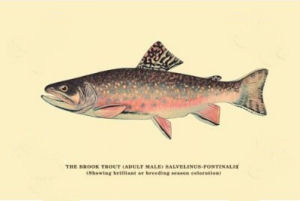 Brook Trout Canvas
Canvas Print, The Brook Trout, by George Sheringham. (Showing Brilliant or Breeding Season Coloration) - 30" x 20" Canvas Print stretched over wood frame.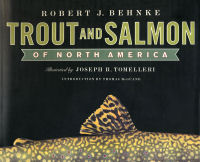 Trout and Salmon of North America
by Robert J. Behnke
Trout and Salmon of North America, by Robert J. Behnke. 384 pages. Free Press (September 24, 2002) Behnke, professor emeritus of fishery and wildlife biology at Colorado State University, has brought his more than 50 years of studying, and fishing for salmon and trout, to wonderful effect. He provides readers with an authoritative compendium of the evolution, biology, ecology, habitats and behaviors of these prized game fish. A capsule legend that includes scientific name, other common names, habitat, size, life span and diet accompanies each entry, amazingly illustrated by Tomelleri, whose fish seem to shimmer on the pages. Habitat maps, which include coastal waters, rivers, streams and lakes, are detailed and specific enough to be taken on fishing excursions. The book includes a good deal of fishing lore, as in the notations that describe the best flies, bait and lures for specific types of fish and locales.
About Trout: The Best of Robert Behnke from Trout Magazine, by Robert J. Behnke. 272 pages. The Lyons Press (September 1, 2007) Behnke brings scientific expertise, a sense of humor and a flair for drama to this collection of 43 essays previously published as his About Trout column in conservation organization Trout Unlimited's Trout magazine. Behnke considers the evolution, historic and current distribution, biological characteristics and defining physical traits of various species of trout and salmon-from the common brown trout and well-known Atlantic salmon to the rare Apache trout and the once-presumed extinct, now-endangered Alvord cutthroat trout.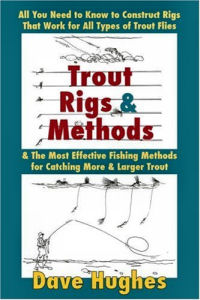 Trout Rigs & Methods
by Dave Hughes
Trout, by Ray Bergman. 576 pages. The Derrydale Press (October 25, 2000) Trout is arguably the finest single volume ever produced on how, why, and where to catch trout. In spite of being originally published in 1938 (Penn Publishing Company), it remains utterly relevant.
Trout Rigs & Methods, by Dave Hughes. 322 pages. Stackpole Books (January 10, 2007) Clear and simple instruction and explanation describes 18 trout rigs and 81 methods to fish them. In moving water: rigs and methods for dry flies and emergers, nymphs, wet flies, streamers, and dry flies and droppers. In stillwater: dry flies and sunk flies.Fly fishers learn the specifics of the rig--types of fly line, lengths and tapers of leader and tippet, the flies, and split shot, putty weight, strike indicators, droppers, point flies, and indicators--and the full array of methods to present the rig to the trout.
Essential Trout Flies, by Dave Hughes. 92 pages. Stackpole Books (April 2000) A core list of flies that will catch trout anywhere, in every season, this collection includes the most important patterns in a wide range of styles, from dry flies to streamers. The tying steps for each pattern are illustrated in step-by-step photos with detailed captions, followed by photos and recipes for the six most useful variations-217 patterns in all. Each chapter features a description of the insect the pattern imitates as well as expert information on how and when to fish the fly.
Trout & Salmon, [ Magazine Subscription ] Features, news on all aspects of game fishing.
Complete line of fishing equipment
including rods, reels, rod and reel combinations, fly fishing gear, bait and spin casting rods and reels, ice fishing equipment, lures and flies, and other accessories. All major brands.
Custom Search