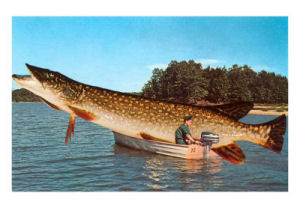 Pike-in-a-boat print
Additional Information
State Fish: Website of the State of North Dakota.
Esox lucius (Northern Pike): Flora, fauna, earth, and sky... The natural history of the northwoods.
Fish Species: North Dakota Game and Fish Department.
Fishes of North Dakota: Northern Prairie Wildlife Research Center.
Esox lucius: University of Michigan Museum of Zoology: Animal Diversity Web.
Esox lucius (Linnaeus, 1758): Froese, R. and D. Pauly. Editors. 2009.FishBase. World Wide Web electronic publication. www.fishbase.org, version (02/2009).
Esox lucius Linnaeus, 1758: Integrated Taxonomic Information System (ITIS) Here you will find authoritative taxonomic information on plants, animals, fungi, and microbes of North America and the world.
State Fish: Complete list of official state fish.
More symbols & emblems: Complete list of official North Dakota state symbols.
Fishing in North Dakota: North Dakota Game and Fish Department.
North Dakota Fishing: The Guru Group doing business as AA-fishing.com.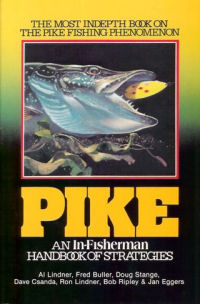 Pike by Al Lindner
Pike: An In-Fisherman Handbook of Strategies, by Al Lindner. In-Fisherman (August 1984) 'The most in-depth book on the pike fishing phenomenon'. Looks at the pike's calendar (pre-spawn, post-spawn etc), classification of lakes, rivers and reservoirs, methods and rigs.
Northern Pike and Muskie: Tackle and Techniques for Catching Trophy Pike and Muskies, by Dick Sternberg. 160 pages. Creative Publishing international (May 27, 1992) Dick Sternberg is a former fisheries biologist who has written many books to help anglers understand fish behavior. In addition, he's an avid fisherman who has developed many helpful techniques and tactics to catch fish consistently.
Northern Pike: A Complete Guide to Pike and Pike Fishing, by Will Ryan. 208 pages. The Lyons Press; 1st edition (July 1, 2005) A thorough and practical guide to all methods of fishing for northern pike, including live bait, lures, and flies.
Ken Schultz's Field Guide to Freshwater Fish, by Ken Schultz. 272ges. Wiley; illustrated edition edition (December 29, 2003) From one of the most respected names in the world of sportfishing comes the definitive, full-color guide to 140 of the most common freshwater fish species found in North American rivers, lakes, and streams. Featuring information on identification, habitat, size, and diet, Ken Schultz's Guide to Freshwater Fish is a must for anglers and sportfishing enthusiasts everywhere.
A Field Guide to Freshwater Fishes, by Lawrence M. Page, Brooks M. Burr. 440 pages. Houghton Mifflin Harcourt (January 1, 1991) The first comprehensive field guide to freshwater fishes - covers all 790 species known in the United States and Canada. More than 700 illustrations, most in color, show identifying marks. Also includes 377 distribution maps and additional drawings of key details.
What Fish Don't Want You to Know: An Insider's Guide to Freshwater Fishing, by Frank P. Baron. 176 pages. International Marine/Ragged Mountain Press; 1 edition (August 27, 2003) Anyone can toss a line into the water and get lucky once in a while, but if you want to catch more and bigger fish and have more fun doing it, you need to learn What Fish Don't Want You to Know. Whether you're new to fishing or an accomplished angler, this comprehensive and entertaining guide will improve your chances every time you cast a line into fresh water.
Complete line of fishing equipment
including rods, reels, rod and reel combinations, fly fishing gear, bait and spin casting rods and reels, ice fishing equipment, lures and flies, and other accessories. All major brands.
Custom Search