Missouri State Fish: Paddlefish
Image: Timothy Knepp - U.S. Fish & Wildlife Service
Missouri Law
The following information was excerpted from the Missouri Revised Statutes, Title 2, Chapter 10, Section 10.130
TITLE II SOVEREIGNTY, JURISDICTION AND EMBLEMS
CHAPTER 10 State Emblems
Section 10.130
Paddlefish state aquatic animal.
10.130. The paddlefish or spoonbill, scientifically designated as Polyodon spathula, is hereby selected for, and shall be known as, the official aquatic animal of the state of Missouri.
Additional Information
Missouri's Aquatic Animal: Missouri Secretary of State - State Symbols of Missouri.
Paddlefish: Missouri Department of Conservation - Fish of Missouri.
Paddlefish: Missouri Department of Conservation - [Video].
Tuning in to Paddlefish: Missouri Department of Conservation.
No Bones About It - Prehistoric Paddlefish: Missouri Department of Conservation.
Fishing in Missouri: Missouri Department of Conservation.
Missouri State Fish Art Project: Wonders of Wildlife, the National Fish and Wildlife Museum and Aquarium, is a unique facility in Springfield, Missouri.
Polyodon spathula (American paddlefish): University of Michigan Museum of Zoology: Animal Diversity Web.
Polyodon spathula (Walbaum, 1792): Froese, R. and D. Pauly. Editors. 2008.FishBase. World Wide Web electronic publication. www.fishbase.org, version (12/2008).
Polyodon spathula - (Walbaum, 1792) : NatureServe - A network connecting science with conservation.
Polyodon spathula (Walbaum, 1792): The Integrated Taxonomic Information System (ITIS) Here you will find authoritative taxonomic information on plants, animals, fungi, and microbes of North America
Polyodon spathula: CalPhoto photographs. The Biodiversity Sciences Technology group (BSCIT), a part of the Berkeley Natural History Museums at the University of California, Berkeley.
State Fish: Complete list of official state Fish.
More symbols & emblems: Complete list of official Missouri state symbols.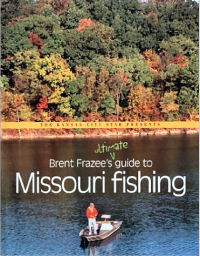 Brent Frazee's
Ultimate Guide to Missouri Fishing
Brent Frazee's Ultimate Guide to Missouri Fishing, by Brent Frazee. 219 pages. Kansas City Star Books (January 2002) Brent Frazee, outdoors editor for The Kansas City Star, takes you on a guided fishing trip through Missouri. Based on his 22 years of coverage, he will take you to his favorite spots to catch bass, crappies, white bass, trout, walleyes and catfish. He also will take you to scenic float streams, lakes and rivers that offer trophy catches, and waters that offer a variety of species.
Missouri Fishing Map Guide, All of Missouri's largest reservoirs, including some of the worlds finest fishing waters, are included in this first Missouri Volume. All lakes over 500 acres, at a fraction of the cost of individual maps, complete with detailed contours lake features, marked fishing spots, expert fishing information and stocking and survey data.
What Fish Don't Want You to Know: An Insider's Guide to Freshwater Fishing, by Frank P. Baron. 176 pages. International Marine/Ragged Mountain Press; 1 edition (August 27, 2003) Anyone can toss a line into the water and get lucky once in a while, but if you want to catch more and bigger fish and have more fun doing it, you need to learn What Fish Don't Want You to Know. Whether you're new to fishing or an accomplished angler, this comprehensive and entertaining guide will improve your chances every time you cast a line into fresh water.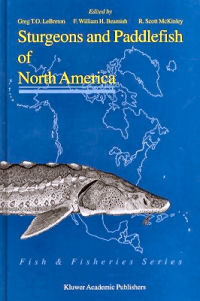 Sturgeons and Paddlefish of North America
Sturgeons and Paddlefish of North America, edited by Greg T.O. LeBreton, F. William H. Beamish, R. Scott McKinley. 323 pages. Springer; 1 edition (December 21, 2004) Modern North American sturgeons and paddlefish are the result of 100 million years of evolution. Once an integral part of aboriginal culture, their numbers were decimated by overfishing and habitat destruction during the past two centuries. This book details the extensive science aimed at helping these remarkable species recover from the brink of extinction, and describes the historical, biological, and ecological importance of North American sturgeon and paddlefish. The text is enhanced by photographs and detailed line drawings.
A Field Guide to Freshwater Fishes, by Lawrence M. Page, Brooks M. Burr. 440 pages. Houghton Mifflin Harcourt (January 1, 1991) The first comprehensive field guide to freshwater fishes - covers all 790 species known in the United States and Canada. More than 700 illustrations, most in color, show identifying marks. Also includes 377 distribution maps and additional drawings of key details.
Ken Schultz's Field Guide to Freshwater Fish, by Ken Schultz. 272ges. Wiley; illustrated edition edition (December 29, 2003) From one of the most respected names in the world of sportfishing comes the definitive, full-color guide to 140 of the most common freshwater fish species found in North American rivers, lakes, and streams. Featuring information on identification, habitat, size, and diet, Ken Schultz's Guide to Freshwater Fish is a must for anglers and sportfishing enthusiasts everywhere.
Complete line of fishing equipment
including rods, reels, rod and reel combinations, fly fishing gear, bait and spin casting rods and reels, ice fishing equipment, lures and flies, and other accessories. All major brands.
Custom Search