Missouri State Fish: Channel Catfish
Courtesy: N.Y. State Dept. of Environmental Conservation
Missouri Law
The following information was excerpted from the Missouri Revised Statutes, Title 2, Chapter 10, Section 10.135.
TITLE II SOVEREIGNTY, JURISDICTION AND EMBLEMS
Chapter 10 State Emblems
SECTION 10.135.
Channel catfish state fish.
10.135. The channel catfish, scientifically designated as Ictalurus punctatus, is hereby selected for, and shall be known as, the official fish of the state of Missouri.
(L. 1997 H.B. 700)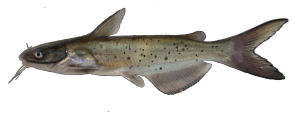 Missouri State Fish: Channel Catfish

Additional Information
Missouri's State Fish: Missouri Secretary of State - State Symbols of Missouri.
Missouri State Fish Art Project: Wonders of Wildlife, the National Fish and Wildlife Museum and Aquarium, is a unique facility in Springfield, Missouri.
Missouri's Colossal Catfishes: Missouri Department of Conservation.
Managing Missouri's Catfish: Missouri Department of Conservation.
Fishing in Missouri: Missouri Department of Conservation.
Catfish Fishing in Missouri: All about fishing for catfish in Missouri - Learn the tips, tricks, times and places for catching channel catfish, flathead catfish and blue catfish throughout the state of Missouri.
Ictalurus punctatus (channel catfish): University of Michigan Museum of Zoology: Animal Diversity Web.
Ictalurus punctatus (Rafinesque, 1818): Froese, R. and D. Pauly. Editors. 2009.FishBase. World Wide Web electronic publication. www.fishbase.org, version (01/2009)
Ictalurus punctatus - (Rafinesque, 1818): NatureServe Explorer: An Encyclopedia of Life.
Ictalurus punctatus (Rafinesque, 1818): Integrated Taxonomic Information System (ITIS) Here you will find authoritative taxonomic information on plants, animals, fungi, and microbes of North America and the world.
Ictalurus punctatus: CalPhoto photographs. The Biodiversity Sciences Technology group (BSCIT), a part of the Berkeley Natural History Museums at the University of California, Berkeley.
State Fish: Complete list of official state Fish.
More symbols & emblems: Complete list of official Missouri state symbols.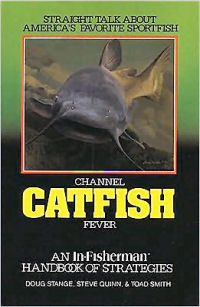 Channel Catfish Fever
Channel Catfish Fever, In-Fisherman (August 1989) In-Fisherman experts blend science with a lifetime of catfish fishing experience to sweep myths aside and focus on catching channel catfish in rivers. An in-depth where-to, how-to book with a heart - a feeling for the passionate pursuit of catfish.
Fishing for Catfish, by Keith Sutton. 128 pages. Creative Publishing International; illustrated edition edition (January 1, 1999) This highly requested title is a valuable reference guide that covers all aspects of catfishing. An appealing book that conveys helpful how-to information through four-colour photography, illustrations and easy-to-understand instructions.
Catfishing: Beyond The Basics, by Keith Sutton. 159 pages. Stoeger Publishing Company (September 30, 2004) Catfish are among of the largest and hardest fighting gamefish found in North America. Author Keith Sutton provides in-depth knowledge and reveals both time-tested and advanced catfishing techniques to make Catfishing: Beyond the Basics the ultimate handbook for catching these remarkable fish. Learn the secrets of successful catfish angling from the fish's favorite foods to how to find catfish in thick cover and changing water levels.
The Freshwater Angler: Catching Catfish, 192 pages. Creative Publishing International; 1 edition (March 1, 2000). Discover time-tested catfishing techniques including, stillfishing, driftfishing, trolling, jug fishing, limblining and noodling. See rods, reels and lines designed for catching these big cats. And learn a catfish's favorite foods, its seasonal movements, where it likes to live and how it uses its senses.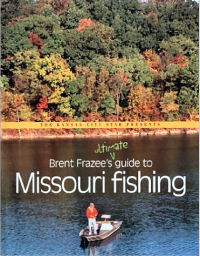 Brent Frazee's
Ultimate Guide to Missouri Fishing
Brent Frazee's Ultimate Guide to Missouri Fishing, by Brent Frazee. 219 pages. Kansas City Star Books (January 2002) Brent Frazee, outdoors editor for The Kansas City Star, takes you on a guided fishing trip through Missouri. Based on his 22 years of coverage, he will take you to his favorite spots to catch bass, crappies, white bass, trout, walleyes and catfish. He also will take you to scenic float streams, lakes and rivers that offer trophy catches, and waters that offer a variety of species.
Missouri Fishing Map Guide, All of Missouri's largest reservoirs, including some of the worlds finest fishing waters, are included in this first Missouri Volume. All lakes over 500 acres, at a fraction of the cost of individual maps, complete with detailed contours lake features, marked fishing spots, expert fishing information and stocking and survey data.
Complete line of fishing equipment
including rods, reels, rod and reel combinations, fly fishing gear, bait and spin casting rods and reels, ice fishing equipment, lures and flies, and other accessories. All major brands.
Custom Search