Additional Information
Maryland State Fish - Rockfish (Striped Bass): State symbols from the Maryland State Archives: Maryland at a Glance.
Striped bass: Maryland fish facts from the Maryland Fisheries Service, Maryland Department of Natural Resources.
Morone saxatilis (Walbaum, 1792): Integrated Taxonomic Information System (ITIS) Here you will find authoritative taxonomic information on plants, animals, fungi, and microbes of North America and the world.
Morone saxatilis (Walbaum, 1792): Froese, R. and D. Pauly. Editors. 2008.FishBase. World Wide Web electronic publication. www.fishbase.org, version (12/2008).
Morone saxatilis - (Walbaum, 1792): NatureServe Explorer: An Online Encyclopedia of Life.
State Fish: Complete list of official state Fish.
More symbols & emblems: Complete list of official Maryland state symbols.
Fishing Maryland, Delaware, and Washington, D.C., by Martin Freed, Ruta Vaskys. 176 pages. The Lyons Press; 1st edition (June 17, 2008) This is the most comprehensive guidebook to fishing in Maryland, Delaware, or the District of Columbia. Not only are precise directions given to each fishing hole, but the species available and tips on how to catch them are also included. The book covers all aspects of fishing, from casting flies in the mountain streams of western Maryland for native brook trout to catching behemoth black drum along the coast and in the Chesapeake.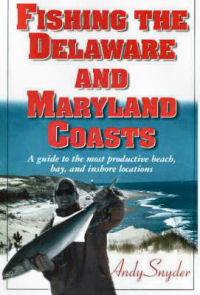 Fishing the Delaware & Maryland Coasts
by Andy Snyder
Fishing the Delaware and Maryland Coasts, by Andy Snyder. 192 pages. Burford Books (May 25, 2006) Complete where-to-fish guide for coastal Delaware and Maryland. This book does not cover the Chesapeake Bay.
The Complete Book of Striped Bass Fishing, by Nick Karas. 384 pages. Publisher: The Lyons Press; 1st edition (August 2000) The Complete Book of Striped Bass Fishing offers a comprehensive look at every aspect of the striped bass, making it a book that no one who fishes for this great gamefish will want to be without, and the essential book for all striped-bass enthusiasts.
Fly Fishing for Striped Bass, by Rich Murphy. 400 pages. Wild River Press (October 1, 2007) Enjoy the sport of fly fishing for the rebounding populations of striped bass as they migrate from the Carolinas to Maine with this practical guide to tackle, casting and retrieving techniques, striper behavior and biology, and habitat-specific fishing tactics. Remarkable close-up and underwater photos of the bass in their natural marine environments, spectacular satellite photos of the coastal waters of New England, and photographs of 33 original fly designs round out the presentation.
Sight-Fishing for Striped Bass, by Alan Caolo. 100 pages. Frank Amato Publications; 1 edition (July 1, 2001) Ultimate coverage of fly-fishing strategies for inshore, offshore and the surf.

Striper Wars: An American Fish Story
by Dick Russell
Striper Wars: An American Fish Story, by Dick Russell. 368 pages. Island Press; 1 edition (February 10, 2006) When commercial overfishing sent striped bass populations into free fall in the 1980s, Dick Russell emerged as a key spokesman in a long-shot crusade by dedicated fishermen to save them. Striper Wars is Russell's vibrant account of their thrilling, yet tenuous victory, complete with heroes and villains. In one of nature's great comebacks, groundbreaking moratoriums allowed the striper population to rebound more than tenfold. Yet today, the striper faces new threats, including a deadly bacterial disease. While perils persist, Dick Russell's inspiring account offers fundamental lessons about the power of civic action and the necessity of a holistic approach to conservation.
On the Run: An Angler's Journey Down the Striper Coast , by David Dibenedetto. 256 pages. William Morrow; 1 edition (September 16, 2003) This chronicle covers the author's fishing trip in 2001, which took him from Maine to North Carolina. DiBenedetto sought the striped bass on its autumnal migration southward, seeking not only the fish but also the subculture it inspires. He persuaded guides of local renown to show him around their fishing haunts. Ocean bass fishing turns out to be many things: obsessive, competitive, and equipped with etiquette one breaches at one's peril--cross a surf caster's line and you're dead.
A Season on the Edge, by John Skinner. 219 pages. Nor'east Media; 1st edition (2008) From the first signs of life in the backwaters of the South Shore on an April night, to the year's last push of big stripers along the ocean beaches in early December, A Season on the Edge chronicles a season of surfcasting from the shores of Long Island. The season is woven together from a collection of stories culled from the author's logs and told in the order of a seasonal progression.
Ken Schultz's Fishing Encyclopedia, by Ken Schultz. 1760 pages. Wiley; 1 edition (November 1, 1999) Ken Schultz's Fishing Encyclopedia is the new standard for knowledge on fishing and everything related to it. With complete, insightful information for both freshwater and saltwater anglers at all levels of experience, it is the only authoritative, and up-to-date fishing encyclopedia available. More than 2,000 detailed entries and over 1,400 color illustrations and photos cover every aspect of fishing today, including fish species, equipment, places, techniques, and a wide array of other information.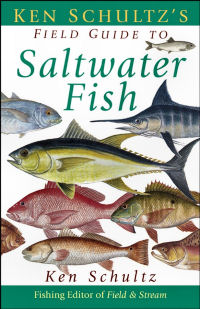 Guide to Saltwater Fish
by Ken Schultz
Ken Schultz's Field Guide to Saltwater Fish, by Ken Schultz. 288 pages. Wiley (December 29, 2003) Before you head out to the open seas, listen up: Your tackle box is not complete without Ken Schultz's Field Guide to Saltwater Fish! Written by one of the foremost experts in sportfishing, this colorful reference provides anglers and fish enthusiasts of all levels an easy-to-use, indispensable guide to help you identify and learn about the most common species found off the North American coastlines-from albacore to yellowtail.
Saltwater Fishing Made Easy, by Martin Pollizotto. 384 pages. International Marine/Ragged Mountain Press; 1 edition (March 10, 2006) This authoritative guide will help you bring in bigger and better fish every time you cast your line. Saltwater Fishing Made Easy is your all-in-one resource for fishing methods and techniques, tackle and bait, and, most important, the fish themselves.
Saltwater Fishing. Tackle, Rigging, How & When to Fish, by Jack Zinzow. 64 pages. Windward Pub Co; 1st edition (November 1, 1992) A valuable resource on fishing line, rods, reels, knots, terminal tackle, and lures used in saltwater fishing. Other subjects include information on where to fish, the techniques and conditions that affect fishing, the best ways to fish both on land and from a boat, and tips on catching different species on fish.
Complete line of fishing equipment
including rods, reels, rod and reel combinations, fly fishing gear, bait and spin casting rods and reels, ice fishing equipment, lures and flies, and other accessories. All major brands.
Custom Search