HOME
INTRO
SYMBOLS
ALMANAC
ECONOMY
GEOGRAPHY
STATE MAPS
PEOPLE
FORUM
NEWS
COOL SCHOOLS
STATE QUIZ
STATE LINKS
BOOK STORE
MARKETPLACE
NETSTATE.STORE
NETSTATE.MALL
GUESTBOOK
CONTACT US


---
New Jersey State Dinosaur
Hadrosaurus foulkii
Adopted:
June 13, 1991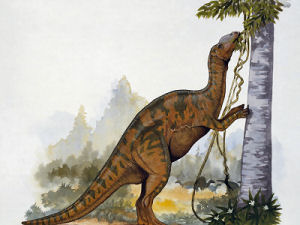 State dinosaur: Hadrosaurus foulkii
Available prints
Hadrosaurus foulkii's promotion to "New Jersey State Dinosaur" began in 1988 at an elementary school in Haddon Township, a small community of about 15,000, located in western New Jersey east of Philadelphia.
Strawbridge Elementary School teacher Joyce Berry initiated a project that would teach her fourth grade students about fossils as well as the New Jersey legislative process.
The idea wasn't as off-the-wall as some thought at the time. Many states had already named official state fossils and 1858's Hadrosaurus foulkii, the first nearly complete dinosaur skeleton ever discovered, seemed a perfect representation for New Jersey. Ms. Berry's and her fourth-graders (97 students took part) lobbied intensely for Hadrosaurus foulkii, only to have the state Senate ignore the proposal in 1990 after unanimous approval by the New Jersey Assembly (54-0).
As 1991 rolled around, things started looking up. By the end of May, 1991, the "Hadrosaurus bill," sponsored by Assemblymen John A. Rocco and Thomas J. Shusted, had been approved in both the Assembly and in the Senate.
Hadrosaurus foulkii became the New Jersey State Dinosaur when Governor Jim Florio signed the bill into law in the rotunda of the New Jersey State House on June 13, 1991.
From Strawbridge Elementary School in Haddon Township, fourth-grade teacher Joyce Berry and her students gathered around to witness the culmination of their school project initiated in 1988.
Chapter 161, Laws of 1991
AN ACT designating the Hadrosaurus Foulkii as the New Jersey State Dinosaur.

BE IT ENACTED by the Senate and General Assembly of the State of New Jersey:

1. The Legislature finds that:

a. The Hadrosaurus Foulkii, the first nearly complete dinosaur skeleton to be discovered virtually intact anywhere in the world, was unearthed in October, 1858, in a marl pit in Haddonfield, Camden County, by William Parke Foulke, a member of the prestigious Academy of Natural Sciences of Philadelphia.

b. This discovery of a 25-foot, eight-ton, duck-billed, herbivorous saurian (or reptile), which stood as high as ten feet at the hips, was so unexpected and unusual that it startled the scientific thinking of the day and led to a revision of many conventional ideas as to the physical structure and life habits of prehistoric reptiles and provided a great stimulus to the study of dinosaurs which, until then, were relatively unknown outside the scientific community.

c. This dinosaur, which lived 70 to 100 million years ago during the cretaceous period and which was given the name Hadrosaurus Foulkii in honor of its discoverer, was the first dinosaur to be displayed for public view, attracting tens of thousands of visitors to the Academy of Natural Sciences where it was on view from the 1870's to the 1940's.

d. The Hadrosaurus Foulkii has been recently reinstalled as one of the main features in a permanent exhibit at the Academyu of Natural Sciences.

e. In order to pay recognition to the scientific importance of New Jersey's Hadrosaurus Foulkii, it is fitting and appropriate to designate it as the State Dinosaur.

Approved June 13, 1991
The Haddonfield, New Jersey site, where Hadrosaurus foulkii was discovered, was designated a National Historic Landmark in 1995.
New Jersey Law
The following information was excerpted from the The New Jersey Permanent Statutes, Title 52, Section 52:9A-5.
TITLE 52 STATE GOVERNMENT, DEPARTMENTS AND OFFICERS
SECTION 52:9A-5
52:9A-5. Designation of State dinosaur
The Hadrosaurus Foulkii is designated as the New Jersey State Dinosaur.
L.1991,c.161,s.2.
---
Sources...
The Syracuse Post-Standard. New Jersey Kills A Dinosaur (Bill). Thursday, January 11, 1990, Page C-3.
Hoag Levins. Hadrosaurus foulkii Becomes Official State Dinosaur, June, 1991. Accessed January 3, 2011.
The New Jersey Permanent Statutes. Title 52:Section 52:9A-15. Accessed January 03, 2011.
Shearer, Benjamin F. and Barbara S. State Names, Seals, Flags and Symbols: A Historical Guide Third Edition, Revised and Expanded. Westport, Conn: Greenwood Press, 3 Sub edition, 2001.
---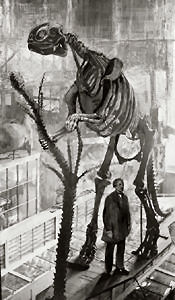 Hadrosaurus foulkii
First mounted dinosaur in the world!
With builder Benjamin Waterhouse Hawkins
Philadelphia Academy of Natural Sciences
Additional Information
Hadrosaurus foulkii: Description of Hadrosaurus foulkii from the New Jersey Department of Environmental Protection.
Hadrosaurus foulkii: : The Academy of Natural Sciences. The story of Hadrosaurus foulkii is a story about paleontology. Follow along as we find, dig up, present and evaluate the bones of the first mounted dinosaur the world has ever seen..
Hadrosaurus foulkii: Finding the World's First Dinosaur Skeleton: Web site of Hoag Levins. Hoag Levins is Vice President, News and Interactive, at Capitol News Connection (CNC) in Washington, D.C..
Hadrosaurus.com: The Story of a Dinosaur Sculpture: John Giannotti's Hadrosaurus foulkii sculpture in Hadrosaurus Lane is a central landmark of downtown Haddonfield, New Jersey.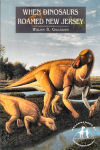 When Dinosaurs
Roamed New Jersey
William B. Gallagher
When Dinosaurs Roamed New Jersey, by William B. Gallagher. 198 pages. Publisher: Rutgers University Press; 1 edition (April 1, 1997) "Ever since the beginnings of paleontology in America, New Jersey has been 'the place,' and William Gallagher--who terrorized his South Jersey mother by traipsing home green mud, marl, and fossils--is the ideal guide to the wonderful dinosaurs and other fossils of the region. High school and college students, their teachers, interested general readers and professional paleontologists will all enjoy this book!"--Earle E. Spamer, The Academy of Natural Sciences, Philadelphia
When Dinosaurs Roamed New Jersey provides a succinct and readable history of the geology and paleontology of New Jersey from the time the region was covered by Cambrian seas, 543 million years ago, to the Pleistocene Ice Age only 10-15,000 years ago. William Gallagher tells the stories of professional and amateur fossil hunters, their discoveries, and their impact on the history of paleontological thought. He points out places in New Jersey and nearby where specimens characteristic of each era were found. He shows how fossil evidence found in the state is helping paleontologists uncover the ecological interactions and behavior of dinosaurs, and discusses such ongoing scientific controversies as the reason for the extinction of the dinosaurs.

Hadrosaurus
Darlene R. Stille
Hadrosaurus (North American Dinosaurs), by Darlene R. Stille. 24 pages. Publisher: Rourke Publishing (FL) (January 31, 2007) Reading level: Grades 2-5. Kids will have fun reading and learning about this dinosaur that once roamed the North American continent. Filled with engaging illustrations and archeology-like photographs, Hadrosaurus will educate as they entertain the reader. A big hit with kids of all ages.


Stately Fossils
Stephen Brusatte
Stately Fossils: A Comprehensive Look at the State Fossils and Other Official Fossils, buy Stephen Brusatte. 234 pages. Publisher: Fossil News (September 2002) The only book in print on the subject of state fossils, Stately Fossils offers an in-depth treatment of the natural and cultural history behind the official fossils of every state... and more! The book contains 80 photos and over 300 references to further information.