California State Colors
| | | |
| --- | --- | --- |
| Blue and Gold | | Adopted:June 28, 1951 |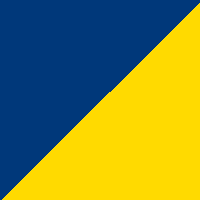 California State Colors: Blue & Gold
Adoption of the California State Colors
The colors, officially adopted as California's State colors in 1951 had there origin at the University of California, Berkeley around 1871 when the school was trying to choose a primary color to represent the university.
Blue was popular. It was the color of student cadet uniforms. It was also representative of another school, Yale, whose graduates had been instrumental in founding and leading the university. More aesthetically, blue could represent the beautiful, clear California skies and the blue of the Pacific Ocean.
On the other hand, gold could also provide meaningful symbolism for the university. Gold had played a major role in the settling of the State beginning with the 1848/49 gold rushes. California was known as the Golden State on many levels, not the least of which was the proliferation of its wildflowers, in particular the golden poppy that was to become California's State flower years later in 1903.
Seemingly deadlocked between the two, student Rebekah Bragg (Class of 1876) is credited with suggesting that both colors be used. Blue and gold were chosen as the university's colors in 1873.
It's reported that the California Secretary of State began using blue and gold ribbons along with the State seal to authenticate official State documents sometime in 1913, during the terms of California Secretary of State Frank C. Jordan.
Frank C. Jordan's son, Frank M. Jordan, also served as California Secretary of State. He served from 1943 to 1970. It was Frank M. Jordan who suggested that blue and gold be made the official colors of the State of California.
In 1951, California Governor Earl Warren signed legislation making blue and gold the official State colors of California.
California Law
The following information was excerpted from the California Government Code, Title 1, Division 2, Chapter 2.
CALIFORNIA GOVERNMENT CODE
TITLE 1. GENERAL
DIVISION 2. STATE SEAL, FLAG, AND EMBLEMS
CHAPTER 2. STATE FLAG AND EMBLEMS
SECTION 420-429.8
424. The official colors of the State are blue and gold. The specifications, references, and designations for the official colors are as follows:
Specifications: National Bureau of Standards, Research Paper RP 1700.
International Commission on Illumination:
Blue: Y 0.063 x 0.204 y 0.165
Gold: Y 0.449 x 0.474 y 0.458
Munsell Renotation:
Blue: H V/C 7.3 PB 2.9/8.8
Gold: H V/C 2.0 Y 7.1/11.3
Munsell Book Notation:
Blue: H V/C 7.2 PB 2.9/9.1
Gold: H V/C 1 Y 7.3/11
References: Textile Color Card Association of New York, Inc. Blue: Yale Blue, cable number 70086, Standard Color Card of America, 9th edition. Gold: Golden Yellow, cable number 65001, United States Army Card of Official Colors for Arms and Services.
Designations: Inter-Society Color Council-National Bureau of Standards:
Yale Blue: Deep purplish blue.
Golden Yellow: Vivid yellow.
---
Source: California State Legislature:California Law, Government Code, , February 6, 2008.
Source: The University of California:Faculty Guide, UC Berkeley Identity Resources, , February 6, 2008.
Source: The University of California:CalParents, Cal Traditions, , February 6, 2008.
Source: The California State Library, History and Culture - State Symbols, , February 6, 2008.
Source: State Names, Seals, Flags and Symbols: A Historical Guide Third Edition, Revised and Expanded by Benjamin F. Shearer and Barbara S. Shearer. Greenwood Press; 3 Sub edition (October 30, 2001).
---
Additional Information
State Colors: Complete list of state colors from NETSTATE.