Tennessee State Bird
| | | |
| --- | --- | --- |
| Mockingbird | Mimus polyglottos | Adopted:1933 |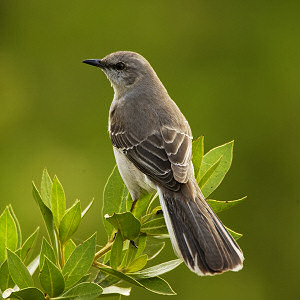 Tennessee State Bird: Mockingbird (Mimus polyglottos)
Adoption of the Tennessee State Bird
In 1933, the Tennessee Ornithological Society initiated a statewide campaign of education in connection with a vote to adopt an official state bird to represent the state. The purpose of the vote was to determine the preferences of the people of Tennessee. Over 70,000 people cast votes that gave the mockingbird (15,553) a small, but winning edge over the robin (15,073). Finishing after the top-two contenders were the cardinal (13,969 votes), the bobwhite (10,460 votes), the bluebird (9,125 votes) and others (8,751 votes).
The mockingbird was adopted as the state bird of Tennessee by Senate Joint Resolution No. 51 on April 19, 1933. It read, in part:
"WHEREAS, forty-five of the forty-eight States of the Union have chosen an official bird for their commonwealth, and

WHEREAS, the State of Tennessee did not, until this year, determine to choose the State Bird, and

WHEREAS, The Tennessee Ornithological Society, aided by the Garden Clubs, the Parent Teacher Associations, the Superintendents of Schools, the State Department of Education, the State Department of Agriculture and the Division of Game and Fish, has just conducted a campaign of education in connection with a state-wide choice of an official bird, and

WHEREAS, an election has just been concluded in which every person within the confines of the State has been afforded the opportunity of expressing a preference for a State bird, and

WHEREAS, the Mocking Bird received more votes, according to the official count of the ballots, made by the Division of Game and Fish, now

THEREFORE, Be It Resolved, That the Mocking Bird is hereby declared the official State Bird of Tennessee."
The Tennessee Code
The Tennessee state bird was adopted by Senate Joint Resolution, rather than an act of the Legislature, and is not recorded in the Tennessee Code.
Additional Information
Mockingbird (Mimus polyglottos)
Mimus polyglottos (Northern Mockingbird): University of Michigan Museum of Zoology: Animal Diversity Web.
State Bird List: List of all of the state birds.
Tennessee Bird Watching: A Year-Round Guide: by Bill Thompson, III and the staff of Bird Watchers Digest.
A Field Guide to the Birds of Eastern and Central North America: Peterson Field Guide: Roger Tory Peterson.
State Birds & Flowers 1000-pc Puzzle: Created at the request of The National Wildlife Federation this design is a beautiful and informative puzzle featuring every state bird perched on the appropriate state flower.
Bird Feeders and Accessories: Backyard Birding > Bird Feeders & Accessories from Amazon.com.
State Names, Seals, Flags, and Symbols: A Historical Guide, Third Edition - Benjamin F. Shearer and Barbara S. Shearer, Greenwood Press, 2002
State Names, Flags, Seals, Songs, Birds, Flowers and Other Symbols: A Study based on historical documents giving the origin and significance of the state names, nicknames, mottoes, seals, flowers, birds, songs, and descriptive comments on the capitol buildings and on some of the leading state histories, Revised Edition - George Earlie Shankle, Ph.D., The H.W. Wilson Company, 1938 (Reprint Services Corp. 1971)
---
Source: Tennessee Code, (http://198.187.128.12/tennessee/lpext.dll?f=templates&fn=fs-main.htm&2.0), April 14, 2005
Source: State Names, Seals, Flags, and Symbols: A Historical Guide, Third Edition - Benjamin F. Shearer and Barbara S. Shearer, Greenwood Press, 2002
Source: State Names, Flags, Seals, Songs, Birds, Flowers and Other Symbols: Revised Edition (Reprint)- George Earlie Shankle, Ph.D., The H.W. Wilson Company, 1938