Oklahoma State Bird
| | | |
| --- | --- | --- |
| Scissor-tailed Flycatcher | Muscivora forficata | Adopted:1951 |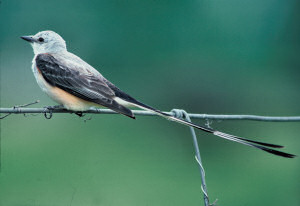 Oklahoma State Bird: Scissor-tailed Flycatcher
Adoption of the Oklahoma State Bird
In 1932, the Oklahoma Federation of Women's Clubs sponsored a contest to determine the citizens' preference regarding a state bird. The winner was the bobwhite quail.
Later, the popular bobwhite quail was among the contenders that the scissor-tailed flycatcher had to defeat in order to secure the position of state bird of Oklahoma.
House Joint Resolution No. 21, designating the scissor-tailed flycatcher the Oklahoma state bird, began with a group of Oklahoma school children. Before long, it won the strong support of Oklahoma's Audubon Society, garden clubs, other wildlife groups and, eventually, of Lou Allard, Chairman of the House Committee on Game and Fish. The flycatcher's appetite for grasshoppers, crickets, spiders and other ground-dwelling insects made them economically important to farmers. Its nesting range, centered in Oklahoma, and the fact that no other state has claimed the bird for its own clinched the title of Oklahoma state bird for the scissor-tailed flycatcher.
House Joint Resolution No. 21 was approved and on May 26, 1951, the scissor-tailed flycatcher became the state bird of Oklahoma.
The Oklahoma Statutes
The following information is excerpted from the Oklahoma Statutes, Title 25, Chapter 3, Section 25-98.
Title 25. Definitions and General Provisions.
Chapter 3 - State Emblems and Honorary Positions.
SECTION 25.98.


The scissor-tailed flycatcher, Muscivora Forficata, is hereby designated and adopted as the state bird of the State of Oklahoma.
Laws 1951, p. 356, § 1.
Additional Information
Oklahoma State Bird: Scissor-tailed Flycatcher
Tyrannus forficatus (Scissor-tailed Flycatcher): University of Michigan Museum of Zoology: Animal Diversity Web.
State Bird List: List of all of the state birds.
Birds of Oklahoma: Field Guide: by Stan Tekiela.
Oklahoma Bird Life: by Frederick M. Baumgartner and A. Marguerite Baumgartner.
State Birds & Flowers 1000-pc Puzzle: Created at the request of The National Wildlife Federation this design is a beautiful and informative puzzle featuring every state bird perched on the appropriate state flower.
Bird Feeders and Accessories: Backyard Birding > Bird Feeders & Accessories from Amazon.com.
State Names, Seals, Flags, and Symbols: A Historical Guide, Third Edition - Benjamin F. Shearer and Barbara S. Shearer, Greenwood Press, 2002
State Names, Flags, Seals, Songs, Birds, Flowers and Other Symbols: A Study based on historical documents giving the origin and significance of the state names, nicknames, mottoes, seals, flowers, birds, songs, and descriptive comments on the capitol buildings and on some of the leading state histories, Revised Edition - George Earlie Shankle, Ph.D., The H.W. Wilson Company, 1938 (Reprint Services Corp. 1971)
---
Source: sourceDescription, (http://www.lsb.state.ok.us/osStatuesTitle.html), April 13, 2005
Source: Oklahoma's Tropical Ambassador: The Scissor-Tailed Flycatcher, (http://www.wildlifedepartment.com/publications/flycatcher.htm), April 13, 2005
Source: State Names, Seals, Flags, and Symbols: A Historical Guide, Third Edition - Benjamin F. Shearer and Barbara S. Shearer, Greenwood Press, 2002